The market appears to be anxious after a number of major money managers have come out and said that the market could be a bit overvalued. With that kind of backdrop, a simple miss of earnings can send market-leading companies tumbling.
I am a firm believer that capitalizing on the market's overreactions is a sound strategy for long-term investors. One of the nation's leading sports retailers is the latest to fall victim to an overreaction.
Dick's Sporting Goods (NYSE:DKS) fell off a cliff after guiding this year's earnings lower. It also reported a weaker than expected quarter, where hunting and golf sales were well below expectations. It now trades at its lowest price-to-earnings ratio in five years. It is also trading below major comps, Cabela's (NYSE:CAB) and Hibbett Sports (NASDAQ:HIBB).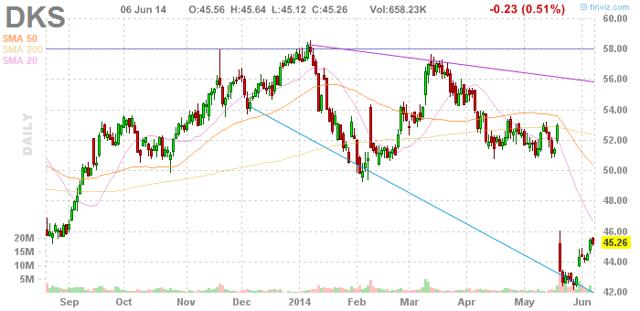 The near-term weakness is a buying opportunity, and assumes that for 2015 and beyond, Dick's Sporting Goods is still a growth story. Dick's ecommerce platform is gaining traction and it remains the sports retail market leader. While the hunting category was weaker than expected last quarter, Dick's rollout of Field & Stream stores should help the company better market its sports versus hunting products.
First quarter overview
Dick's 1Q earnings were $0.50, below consensus of $0.53. 2Q guidance was $0.62 to $0.67, well below previous consensus of $0.82. The first quarter was not all bad. Excluding golf/hunting, comps were up 6.6%. Hibbett's comps last quarter came in at 4.1%.
The weakness was in the hunting and golf business. The market knew the segment would be weak, but not quite as weak. Together, golf and hunting make up 30% of Dick's sales. Golf alone makes up 20%.
There is still a lot of marked down inventory when it comes to golf products. Golfers just are not trading up to higher-end clubs, nor is there as much interest these days. Those that are taking up golfing are opting for the cheaper, clearance clubs.
Looking deeper into the 1Q numbers, sales were up 8% year over year. Ecommerce sales were up to 7% of sales, compared to 5.8% in the first quarter of last year. The downgrades have come, and earnings revised downward. Even still, of the 31 analysts following the stock, only one has a sell rating. The mean Wall Street target price is still 15% higher than its current trading price.
Digging into the golf business
As mentioned, about 20% of sales are golf products. Dick's plans on getting promotional to move old, surplus levels of golf inventory. This is a long-term positive, freeing up space for better selling products. Dick's will replace golf space with youth and women's apparel, which is a higher margin business.
What is more is that even if you strip out 20% of Dick's sales, it still trades below major peers. Dick's trades at a price to sales multiple of 0.87. If the company took a 20% haircut on sales, its P/S multiple would be 1.1, which is still below Hibbett's 1.6 and Cabela's 1.2.
Digging into the hunting business
The gun and hunting weakness should subside as the company cycles out its surplus inventory of guns. The company loaded up on gun inventory due to rising concerns over gun control regulation. In addition, consumers were buying on regulation concerns.
Nevertheless, it is not just Dick's seeing weakness; Cabela's (CAB) reported a weak quarter due to a decline in hunting merchandise sales. Dick's also has its Field & Stream brand that it plans to roll out.
Other areas are still strong
Outside of golf/hunting, Dick's continues to see strong demand for its apparel and other sporting products. There are still a number of growth opportunities for the company, which includes aggressive store expansion. It can also turn to more partnerships for store-within-a-store concepts.
Margins should also increase over the next few years as Dick's starts pushing its exclusive merchandise, with a focus on the higher margin products (including footwear and apparel). Ecommerce remains one of the brightest spots for the company. As the penetration of ecommerce sales continues, company-wide margins should improve. Margins will improve even more when Dick's brings its ecommerce operations in-house, expected by 2018.
Still look to be ~20% upside in the near term
With fiscal 2015 (ending January) earnings expected to come in at $2.75, that puts Dick's trading at just over 16x next year's earnings estimates. The sporting goods retail industry trades at an average 24x earnings multiple. That also happens to be Dick's long-term average multiple.
It will take Dick's at least a year to get back to a normalized valuation. It expects to grow earnings at a long-term growth rate that is in line with the industry. However, with no debt, paying a 1% dividend yield, and having a return on invested capital of 19% (which is above what you will find most retail firms generating), there is no reason to think that Dick's will not be trading at higher multiples after the golf/hunting weakness cycles out. Comps should ease going forward, making for a more positive trend in comparable store sales.
Assuming that Dick's should trade at an earnings multiple of 20x on fiscal 2016 earnings estimate of $2.75 suggests a $55 price target. That is a little over 20% upside in less than half a year.
Bottom line
Dick's fell nearly 20% on golf and gun weakness. Granted, the golf business will remain weak for some time, Dick's is still a premium brand with a few opportunities for growth. This includes potentially reducing exposure to the golf business and allocating that space to faster growing areas. This could help increase sales and boost margins. Overall, Dick's looks to be the best play on the sports retail market.
Disclosure: The author has no positions in any stocks mentioned, and no plans to initiate any positions within the next 72 hours. The author wrote this article themselves, and it expresses their own opinions. The author is not receiving compensation for it (other than from Seeking Alpha). The author has no business relationship with any company whose stock is mentioned in this article.