In February, I wrote an article saying it was a good time to buy Intel (NASDAQ:INTC) shares.
Since then, Intel has climbed 15% in a short amount of time and now sits at ten year highs, trading at a price of $28.24. This rise has been quicker than anticipated but with a number of factors turning negative, now looks like a good time to offload the shares.
PEG ratio no longer indicates value
In my previous article I explained my rationale for buying Intel and listed a number of financial ratios that proved why the stock was a good value.
Now that the share price has advanced, the PEG ratio (a number that I often use to ascertain whether a stock is cheap or not) has advanced from relatively low levels (around 1) to over 2.
PEG indicates how the company's earnings relate to growth and at a PEG of 2.02, Intel can no longer be considered cheap. I have found the PEG ratio to be a good indicator of future returns and a number greater than two invariably leads to volatile stock performance.
DCF method provides no margin of safety
While PEG is no longer attractive, a DCF (discounted cash flow) analysis indicates that Intel no longer has any margin of safety and is at best, only fair valued.
Using a current ttm EPS of $1.86 and an analyst 5 year growth estimate of 7.5% (before falling to 3% after 5 years) gives Intel a fair value stock price of $28.86.
That is using a discount rate of 11% and suggests there is very little value left in the company for investors at current prices.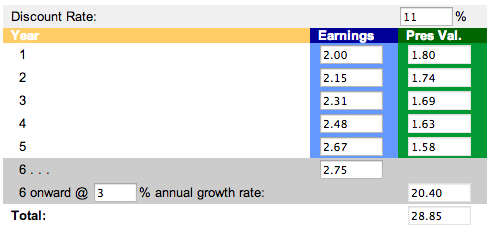 IMG Source: moneychimp.com
Insider selling taking place
Valuation methods suggest that Intel has become fairly valued at best and this could explain the significant increase in insider selling that has occurred over the last couple of weeks.
With stock prices at ten year highs, Intel directors have looked to take some profits off the table with VP William Holt selling 13,331 shares on June 3rd and President Renne James offloading 79,190 shares on the same day. That transaction took place at an average price of $27.50, around $0.70 lower than where we are now.
The fact that these sales come before Intel's 5 year EU judgment is also interesting. The record fine Intel received and the subsequent out of court settlement has largely been forgotten about, but there is a chance that investors are too optimistic about the upcoming proceedings.
Market pullback imminent
Although I suggest in this article that it is a good time to sell Intel, the reality is that I still rate the company highly and would be willing to buy back at lower prices.
The problem, and my overriding consideration at this time, is that the overall stock market is significantly exposed here and due for a pullback.
Indeed, you only need to browse the top articles on this site to see how concerned investors are about a market correction.
Volume and volatility are the trending topics, and as Kerry Prazak so well describes, the VIX dropping to some of the lowest levels ever seen, gives traders every right to be concerned.
But it is not just the VIX that suggests a turnaround.
The Shiller CAPE ratio is now 57.6% higher than its median, while the total market cap to GDP indicator is at an unsustainable 122%, indicating annual average returns for the US stock market of just 1.3%.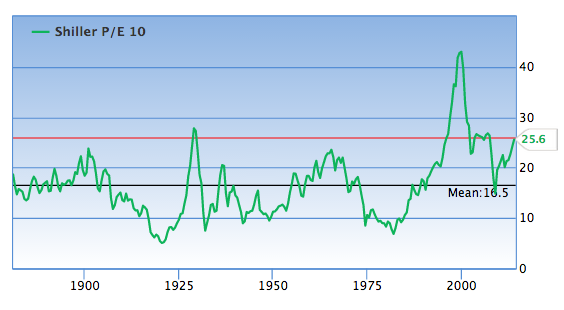 Shiller CAPE. IMG Source: Gurufocus.com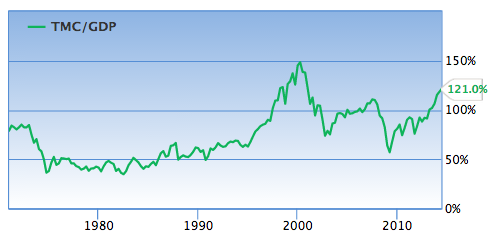 Total Market Cap To US GDP. IMG Source: Gurufocus.com
For sure, the market may go higher, and could even move into exponential territory, but the pullback when it comes is likely to take all stocks down with it - particularly technology and small cap shares.
Intel could be a prime target for shorts, particularly considering the extended nature of the current price chart. With the market becoming more and more complacent, it's time to take some money off the table.
Disclosure: The author has no positions in any stocks mentioned, and no plans to initiate any positions within the next 72 hours. The author wrote this article themselves, and it expresses their own opinions. The author is not receiving compensation for it (other than from Seeking Alpha). The author has no business relationship with any company whose stock is mentioned in this article.