I recently reconsidered investing in BP PLC (NYSE:BP) because Seth Klarman's Baupost Group owns shares in it. Normally, I would be more likely to consider Exxon Mobil (NYSE:XOM) or Chevron (NYSE:CVX) in the oil and gas industry. Although the oil and gas industry is not my favorite industry because of the volatility of commodity prices as well as the lack of differentiated products that each company sells, investors should be aware that the integrated oil companies are strong cash cows that pay out gargantuan sums to the shareholders in the form of dividends and share repurchases. BP's performance since oil prices spiked in 2001 has trailed Exxon Mobil and Chevron and investors are hoping that BP will be able to execute its asset sale program and generate at least $10B from disposing of non-core assets. BP yields 4.61% and increased its dividend by a whopping 2.6% in May. However, investors should expect that most of the proceeds would be earmarked for its legal obligations associated with its 2010 Deepwater Horizon Oil Spill.
Source: Morningstar Direct
Dividends
BP's dividend yield of 4.61% is higher than Chevron (3.45%) and Exxon Mobil (2.72%). However, it is worth noting that BP had to cut its dividend by 50% in the wake of the Deepwater Horizon oil spill that took place from April to July 2010. It is surprising that BP's dividend growth from 2001 to 2010 was higher than Exxon Mobil or Chevron. It is surprising that Exxon maintained its dividend in the wake of the Exxon Valdez disaster in 1989. Although BP's dividend yield is higher than its two larger peers, its projected FY 2014 dividend payout ratio of 49% is higher than that of Exxon Mobil (36%) and Chevron (40%) respectively and investors should expect stronger dividend growth from Chevron and Exxon Mobil than BP. In May, BP increased its dividend by 2.6%, versus 9.5% for Exxon Mobil and 7% for Chevron.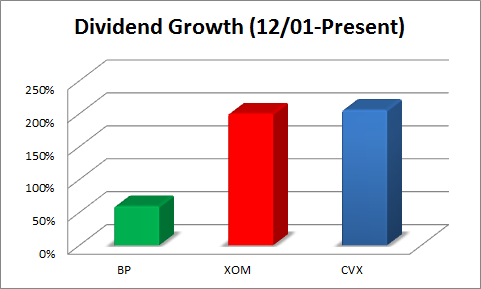 Source: Morningstar Direct
Key Events: In October 2013, BP announced that it would sell $10B in assets in the next two years to fund returns to shareholders. BP previously sold $38B in assets from 2010 to 2013 in order to pay for the damage caused by the accident at the Macondo well in the Gulf of Mexico. This latest asset sale program is geared towards rewarding shareholders by using the proceeds to underwrite dividend increases and share repurchases. According to Edward Jones analyst Brian Youngberg, BP may sell smaller interests in projects it wants to retain, rather than selling off entire projects. BP has agreed to $3B in further divestitures since October 2013, and has received $1B in cash for various divestitures in Q1 2014.
On 22 April 2014, BP announced that it had reached agreement to sell its interests in the Northstar and Endicott oilfields and 50% of its interests in each of the Milne Point and Liberty oilfields on the North Slope of Alaska to Hilcorp Alaska LLC, a subsidiary of Hilcorp Energy for $1.25 billion plus an additional carry of up to $250 million if the Liberty field is developed. The sale also includes BP's interests in the oil and gas pipelines associated with these fields and BP expects to close this deal by the end of the year. BP is harvesting value from these assets today as well as allowing the company to focus its resources on maximizing production activity at Prudhoe Bay, where BP did not sell any of its assets. In the recent Gulf of Mexico lease sales, BP was the apparent high bidder on 24 out of 31 blocks, with final award subject to regulatory approval.
Top 20 Equity Holders
One advantage that BP has against Exxon Mobil and Chevron is that its relatively smaller market capitalization enables it to count more deep-value investment managers as part of its Top 20 Equity holders. BP's three largest active managers include Franklin Advisers (Franklin Templeton), Wellington Management and Barrow, Hanley, Mewhinney & Strauss LLC. Franklin holds 37.26M shares (1.09% of BP's shares) as of Q1 2014, which includes 30M shares in its well-regarded Franklin Income mutual fund. Wellington owns 32.2M shares (0.95% of BP's shares as of Q1 2014) and Barrow Hanley owns 28.6M (1%) primarily through Vanguard mutual funds that it sub-advises. Baupost had 18.6M shares (60bp) of BP as of Q2 2013 but sold most of its shares in Q3 2013 and has 3.17M shares remaining as of Q1 2014. Other notable investors include Acadian Asset Management (7.2M shares, 21bp of BP's outstanding stock, 418K in new shares added in Q1 2014) and Brandywine (4.7M shares representing 14bp of BP's outstanding shares).
Exxon Mobil's most notable shareholder is Warren Buffett's Berkshire Hathaway, which owns 41.1M shares ($4.2B). Other notable shareholders include Yacktman (7.3M shares worth $737M), Adage (4.85M shares worth $493M), Fisher Asset Management (4.35M shares worth $442M) and AQR Capital (2.7M shares worth $317M).
Chevron's largest notable shareholder is Franklin (15.8M shares worth $1.97B including 9M shares by Franklin Income). Other notable shareholders of Chevron include Fisher Asset Management (3.4M shares worth $423M), Adage (2.73M shares worth $340M) and AQR Capital (1.5M shares worth $189M).
Valuation
BP has the lowest forward PE (10.57X) versus XOM (13.1X) and CVX (11.68X) but has a lower projected long-term growth rate (3%) than XOM (4.2%) and CVX (6.9%). Although BP has a lower Forward PE than Chevron and although BP has 74.5% more revenue than Chevron, Chevron's adjusted profit was 24.7% higher than BP's. This probably explains why Chevron trades at a Price to Book Value of 1.6X while BP trades at a P/BV of 1.3X. CVX's Price to Sales (1.1X) is higher than BP's (0.4X) yet BP's Price to Cash Flows of 6.3X is the same as Chevron's.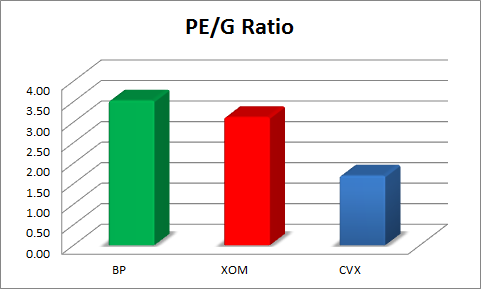 Source: Morningstar Direct
TTM Capital and Business Efficiency Ratios
Profit Margin: CVX (8.77%), XOM (7.37%) and BP (2.65%)
ROIC: CVX (12.05%), XOM (17.04%) and BP (6.69%)
Debt/Assets: CVX (9%), XOM (6.05%) and BP (17.16%)
Inventory Turnover: CVX (18.76X), XOM (16.31X) and BP (11.33X)
CapEx/Sales: CVX (17%), XOM (7.67%) and BP (6.46%)
Most Recent Quarter
BP Upstream: BP's underlying replacement cost operating income in Q1 2014 declined by 23.5% versus Q1 2013. The primary driver of its profit declines was its 22.8% decline in underlying pre-tax profits from its Upstream operations ($5.7B in Q1 2013 to $4.4B in Q1 2014). BP Upstream's adjusted underlying pre-tax replacement profit declined by $1.3B due to higher costs, predominantly exploration write-offs and depreciation, depletion and amortization, lower liquids realizations and an 8.5% decline in production, partly offset by strong gas marketing and trading results and higher gas realizations. In Q1 2014, three major projects started up: the Chirag Oil project (BP 35.8%) in Azerbaijan and the Na Kika Phase 3 (BP 50%) and Mars B (BP 28.5%) projects in the Gulf of Mexico. BP has now also commenced production from the Atlantis North expansion Phase 2 project, also in the Gulf of Mexico.
BP Downstream: BP Downstream's underlying replacement cost operating income was $1B and declined by 38.4% year-over-year in Q1 2014 due to a 43.4% decline in underlying replacement cost operating income from its Fuels business. The lower result is principally due to a reduction in refining margins, including compression in heavy Canadian crude differentials relative to the very high levels seen in the same period of last year. Partially offsetting this was the return to operations of the largest crude unit at the Whiting refinery, which had a planned outage in the same period of 2013 as part of the modernization project at the facility. Solomon availability was strong at 95%, though slightly below the level achieved in the first quarter of 2013.
BP was not the only major oil company that endured declines in its Q1 2014 results versus Q1 2013. Chevron's Q1 2014 profits declined by 27% versus Q1 2013 and Exxon Mobil's profits declined by 4.2% during the same period.
Conclusion
In conclusion, although BP has a strong 4.61% dividend yield, it recently increased its dividend incrementally and is planning on selling $10B in non-core assets, I believe that Chevron offers investors the best risk-reward value proposition of these three companies. It is understandable why Morningstar gave Exxon Mobil a wide economic moat rating versus a narrow economic moat rating for BP. It is surprising that Chevron's economic moat rating was only narrow because it has more better financial performance and management than BP. Although BP has had a remarkable comeback over the last three years however it still has a way to go before it catches up to Chevron or Exxon Mobil.
Disclosure: The author has no positions in any stocks mentioned, and no plans to initiate any positions within the next 72 hours. The author wrote this article themselves, and it expresses their own opinions. The author is not receiving compensation for it (other than from Seeking Alpha). The author has no business relationship with any company whose stock is mentioned in this article.