Yesterday, Prospect Capital (NASDAQ:PSEC) announced that it will not be required to restate its prior period financial statements to consolidate certain wholly-owned or substantially wholly-owned holding company subsidiaries. This is good news for investors and I will be adjusting my "BDC Rankings: May 2014" to reflect these changes. I still have some concerns that were addressed in "Prospect Capital: What Comes Next? Part 2" but these are ongoing issues related to the industry in general that I am covering in a new series call "BDC Dividend Coverage" and for the latest recommendations and pricing as well as a list of articles for PSEC please see "Prospect Capital Articles."
Catching Up
As discussed in my weekly newsletter, BDCs fell 11% for almost 11 weeks straight, mostly due to the Russell reconstitution. But they seem to have found a bottom on May 15th which was the deadline for the SEC to remove the fee reporting requirements for BDCs. The average BDC is now up around 4% but some are up more than others.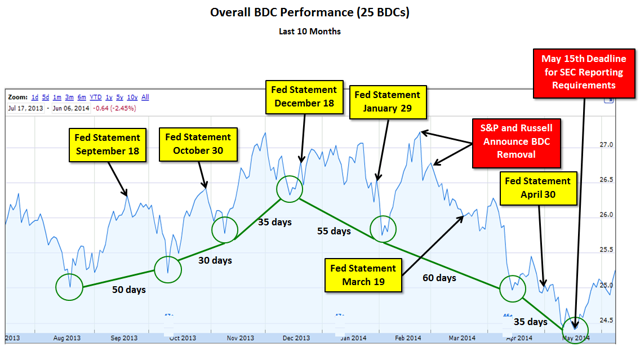 PSEC has some catching up to do and I would estimate an increase in price of around 8% in the near term using the average BDC performance. The table and chart below show the relative performance of PSEC compared to the other BDCs. The chart shows that most of the variance was since the original announcement of a potential restatement of its financials.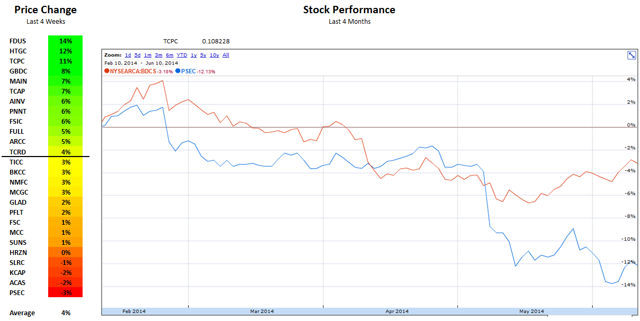 When valuing BDCs I use two different approaches because neither is perfect and they both use certain assumptions. The first approach is simple and uses risk adjusted multiples of net asset value ("NAV") and earnings. The other methodology attempts to project total returns for each BDC and then price according to the average. Annual return to PSEC investors is its higher than average dividend of around $1.32 a year for each share of stock.
NAV Multiples
Higher yield BDCs are usually priced based on multiples of NAV. The table below compares the current pricing multiples of NAV per share and EPS for the 26 BDC that I cover using the relative risk levels of each, details for which can be found in my "BDC Risk Profiles" articles. I believe there is a strong correlation between investors' perception of risk and the multiples they pay.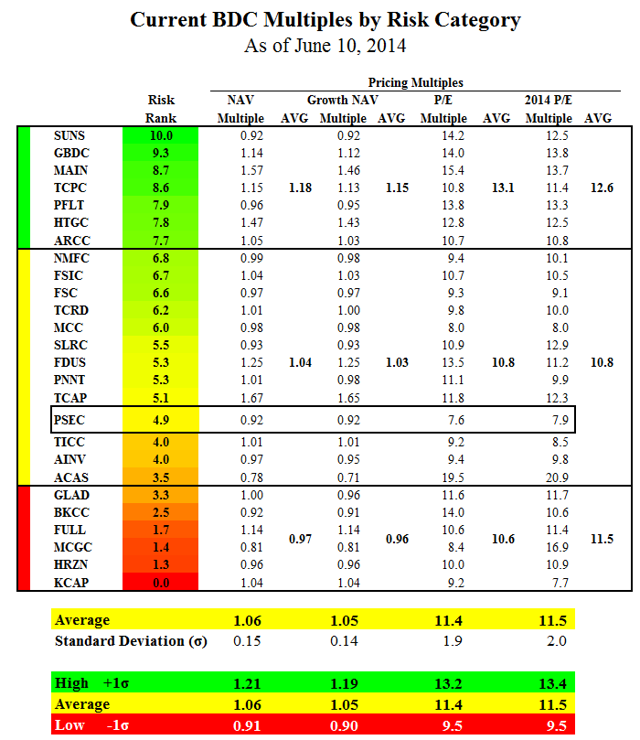 Implied Pricing Using NAV
I then use the averages and standard deviations to apply what I believe to be proper multiples based on the risk profile of each (giving PSEC an average NAV multiple of 1.06). Using this method of pricing only 11 of the 26 BDCs are priced within 10% and BDCs such as Main Street Capital (NYSE:MAIN), Triangle Capital (NYSE:TCAP) and Hercules Technology Growth Capital (NASDAQ:HTGC), are all relatively overpriced. This is because it does not take into account potential NAV growth that is included in the total return analysis. Using only NAV multiples I would price PSEC around $11 but I do believe that it will trade at a slight discount to NAV through the end of June due to concerns related to the Russell reconstitution.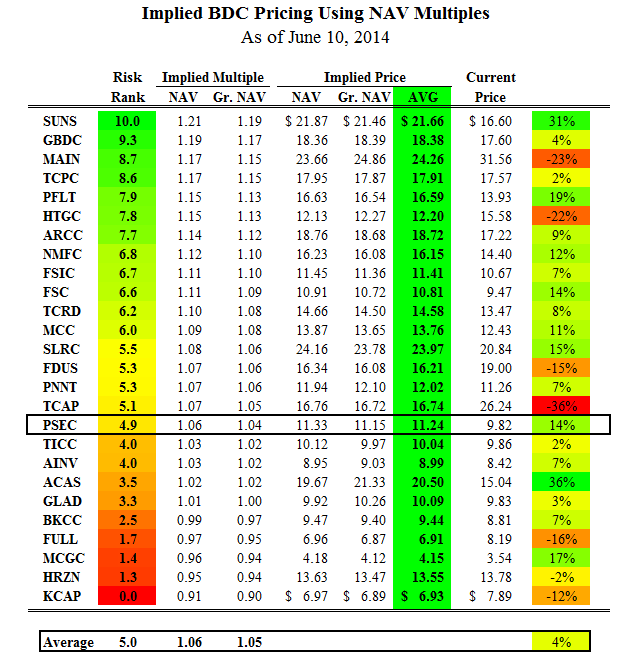 Projected Total Return
Total return accounts for income and capital appreciation. Income includes regular and special dividends and capital appreciation represents the change in the value of the investment. The following table shows the most recent NAV per share growth over the last 3 and 12 months along with regular and special dividend yields. Lower yield BDCs usually have higher amounts NAV growth because they pay out less of their gains through monthly or quarterly distributions.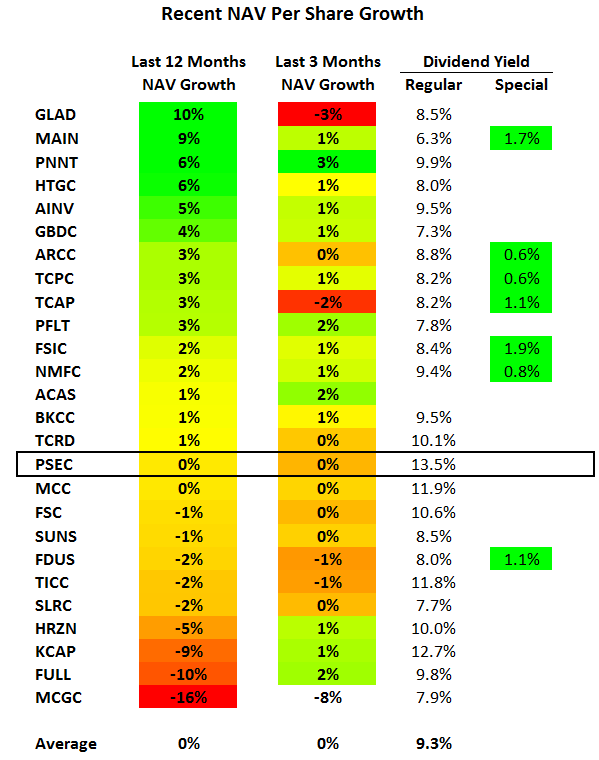 The table below shows the projected total returns for each BDC with the average and the 'standard deviation' that statistically measures the variation of returns compared to the average, with 68% of BDCs within one standard deviation from the average or between 9.0% and 12.6%. I believe this is an acceptable rate of return and maybe a little conservative because of the NAV per share growth discounts and may favor BDCs such as PSEC that pays a high dividend with little to no expected NAV per share growth. Investors expect higher rates of return for higher amounts of risk. The projected total return for PSEC is 13.5% (its regular dividend) and higher than its expected return of 10.8%.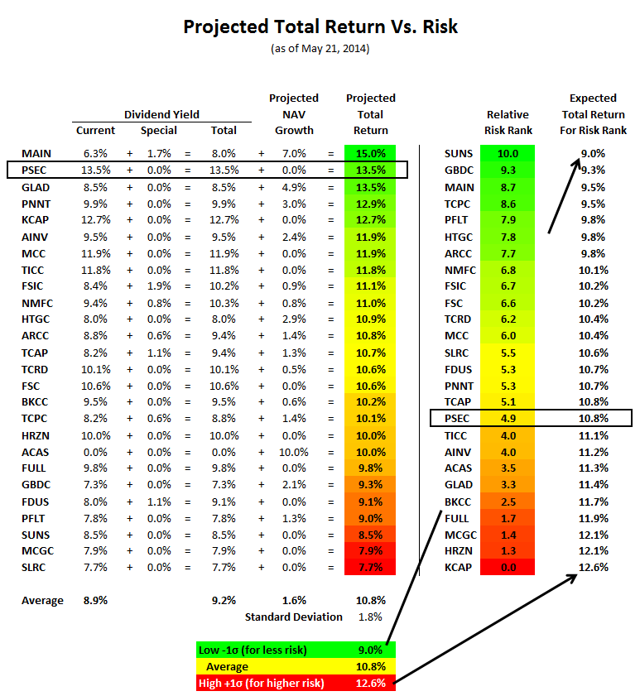 Total Return Pricing
Total return accounts for income and capital appreciation. Income includes distributions or dividends and capital appreciation represents the change in the value of the investment. I use NAV per share growth to measure the ability to create value for shareholders because stock prices are subject to macro issues. As discussed earlier my expected total return for PSEC given its risk ranking of 4.9 out of 10.0 (10 implying the least amount of risk) is 10.8%. This would imply that PSEC is underpriced for its current risk vs. return and the correct price should be closer to $12 as shown below.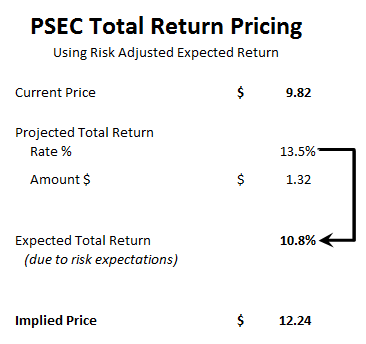 Basically each share of PSEC stock is likely to return $1.32 (its regular monthly dividend) over the next twelve months to the investor which means that if an investor is expecting 10.8% for the amount of risk then the proper price for each share would be closer to $12.24.
Summary
Near term pricing to 'catch-up' of around 8% higher or $10.60
Pricing based on NAV of around $11.00
Longer-term pricing based on total return of around $12.00
Disclosure: The author has no positions in any stocks mentioned, and no plans to initiate any positions within the next 72 hours. The author wrote this article themselves, and it expresses their own opinions. The author is not receiving compensation for it (other than from Seeking Alpha). The author has no business relationship with any company whose stock is mentioned in this article.