Last week, the Obama administration took aim at the coal industry by mandating a 30 percent cut in carbon emissions from our nation's power plants by 2030. This controversial new legislation comes at a dire time for the coal industry already exposed to a number of negative externalities which have displaced national demand for coal.
Despite the immensely negative investor sentiment toward the whole coal industry, this new EPA plan creates a buying opportunity for the enlightened investor keen on the asymmetric risk/reward characteristics of the industry. With many coal producers at or near multi-year lows in stock price, the argument can be made that the market is vastly oversold. In a situation where the baby has been thrown out with the bathwater, profitable companies with attractive upside have been sold off at the same rate as companies with successive quarters of mounting losses. In such an environment, Peabody Energy (NYSE:BTU) represents an investment gem ripe for the picking amongst heaps of coal.
Context of Clean Power Plan Leads to Sell-off in Coal Industry
Combating climate change has been a major focus of the Obama administration since taking office. However, after years of gridlock highlighted by a failed cap-and-trade bill, President Obama has finally played his trump card and utilized his executive authority to push through the most ambitious and far-reaching global warming initiative yet conceived.
At the request of the President, the Environmental Protection Agency issued the "Clean Power Plan Proposed Rule" on June 2nd. This 645-page plan embodies the cornerstone of the administration's clean energy initiative, and gives teeth to the claims the President made in his most recent State of the Union address. According to him, "The shift to a cleaner energy economy won't happen overnight, and it will require tough choices along the way… But the debate is settled. Climate change is a fact. And when our children's children look us in the eye and ask if we did all we could to leave them a safer, more stable world, with new sources of energy, I want us to be able to say yes, we did."
Under the proposed plan, carbon dioxide emissions from existing power plants must be cut nationwide by 30 percent from 2005 levels by 2030. This plan predominantly targets existing power plants, because they are the largest source of the nation's carbon dioxide emissions, accounting for 38 percent of all emissions.
While the plan extends nationwide, implementation will fall to the states, which must individually establish rates-based goals to reduce emissions from the power sector. The plan is slated to be finalized next year, and will require states to submit plans no later than June 2017. As you can see from the map below, certain states will have a much harder time reducing their reliance on coal than others: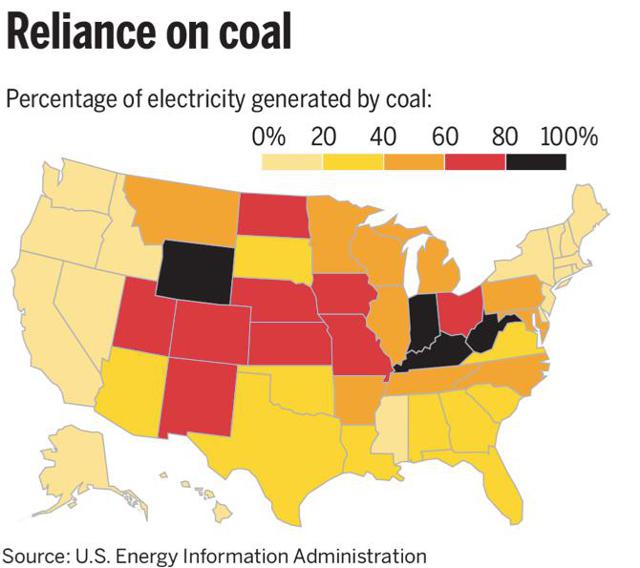 Reduction in coal-fired plants is undoubtedly the biggest emphasis of the new plan. These plants account for over three quarters of the nation's total carbon dioxide emissions in the generation of electricity, and the EPA is keen on reducing this large percentage. While the plan cannot directly be called a vendetta against coal, it is mentioned 203 times, so apparently the EPA believes controlling the biggest polluter will go a long way towards reducing climate change.
Obviously, the news of this sweeping plan did not help the coal industry, which faced large sell-offs in the wake of the EPA's announcement. This short-term sell-off capped a multi-year decline across the industry, forcing many companies to historic lows in their share prices.
Scope of BTU & Coal Industry Sell-off
The number of functional coal-fired power plants has been in a precipitous decline even before the Obama administration enacted its war on coal. Ever since the advent of electricity, coal has been the most popular and cost-efficient fuel source for power plants across the country. However, a host of new elements has created a structural shift in the demand for this once-preeminent resource. Cheaper alternative fuel sources, such as natural gas produced by the recent hydraulic fracturing boom, as well as nearly a decade of heightened EPA regulations on air pollution have combined to stifle the coal industry. The map below shows how many coal-fired plants are being retired across the country: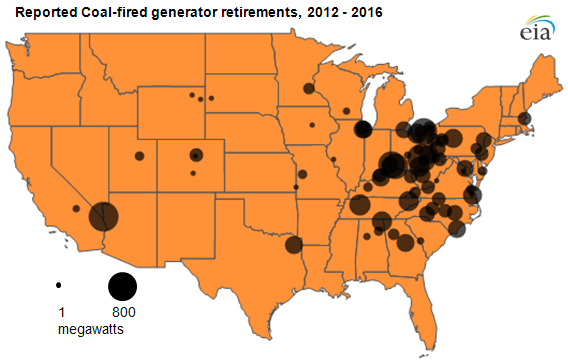 The impact of this structural decline in demand has made itself felt across the nation's largest coal producers. Regularly one of the world's top coal producers, Arch Coal, Inc. (ACI) provides a strong example of a coal stalwart that has not managed the downturn in demand well. During these trying times, it has reported nine straight quarters of major loses. In April of this year, it announced a $124.1 million 1st-quarter loss, which sent its stock price into a free fall. As of the time of Obama's new EPA announcement on June 2nd, the share price was down 35% since the company announced its major 1st quarter-loss on April 22nd. Further, the stock is down over ten-fold since its 5-year high on February 28th, 2011. While the road back to prosperity might be long and uncertain for ACI, other industry stalwarts look to fare better in the wake of the new EPA regulations.
Unlike ACI, most of the potential downside risk of Peabody Energy is already built into its current share price, which is over 77% off its five-year high. The market has lumped BTU in with other underperforming coal giants, despite its resilient financials. Its price has continued to decline, even though it has met 3 and exceeded 1 of the last 4 earnings estimates. Further, over the last five years, the company's shares have traded in the range of 6.12x to 32.08x trailing 12-month earnings, yet its current Price/Sales ratio is 0.65, while the industry average is 3.25! BTU's share price is clearly asymmetric to its real value.
The Case for BTU
In the face of this industry-wide sell-off, BTU represents an investment gem due to its leading presence in the growing Asia-Pacific region, strong foothold in low-cost producing regions, effective capital restrictions with low leverage, and higher current dividend yield relative to peers, with a potential for higher returns should market conditions improve.
China and India represent nearly 80% of coal's global demand growth. With over 495 million tons of coal imported to those two countries alone in 2013, and an estimated 600 million tons per year by 2016, Asia-Pacific growth will buoy any domestic drop in demand. BTU is well-positioned to profit from this immense growth in demand with its Australian base. Starting in 2005 and 2006 with the acquisition of RAG and Excel Coal, BTU has continued to grow its Asia-Pacific presence. In August 2011, BTU made a big splash by purchasing Macarthur Coal, one of Australia's largest coal producers in the low-cost Bowen basin. With such a strong foothold in the region, BTU has its eyes set on future growth.
Domestically, BTU has worked to divest interests in the high-cost Appalachian coal basins in favor of focusing on the low-cost Powder River [PRB] and Illinois [ILB] coal basins. From a cost perspective, the PRB is one of the most advantaged coal mining regions in the world. With thick, uniform coal beds, which allow miners to utilize massive trucks and draglines to easily scoop up the commodity, costs are severely reduced. While the ILB is also a very inexpensive producing region, its coal contains a higher sulfur content, which used to result in lower prices. However, after the 2005 passage of the Clean Air Interstate Rule, many domestic coal plants have installed sulfur scrubbers, thereby reviving the demand for ILB thermal coal and increasing BTU's profitability.
In the face of a recent decline in domestic demand, BTU has labored extensively to implement significant cost reductions, tighten capital spending, and increase operational efficiency to remain extremely competitive. In 2013 alone, BTU was able to reduce capital expenditures by 67%. Further, after heavy investments during boom years, BTU expects to be able to maintain low capex figures for years to come. Since 2012, BTU's debt burden has been reduced by over $600 million and counting. While it still is in the enviable position as the most prolific private sector coal producer in the world, BTU is becoming leaner and more profitable as it narrows its focus on its core assets.
This strong and improving financial position has allowed BTU to increase its dividend even during rough times. With a five-year annualized dividend per share growth of 7.21%, BTU continues to reward investors for their confidence. Further, according to Morgan Stanley Analyst Evan L Kurtz, "BTU pays the highest dividend yield (of coal producers) in our coverage, with room for eventual increased capital return." Strong dividends help shareholders weather the storm of flawed market sentiment.
Overall, BTU looks poised for a breakout in price if it can continue to post profitable quarters amid such a distressed environment. The real question is when that breakout could happen.
Time Frame for BTU Buying Opportunities Driven by Multiple Catalysts
In the short term, we can expect the market to act irrationally when it comes to the coal industry. For better or worse, there will be a lot of media attention on Obama's new plan, and much commentary will center on how detrimental the new regulations will be for the industry. Therefore, in the short term, investors have to be wary of the volatility of public sentiment. Current prices are well below regular fundamentals, especially for BTU, but it is hard to determine how long these depressed prices will remain.
If, however, you believe this Clean Power Plan will suffer the same fate as the Affordable Care Act, then now is a good time to buy BTU on the dip. The Obama administration has a reputation for biting off more than it can chew, and the new EPA regulations are only in their proposal stage. Since regulation of these standards is ultimately passed onto the individual states, it is hard to imagine that a final plan will be agreed on unilaterally. While the plan is expected to be finalized by June of next year, such sweeping regulations rarely progress seamlessly.
Another catalyst to buy BTU would be a particularly harsh winter. With little change coming under Obama's new plan in the next few years, utility companies will again lean on coal to help meet the surge in energy demand during the winter months. Coal-fired plants also become more efficient during the winter, as prices of other electrical power plants increase under more difficult conditions, while coal remains far less prone to price jumps or to shortages. If this winter is as harsh as expected, you can expect a surge in coal demand.
Long term, it is hard to imagine that the share price of BTU will remain as depressed as it is currently. If, however, there is another shock to the market, and prices continue to fall for major coal producers, investors should not hesitate to buy at bargain-basement levels for this industry stalwart.
Disclosure: The author has no positions in any stocks mentioned, and no plans to initiate any positions within the next 72 hours. The author wrote this article themselves, and it expresses their own opinions. The author is not receiving compensation for it (other than from Seeking Alpha). The author has no business relationship with any company whose stock is mentioned in this article.