Earlier this week, I wrote articles on two of my favorite Healthcare REITs: Ventas, Inc. (NYSE:VTR) and Healthcare Trust of America (NYSE:HTA). As my core healthcare portfolio has evolved, these two REITs have been valuable contributors to my wealth building strategy, in which my goal has been to grow my capital by at least 20% annually.
Following the principles of value investing, I look for stocks that are cheap, as I know that's the most reliable way to grow my nest egg. That's how I was able to reap the highest returns and build a foundation of stress-free investment success.
Sometimes, you have to wait patiently, though, and in the case of Omega Healthcare Investors (NYSE:OHI), I held out until I was able to distinguish a wide enough margin of safety. Back in October I wrote:
Omega is not a screaming buy.
Then I concluded by saying:
I do not see an adequate "margin of safety" today.
That was in October, when shares traded at around $34.00. I was not interested in at that time; however, in January (2014), I saw daylight - Omega broke $30.00, and I pushed the gas pedal at $29.80. My research and instinctive greed told me that there was added security in knowing that Omega had attractive long-term characteristics, and I was prepared to take advantage of the wide margin of safety. I'm glad I did…
Fundamentals Intact
As of March 31st, OHI owned 547 healthcare facilities located in 37 states, operated by 49 third-party operators. The company is focused on leasing long-term care facilities, primarily skilled nursing facilities, to strong regional and local operators. Over 96% of the assets are leased as Skilled Nursing, and the other facilities are leased to Assisted Living operators (2.3%) and Specialty Hospitals (.9%).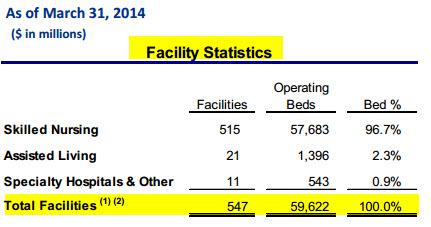 Here's a snapshot of OHI's portfolio that consists of over $3.9 billion of gross investments operated by 49 operators:
The portfolio is diversified, and Florida (14.6%), Ohio (11.1%), and Indiana (8.4%) represent the highest concentration: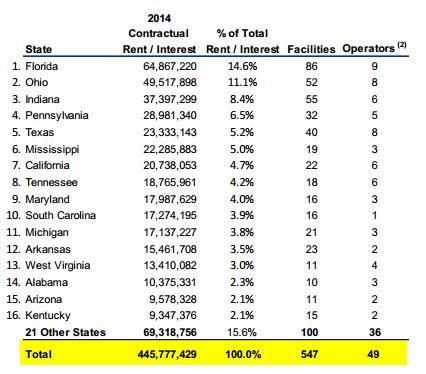 Over the last four years, OHI has acquired $2.2 billion of new investments: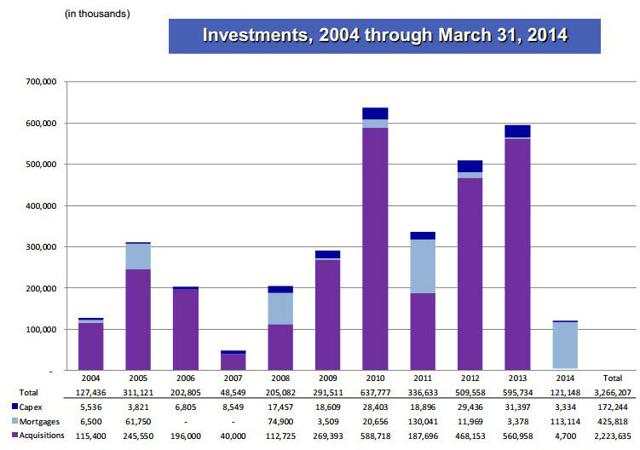 Assets have grown by 17.2% CAGR from 2004 through 2013:
Core revenue has also grown steadily - 19.1% CAGR from 2004 through 2013: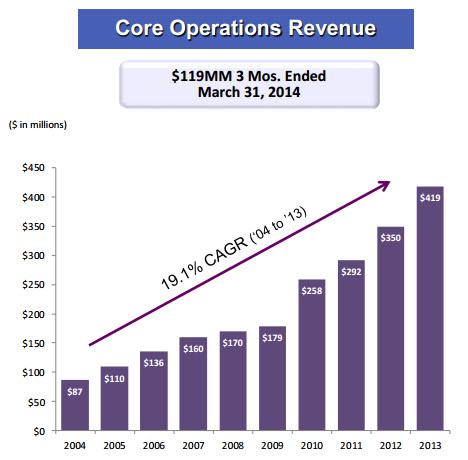 OHI's growth strategy has been a compelling part of the company's value proposition. Since 2004, OHI has closed on over $3.4 billion of selective acquisitions.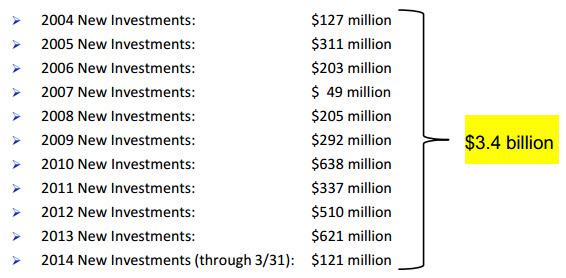 While occupancy has remained stable.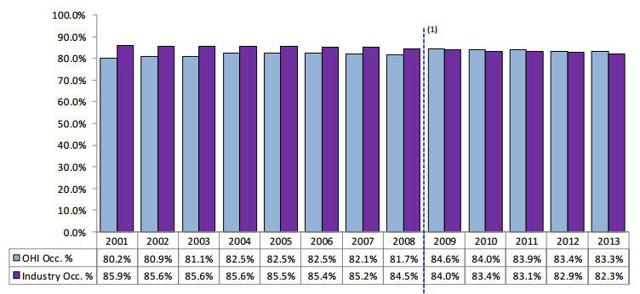 Healthy Balance Sheet
In March, OHI issued and sold $400 million, 4.95% senior unsecured notes due in 2024. Proceeds of this offering were used to repay and terminate a $200 million, 2013 term loan and pay outstanding balances under the credit facility. As a result of the termination of the $200 million term loan during the quarter, the company reported $2 million of interest refinancing expense to write off deferred financing costs associated with the interest of the issuance of the term loan.
OHI's weighted average lease maturity is 13 years, and approximately 82% of portfolio expirations occur after 2020.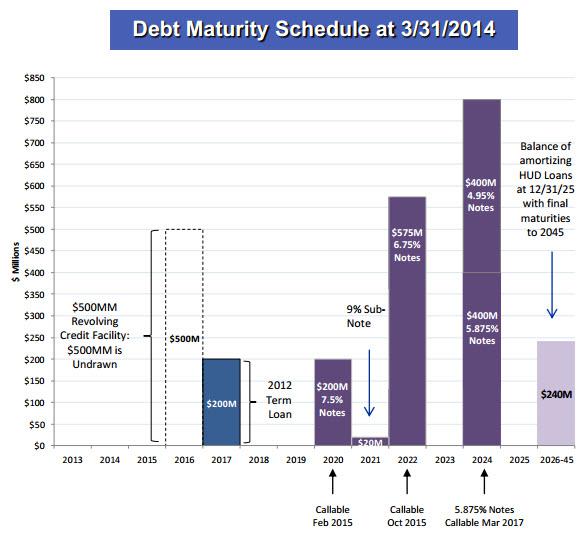 During the first quarter, OHI sold three facilities, two of which were closed and classified as held for sale for a total of $3.6 million, generating a $2.9 million accounting gain. For the first quarter, OHI's debt-to-adjusted per forma annualized EBITDA was 4.4x, and our adjusted fixed charge coverage ratio was 4.2x.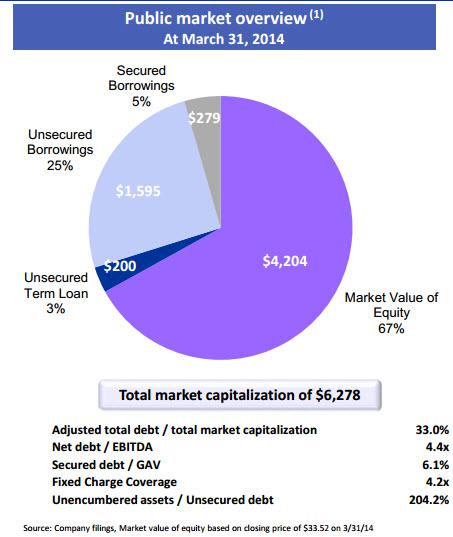 Trailing 12-month operator EBITDARM coverage remains stable during the fourth quarter of 2013 at 1.9x, versus 1.9x as of September 30th.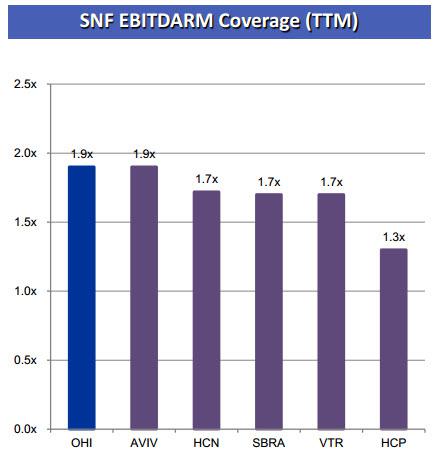 Trailing 12-month operator EBITDAR coverage dipped slightly from 1.5x as of September 30th to 1.4x as of December 31st.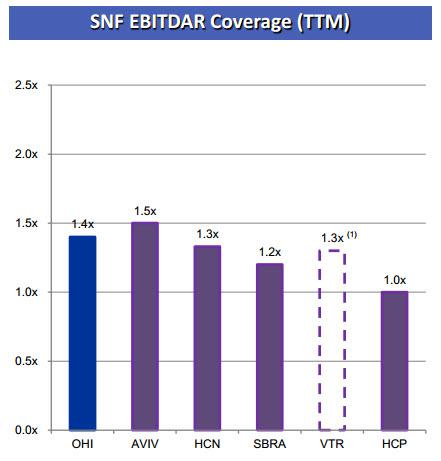 OHI expects overall portfolio coverage ratios to remain fairly stable over the course of 2014, as rates remained relatively flat and operators continue to undergo a constant stream of capital expenditure projects.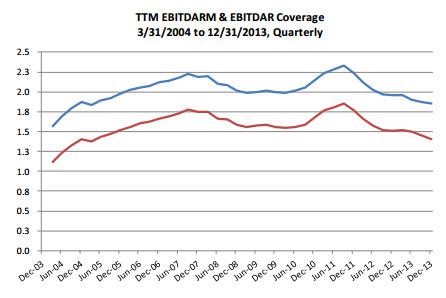 OHI also maintains a conservative debt profile, with only 10.6% of encumbered assets: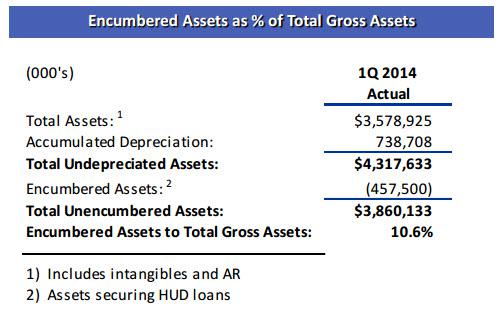 Compared with the peer group:

Total Debt to Total Market Cap compared to the peer group:

Consistency and Predictability
Here is a snapshot of OHI's Adjusted EBITDA (18.9% CAGR from 2005 through 2013):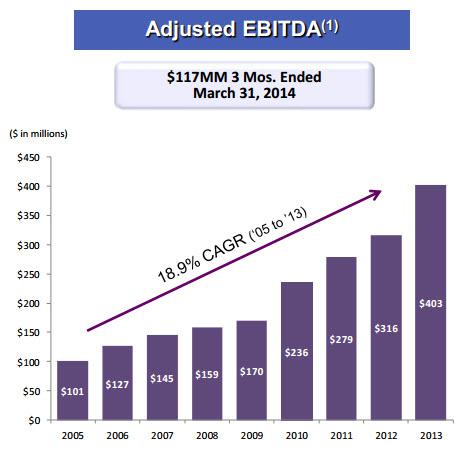 Here is a snapshot of OHI's Adjusted Funds from Operations (or AFFO) from 2005 through 2013: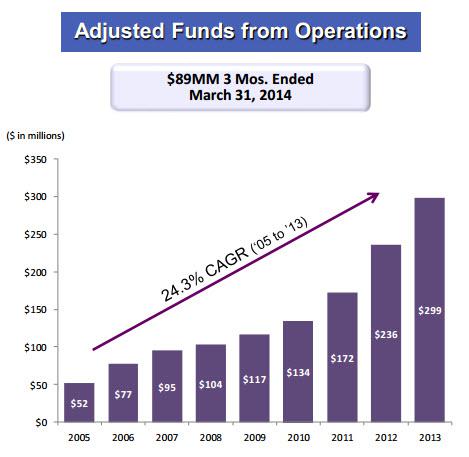 Here is a snapshot of OHI's AFFO per share and dividends paid from 2003 through 2013. As you can see, OHI enjoys a healthy payout ratio.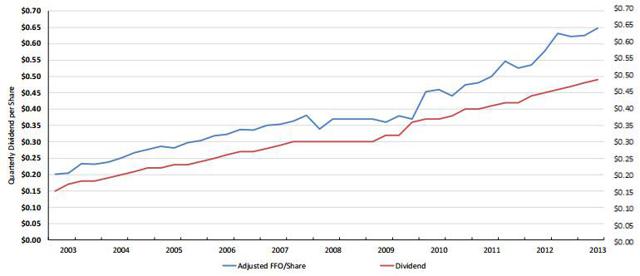 Here is a snapshot of OHI's dividend history since 2006 (Note: The average dividend growth is 12%):

Over the last 3 years, OHI has grown its dividend by an average of 13.5%.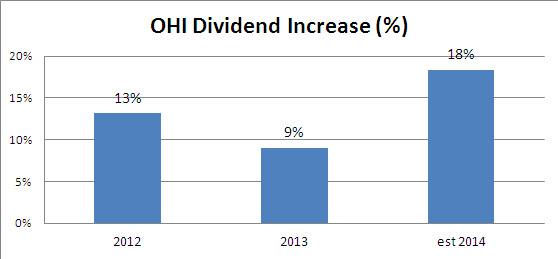 That's the best 3-year dividend growth rate in the healthcare sector: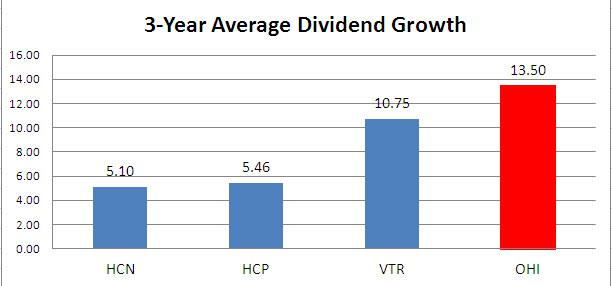 OHI's first quarter AFFO was $88.8 million, or $0.71 per share. Operating revenue for the quarter was $121 million, versus $101.8 million for the first quarter of 2013. The increase was primarily a result of incremental revenue from a combination of new investments completed since the first quarter of 2013, capital improvements and lease amendments made during that same time period.
Adjusted funds available for distribution, FAD, for the quarter was $0.65 per share, which is a 14% increase over 2013 first-quarter FAD of $0.57 per share. OHI increased its quarterly common dividend to $0.50 per share. OHI has increased the dividend for seven consecutive quarters. The dividend payout ratio is 70% of AFFO and 77% of FAD.
Glad I Planted This Seed
OHI shares are trading at $36.39 and a P/FFO multiple of 13.8x. I don't consider that a bargain (it's risk-neutral).

The dividend yield is 5.29%, higher than the peer group at 4.85%.

OHI has returned 20.08% over the last 12 months, the highest in the peer group:
As illustrated below, OHI has maintained a stable and consistent earnings history: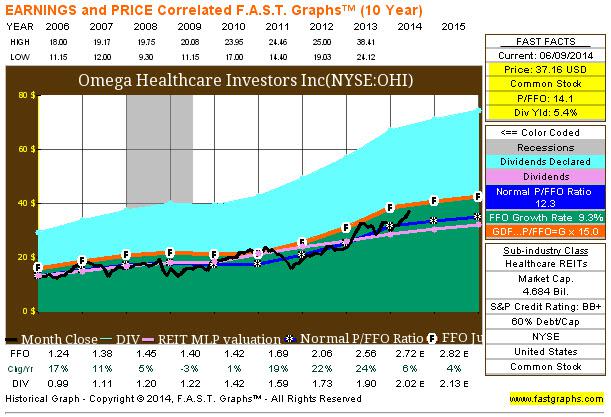 As I had hoped, OHI's share price has advanced steadily. I will continue to seek opportunities to purchase with a pullback; however, I would not recommend an entry price today at $36.49.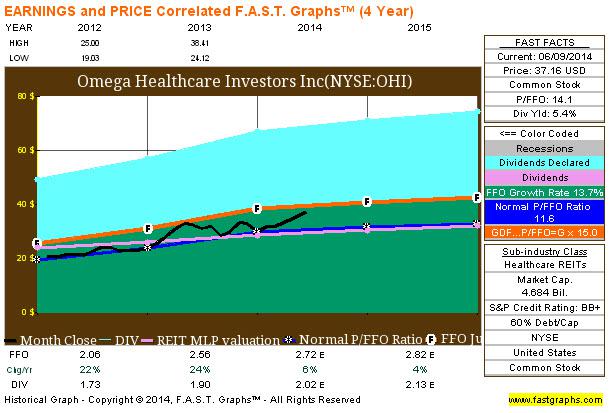 My purchase in OHI is validated based on the most recent dividend increases, as that's one of the best forward-looking indicators of growth and total return. The bottom line: The dependability of the dividend is the primary reason that I own this stock, and I'm satisfied the shares will appreciate and provide me with a long-term winner.
Sources: SNL Financial, FAST Graph, and OHI Investor Presentation.
Disclaimer: This article is intended to provide information to interested parties. As I have no knowledge of individual investor circumstances, goals, and/or portfolio concentration or diversification, readers are expected to complete their own due diligence before purchasing any stocks mentioned or recommended.
Disclosure: The author is long KIM, VTR, HTA, O, WPC, GPT, STAG, LXP, OHI, ARCP, DOC. The author wrote this article themselves, and it expresses their own opinions. The author is not receiving compensation for it (other than from Seeking Alpha). The author has no business relationship with any company whose stock is mentioned in this article.