I'm thrilled about the 7:1 split, currently Apple (NASDAQ:AAPL) is at a pre-split value that exceeds my 2014 price target. I wrote an article, about six months ago stating that Apple would reach a price of $653 per share:
I'm moving my target to $598 to $709 per share for fiscal year 2014. A mid-point of $653 per share gives investors 15.8% upside from current levels. In the best case scenario, investors should be able to exhibit a return of around 25.7% in 2014. The compelling risk-to-reward should give investors the green light to hold onto the stock. In the best case scenario, Apple finally releases more information on upcoming product categories like the iTelevision or iWatch, which generates further excitement moving the stock price higher.
Currently Apple trades at $93.56 (pre-split value of $654.92). I, no let me say, we Apple believers stand vindicated. The bears have been dismantled, and will continue to be wrong for the duration of 2014 and 2015.
So let me explain why the bears are dead wrong
The ecosystem play continues to unfold as Apple has been able to demonstrate at WWDC, that what exists at the core of a technology companies is its software. Airdrop and handoff continue to build on the fully connected ecosystem between PC, mobile, and tablet.
The only ecosystem that sort of matches what Apple is trying to offer is the Windows ecosystem. However, Android has not made any serious inroads into PC, as its focus is purely on mobile, tablet, and wearable computers.
Apple is starting to appeal to every demographic, plus it can function as a practical means to finishing work. Michael Dell mentions the importance of the PC:
The world got enamored with smartphones and tablets," Dell says. "But what's interesting is those devices don't do everything that needs to be done. Three-D printing, virtual-reality computing, robotics are all controlled by PCs. Productivity is grounded in the PC.
I can sort of agree that perhaps everything important needs to be done on a fully tactile keyboard. Whether it has to be done on an X86 or ARM based CPU is a totally different matter. Furthermore, Apple has more control over its product ecosystem than Michael Dell. Therefore, Tim Cook has the flexibility to make an ecosystem of products that can do work, play, cloud, and communication better than just about anyone else.
Let's let the numbers do the talking
Honestly, I get blown away by some of the things that are said about Apple. For example, Michael Blair states:
Think it can't happen? It is already. The volume increase Apple enjoyed in its March quarter seems to be the product of 10 million iPhone 4S units sold at about $349 and not surging demand for its higher priced models. Average selling prices fell in the quarter. They are likely to fall again in the June period. Apple might get a short-term bump as it records revenue by shipping large quantities of higher priced iPhone 6 units to carriers in September but whether those shipments are followed by sustained high volumes of purchases by end users is something we will have to await the Christmas quarter's results to learn.
Looking over Gartner statistics Apple's ecosystem is set to grow significantly, the whole entire ecosystem from Mac, tablets, and iOS is growing. Therefore, Apple's growth story looks to be soundly intact despite the argument of a mix of iPhone 4S into shipments.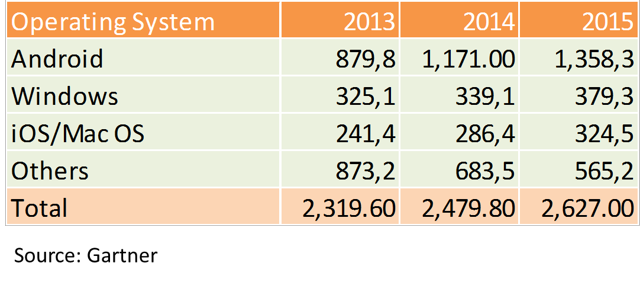 So let's take a look at iOS/Mac figures for 2013. There were 241.4 million units that were sold for that specific period. Now, I'm going to use basic averages for us to get a picture of the whole entire aggregate story.
Apple generated $170.9 billion in revenue in its 2013 fiscal year. When I divide $170.9 billion in revenue by the total unit sales of Mac/iOS in 2013, I estimate that on average Apple's average revenue per unit is $709.12. I'm going to create a derivative function, of the original function to understand the new trajectory of Apple's business.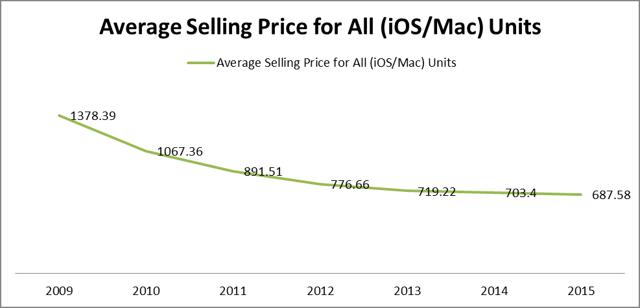 Source: AlexLeAnders
To create the derived function, I first create a quadratic function that models the ASP of all iOS/Mac devices sold in between the 2009 - 2013 period. I then differentiate the quadratic function: Dy/Dx F(X) = 40.58(x) 2 + -163,390.90(x) + 164,452,225.50. Upon differentiating the function, I get a standard linear function, which I will input 2013 into, to find the instantaneous rate of change. F' = 81.16x - 163,390.90, then F(2013) = 81.16 (2013) - 163,390.90 = -15.82.
I will then create the tangent function. F = -15.82(x) + 719.22, I input the value in terms of years since 2013. Therefore, I input 1, and 2 into the function to find out the projected ASP for 2014 and 2015. Based on my model, I expect the ASP for all Apple devices to be $703.4 in 2014, and $687.58 in 2015.
Gartner projects 286.4 million unit shipments between iOS/Mac in 2014, and 324.5 million in 2015. Therefore, I multiply 286.4 million units by the $703.40 in average ASP for all devices to find Apple's revenue for fiscal year 2014, which equals $201.453 billion sales for fiscal year 2014. I multiply 324.5 million by $687.58 to find 2015 revenue, which equals $223.11 billion in revenue for fiscal year 2015.
Admittedly, my forecasted sales figures are higher than analyst consensus. However, I believe that if ASP trends stabilize for Apple's basket of products on aggregate, paired with unit shipment growth, the company may be able to generate beats on top line results well ahead of the consensus. This is because, unit shipment volume should increase upon the introduction of new products, furthermore, demand for Mac computers (which have higher ASP) is expected to go up on the basis of PC refresh. Since my average ASP figure takes into consideration the impact from lower and higher priced products (PCs versus tablets) I believe it's a more accurate representation of Apple's ASP.
However, the reason I create this model isn't to figure out what 2014 fiscal year sales will be, instead I'm trying to figure out fiscal year 2015. Meaning $223.11 billion is going to be the more accurate number. This is because the impact from Apple's launch of the iPad onto NTT Docomo, plus China sales will take a while to ramp up. Furthermore, Apple hasn't released the iWatch yet, and it's only in fiscal year 2015 we will see the full impact of Apple's new product category. Therefore, my data points are highly correlated to the long-term trend, plus it factors in the near-term stabilization of ASPs, therefore I have high conviction that my method of analysis will project fiscal year 2015 sales with more accuracy than what sell-side analysts are currently modeling.
Also, I expect gross margins to remain stable, as newer product categories are expected to have high gross margins. Plus, the iPhone and iPad also have high gross margins. Therefore, the shift in ASP is used as a means to predict revenue, but does little to negate profitability trends.
Conclusion
It's safe to assume that Apple will continue to ramp-up unit sales going into fiscal year 2015. I expect ASP trends to largely stabilize, which is why I create a derivative function based on the instantaneous rate of change for 2013 ASPs. I believe that I have modeled a reasonable decay rate for ASPs, and I also have confidence in Gartner's estimates of Apple shipments going into 2015, as Apple will in fact ramp-up sales into its Chinese and Japanese channel. Furthermore, Apple will most likely release a new product category in the very beginning of its 2015 fiscal year, which will help Apple reach my $223 billion revenue figure for fiscal year 2015.
While, I do respect the opinions of other contributors, I don't believe iPhone 4S sales will impact the longer-term trajectory of Apple. Furthermore, I have factored in the ASPs of all Apple products including iPhone 4S, and when we derive the separate function we find that the impact isn't too significant. Furthermore, rumors indicate that smart watch gross margins can exceed 50%, therefore, Apple's new product category will contribute enough profitability to offset the net profit margin differential from lower margin categories. Also, I have already factored in the decay from lower ASP products, so I don't feel that it's necessary to address the impact of a smart watch that goes on sale for $300 - $350 per unit.
I'm confident that Apple investors will make money by investing into Apple. Ignore short-term articles that attempt to alert you into selling stocks prematurely. It's not time to take profits; it's time to add to your winning position. Remember, dollar cost averaging works in a bull-market, and it also works in your favor when it comes to the Apple momentum trade.
I'm raising my price target to $101.28.
Disclosure: The author has no positions in any stocks mentioned, and no plans to initiate any positions within the next 72 hours. The author wrote this article themselves, and it expresses their own opinions. The author is not receiving compensation for it (other than from Seeking Alpha). The author has no business relationship with any company whose stock is mentioned in this article.