I don't envy John Chen but I do admire him. BlackBerry (NASDAQ:BBRY) is facing its make or break quarter as investors have been watching and waiting for signs of a turnaround without seeing concrete indications that revenue could rebound. The risk is to the long side but if you take a position ahead of the results, do so with protection.
Low expectations after last quarter
Last quarter's financial results looked ugly but they should at this stage of a turnaround. The company missed cues from its market, causing demand to fall without streamlining its cost structure. While the former management team cut expenses, they were insiders and not in a position to cut expenses to the bone the way an outsider with less personal attachment could. To his credit Chen has done a fantastic job of cutting expenses internally and streamlining product manufacturing costs.
Last quarter, the company reported revenue of $974 million, down 64% y/y and a loss of $0.80 as the company racked up one-time restructuring expenses. The loss brought Cash down to $2.7 billion from $3.2 billion in a dramatic reduction. This was the ugly part.
Expenses dropping offers hope
The hopeful sign is expenses dropping. Even last quarter, Chen cut operating expenses much more quickly than investors had anticipated. The sequential drop in operating expenses was 31%, dramatic for a single quarter.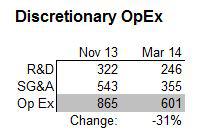 Cost cutting makes a turnaround possible, not guarantee it
However, expenses dropping is just the ante to get into the turnaround game. It doesn't guarantee you will stay in the game. Investors need to see signs that revenue can rebound before institutions will commit capital to a stock that has burned them in the past. At the recent Recode conference, Chen stated "We're going back to our enterprise roots." He went on to say that they will also develop vertical specific handsets. It's clear that BlackBerry is out of favor with consumers but winning back enterprise customers may be easier. Offering a comparable, cheaper solution to premium smartphones, or more customized handsets that leverage a particular niche might be the answer.
Android apps make the BlackBerry platform more appealing
Android apps now run on BlackBerry devices which helps close the gap in functionality with other platforms. The only rub is that the screen size needs to be comparable for the user experience to be good. As Techcrunch writer Steve O'Hear discusses, the Q10 can run the apps but the workaround is awkward. It seems the physical keyboard, which is what separates BlackBerry apart, takes real estate away from the screen.
Adjacent businesses are good assets but not the core
Like it or not, today BlackBerry is a handset business. The company may have revenue from its Enterprise, Messaging and Embedded groups but they are not standalone businesses today. These other businesses are assets that could be spun out but there is no proof that Chen can increase revenue in these existing businesses. In a 3 minute video interview with Walt Mossberg, Chen was called out on BlackBerry Messaging when asked for hands in the audience of people who were using BBM on Android or iOS and only two people raised their hands. It's not that there isn't value, it's that the company needs to prove that it can get paid for that value.
BlackBerry isn't Sybase, consumers have no switching costs
John Chen has a reputation for being able to turn around failing companies but unlike the enterprise licenses signed by Sybase, consumers have no switching costs from one handset to another. Sybase offered applications, databases and middleware that are integral components of large businesses. The switching costs would be huge for customers to leave. When turning around Sybase, cutting expenses gave him time to work with customers and offer product to a willing audience. That isn't the case in the handset business.
BlackBerry is scheduled to report earnings on Thursday, June 19th before the market opens. Capital IQ's consensus is for a loss of $0.27 but revenue should take center stage. In my opinion, at this stage revenue stability is the most important facet of the investment thesis.
How to play it?
This is likely to be a very volatile turnaround. Buying the stock for a naked long position is very risky and since volatility is cheap, buying a married put might be the safest way to position yourself for a turn in BlackBerry shares. A 10% gap up would put the stock above the 200 day moving average. Today the stock was trading at $7.85 and puts expiring next Friday with an $8 strike are trading for $0.48. This seems to be a small price to pay for safety on a stock that could be one of the great turnarounds of 2014.
Disclosure: The author has no positions in any stocks mentioned, but may initiate a long position in BBRY over the next 72 hours. The author wrote this article themselves, and it expresses their own opinions. The author is not receiving compensation for it (other than from Seeking Alpha). The author has no business relationship with any company whose stock is mentioned in this article.