A large percentage of drugs fail clinical development due to their inability to be delivered to the disease site at the proper concentration, or because of severe toxic side effects. For example, the majority of individuals with cancer are treated with non-specific chemotherapeutics which have nasty side effects, as they kill not only cancer cells but healthy normal cells as well. A drug delivery mechanism which could specifically transport a therapeutic at high concentration to only cancerous cells while avoiding healthy cells would not only increase the effectiveness of older chemotherapeutics, but could potentially rescue countless drug compounds currently in development and be integrated into new drug designs. BIND Therapeutics (NASDAQ:BIND), a clinical-stage nanomedicine company founded by world-renowned MIT professor and nanoparticle pioneer Dr. Robert Langer, has developed a technology that can do just that. Following an IPO less than a year ago at $15 per share, the stock has been a victim of the small cap biotechnology sell-off the last couple months, and now sits near its all-time low of $8 per share, representing a market cap of ~$150 million. At these levels, the stock has significant upside and represents a unique biotechnology play with limitless drug delivery possibilities and strong pharmaceutical partnerships. BIND Therapeutics' superior nanoparticle technology is primed to take a chunk of the nanoparticle drug delivery market, which is projected to expand rapidly and reach $54 billion by 2021. Recent pre-clinical and clinical data compiled by BIND Therapeutics illustrates the power of its platform and why I believe investors should get in on this drastically undervalued company now before the secret is out.
Accurins are Best-in-Class Nanoparticles
Drug delivery particles already have a history of being effective in the clinic. In 2004, the FDA approved DOXIL, a liposome-based particle loaded with doxorubicin, to treat Kaposi Sarcoma, multiple myeloma and ovarian cancers which have failed previous treatment. In 2013, DOXIL had sales of ~$600 million. However, liposomes can't regulate the rate of drug release, which has resulted in many clinical failures with this platform. BIND Therapeutics and Dr. Langer utilized and pioneered the development of a next-generation polymer-based nanotechnology drug delivery platform. The polymer drug vehicles BIND Therapeutics have developed are called Accurins, and have several advantages over liposomes and other technologies, including stability, controlled drug release and higher loading capacity. Accurins consist of an FDA-approved biodegradable polymer which entraps the therapeutic of interest at very high concentrations. Importantly, Accurins do not need to have the drug covalently attached to the polymer, which is what other technologies in the space require. This allows Accurins to be loaded with almost any drug payload and avoid regulatory roadblocks. The polyethylene glycol (NYSE:PEG) layer on the polymer forms a hydration shell mimicking a water droplet, which prevents detection by the immune system and clearance from the body, enabling significant circulation time. Finally, ligands are attached to the outer surface of the Accurin, which allows specific tissue or disease cell targeting. This polymer architecture designed by BIND Therapeutics is best-in-class and protected by an arsenal of patents.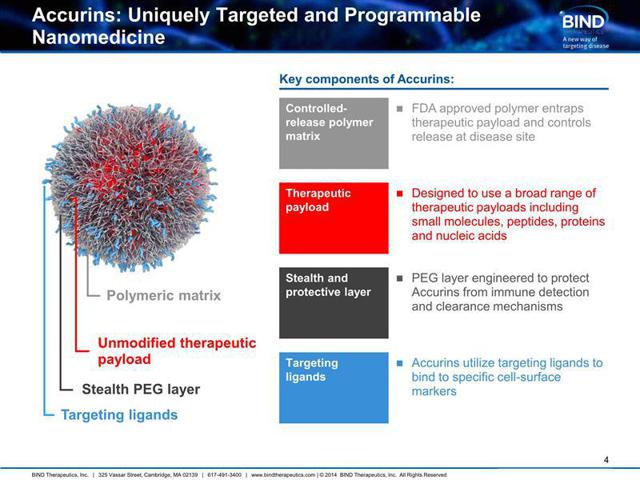 Drug Companies Lining up to Collaborate
The power of the Accurin drug delivery technology is illustrated by the lucrative collaborations BIND Therapeutics has put in place in just one year. It is currently developing Accurins for most oncology targets being developed by Amgen (NASDAQ:AMGN), Pfizer (NYSE:PFE) and AstraZeneca (NYSE:AZN), which has the potential to achieve over $1 billion-plus in royalties, with more than $450 million being pre-commercial milestones. Many of these compounds being investigated had promising efficacy in development, but high toxicity. For example, the Aurora B Kinase Inhibitor being developed by AstraZeneca has shown strong efficacy results in treating cancer. However, the drug is limited in use due to its severe bone marrow toxicity. BIND Therapeutics designed Accurins harboring the inhibitor, and illustrated that not only is the drug more effective in shrinking tumor volume when delivered within Accurins compared to the parent drug, but the bone marrow toxicity had vanished and was now similar to untreated controls. Therefore, Accurins increased the efficacy and eliminated the limiting side effect of this drug. In fact, pathologists at AstraZeneca reviewing the bone marrow slides could not believe what they were seeing and thought there was a sample mix-up. The drug is now going back into clinical trials with Accurins.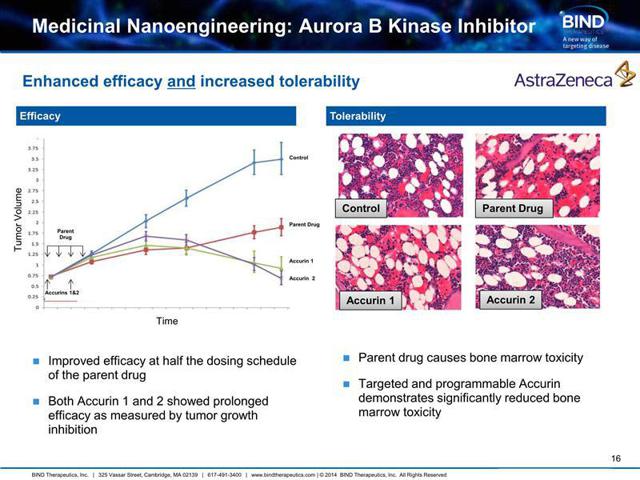 There's a similar story recently presented for another Kinase inhibitor delivered by Accurins, in which the efficacy was increased and toxicity reduced compared to parent drug, and is now entering clinical trials. The partner and drug in question has not been released publicly, but is thought by many to be Amgen. The potential of Accurins bringing drugs to market is unlimited and a goldmine for investors.
Clinical Data of BIND-014 Strong
Not only is BIND Therapeutics partnering with drug companies to improve drug treatment, but it is also developing its own pipeline of proprietary Accurins loaded with chemotherapeutics. By specifically delivering the chemotherapeutic to the tumor at high concentration, one can not only increase the effectiveness of treatment, but also avoid the toxic side effects. Imagine all the chemotherapeutic agents off-patent and how many potential products BIND Therapeutics could develop in-house. The BIND-014 product is the first. It is an Accurin targeting the solid tumor surface marker PSMA, and loaded with the widely-used but highly toxic chemotherapeutic agent, docetaxel. In the concluded Phase I trial, patients with advanced metastatic tumors who had failed all other drugs were treated every 3 weeks with BIND-014. Importantly, these patients were the sickest of the sick, who had no other treatment options left. Amazingly, BIND-014 illustrated anti-tumor activity in this hard-to-treat group in 11 out of 28 patients, ranging from stabilization of disease for at least 12 weeks in seven patients (pancreatic, colorectal, gall bladder, tonsillar, prostate, non-small cell lung cancer and anal cancer), three partial responses (non-small cell lung cancer, prostate and ampullary) and even one complete response (cervical cancer).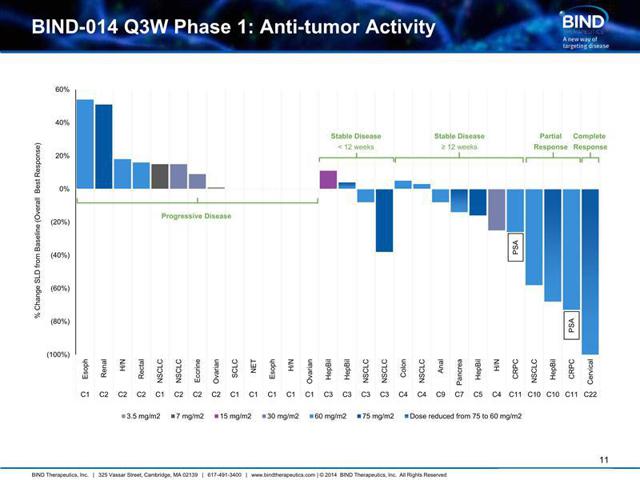 Anti-cancer activity was even seen in patients thought to be resistant to docetaxel from previous treatments. During the Jefferies Global Healthcare Conference last week, it was revealed that the cervical cancer patient with the complete response has now been cancer-free for over 2 years, with no other treatment. A similar response rate (8 out of 27) was observed with weekly dosing using a lower concentration. BIND-014 was well-tolerated by patients, with the most notable side effect being transient low white blood cell counts in some patients. Therefore, as expected, BIND-014 was able to increase efficacy and decrease side effects, compared to docetaxel alone.
Based on the strong anti-cancer signals observed in Phase I, BIND Therapeutics initiated a series of Phase II trials with BIND-014 for two high unmet-need cancers, castrate resistance prostate cancer (CRPC) and non-small cell lung cancer (NSCLC). Several patients with these cancers, who had failed other drugs, received benefit from BIND-014 treatment in Phase I, so there is high probability the benefit in Phase II will be higher, as the treatment population will not already have acquired resistance due to numerous previous cancer drug treatments. For the NSCLC trial, data on patients harboring KRAS mutations were analyzed early, as there has never been a drug effective in treating these tumors, so it wanted to remove these patients from the study as not to impact the response rate. Remarkably, out of the 6 patients with KRAS mutations (from first 20 overall patients), 2 had stable disease for more than 12 weeks, and 2 had confirmed partial responses. With previous studies detailing the average response rate of docetaxel in KRAS mutation patients at 5%, the fact that BIND-014 is showing a 30% response rate is highly promising. Based on these results, BIND Therapeutics is initiating a Phase II trial for KRAS mutants in Q3 2014. If effective, BIND-014 would be the only drug on market to treat KRAS mutant NSCLC, which accounts for ~25% of cases. BIND-014 will also be entering Phase II trials for treating a wide variety of other cancer types, including bladder and cervical cancer. The BIND-014 drug is just one example of the potential for Accurin drug delivery technology. Look for the company to begin selecting Accurins loaded with other chemotherapeutic payloads in the near future.
Financials And Risks
A risk when investing in small cap biotech stocks is always the cash burn rate. As BIND-014 has enrolled multiple clinical trials, the cash burn rate has increased from $17 million in 2012 to ~$25 million in 2013. With nearly $70 million in cash, the company should have sufficient funds to run the company for some time. Importantly, the development costs associated with the collaborations are all paid for by the drug companies. The stock can be volatile, as the outstanding shares are only ~16 million, with an average daily trading volume of only ~100,000 shares. In addition, there are a couple big institutional holders, Polaris Ventures and Flagship Ventures, which own ~12% and ~10% of the company respectively. Insiders own ~34% of the company, aligning the interests of investors with management.
Conclusion
BIND Therapeutics' next-generation polymer nanoparticles provide big advantages over other drug delivery technologies. With its Accurin platform developed by Dr. Langer, arguably the biggest name in nanoparticles, and a management team second to none, I believe BIND Therapeutics will succeed in taking a big chunk of the rapidly-expanding nanomedicine market. There are numerous catalysts on the horizon that promise to move the stock upwards. With very promising Phase I BIND-014 anti-cancer responses seen in a wide variety of tumor types that had previously failed treatment, BIND Therapeutics has initiated several Phase II trials, with read-outs in late 2014 and early 2015. In addition, several near-term collaboration milestones are expected this year, with the Amgen Accurin selection scheduled for July 2014.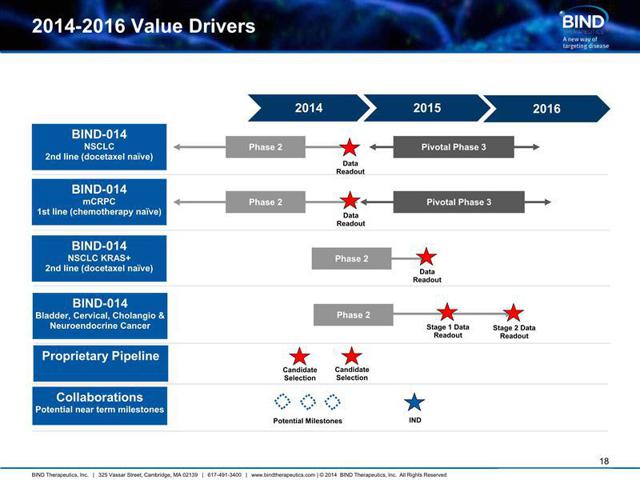 If the recent data presented by BIND Therapeutics describing the "unnamed" Kinase Inhibitor is truly Amgen, which I expect, then selection should be a no-brainer and provide nice near-term momentum for the stock. At a market cap just shy of $150 million (almost 50% off IPO price last year), and with almost $70 million in cash, BIND Therapeutics is a steal. This is a rare opportunity for investors to get a company with strong partnerships and novel drug candidates at a discount.
Disclosure: The author is long BIND. The author wrote this article themselves, and it expresses their own opinions. The author is not receiving compensation for it. The author has no business relationship with any company whose stock is mentioned in this article.