Vringo (VRNG) is arguably among the most exciting and debated stocks of the past few years. However, its share price hasn't appreciated yet, albeit some short-lived momentum rallies. But the risk vs. reward profile has improved significantly, and I think a great buying opportunity has emerged. While most eyeballs are on the high profile case against Google (NASDAQ:GOOG) (NASDAQ:GOOGL), I believe the somewhat more off-the-radar trial against ZTE (OTC:ZTCOF) will be the prime catalyst this year. Major developments indicate a big settlement is in the cards that could send shares substantially higher.
Something's brewing with the ZTE case
ZTE is a Chinese multinational telecommunications equipment and systems company and is one of the largest smartphone manufacturers in its home market, and worldwide. Its annual revenue topped $12 billion in 2013. Vringo filed multiple lawsuits against ZTE in 2012 and 2013 in respectively the UK, Germany, France, Spain, Australia, Brazil and India regarding unlawful infringement upon several patents. Given the pace in which Vringo files lawsuits, it would not surprise me if more countries follow suit soon.
Let's look at some key developments. So far, the District Courts have granted Vringo an injunction in Germany and one in India. Those are clear victories for Vringo because an injunction is a serious matter for the defendant; it prohibits selling its product. ZTE, of course, appealed, and regarding India the court has now reserved judgment on the injunction, which Vringo expects will remain in force until the court holds a status conference, which is scheduled for July 8, 2014. Something else caught my eye too. A few weeks back, news came out regarding the appealed injunction in Germany:
"..The hearing for Vringo Germany GmbH's lawsuit against ZTE Corporation and ZTE Deutschland GmbH regarding the German part of European patent 1,212,919, scheduled to take place on April 30, 2014 at the Mannheim Regional Court has been postponed by mutual agreement of the parties…"
A postponement is normally not desired by the pursuer. Is something brewing with Vringo and ZTE? Consider the following factors:
Number 1: Vringo is cornering ZTE on a global scale. So far 7 countries are already on Vringo's radar, and more countries could follow suit soon, given the pace in which Vringo is operating. ZTE must be feeling the heat.
Number 2: Vringo has already managed to obtain 2 injunctions by rulings of the District Court. More injunctions could also follow suit soon, as more trials are to be commenced later this year. It is widely known injunctions significantly motivate or even force the defendant to settle.
Number 3: ZTE has a history of settling with pursuers (Ericsson, Dolby, etc).
Number 4: Vringo also has a history of settling [Tyco (TYC), Microsoft (NASDAQ:MSFT), etc.].
If you add things up, it appears that a settlement is the most likely outcome.
A settlement with ZTE would be a game-changer
Vringo's goal is to obtain a global licensing agreement. Given the fact that ZTE is a multi-billion dollar company, any agreement, whether global or country specific, would bring in millions to Vringo's balance sheet, by either a lump sum payment and/or a royalty fee. How much? That is hard to exactly pinpoint, but given the sheer size of ZTE, Vringo's term sheet, and a realistic royalty fee of 5%, I would expect a net proceeds of more than $100 million, which equates to what the Maxim Group has calculated. This is on a conservative note, the final numbers could be much bigger.
A settlement would strengthen Vringo's financial position in such a way, that every defendant or potential defendant would understand Vringo is there for the long haul. It also eliminates any dilution risk. So apart from the increase in cash, so much risk would be eliminated, that Vringo's share price could instantly reset to much higher levels. In other words, Vringo could quickly transform from a pre-revenue IP company into an IP litigation powerhouse like Interdigital (IDCC). Remember, ZTE represents just 10% of the global telecom equipment market, which is worth over $100 billion. If Vringo pockets the ZTE settlement, it will definitely go after the other 90% of the pie. That will bring the potential revenue for Vringo to well over $1 billion.
The case against Google
This case is well-known and has been covered a lot, so this article won't get into the details. Vringo's case against Google is progressing well, and the Courts of Appeals are now handling this case. Google's obvious strategy is wear Vringo out. Google has been quite successful in delaying, so I don't expect a final verdict to be announced until sometime next year. Contrary to popular belief, I don't believe Google will settle, so Vringo needs an outright final court victory. I do believe Vringo will prevail, and given the $1+ billion damages and royalty amounts involved, shareholders could be substantially rewarded. The Google litigation is the absolute jackpot case, and based on this case alone, Vringo shares appear to be worth owning.
Technical chart indicates buying opportunity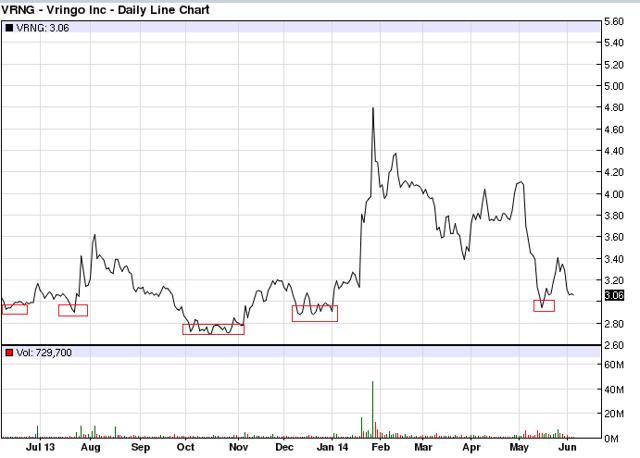 The chart indicates Vringo's share price is trading at a technical bottom at low volume, presenting a favourable entry point.
Vringo has filed another lawsuit
Besides ZTE and Google, Vringo has more tricks up its sleeve. It has filed two lawsuits against ASUSTeK (OTC:AKCPF) in Germany and Spain. The German cases are scheduled to be heard in November 2014. The Spanish trial date is forthcoming. This lawsuit promises to be very big given ASUSTeK's annual $15 billion revenue. We'll have to await further details after the first hearings.
Overview catalysts
Here's an overview, which shows the second half of this year could be a very promising period for Vringo:
The overview is not complete; you can add the hearing set for next month in India regarding the ZTE case. And keep in mind that the Google case continues to go through the various stages, which the overview can't reflect because there are no specific trial dates set (yet). Overall, Vringo is a prime stock to own given the ample catalysts at hand.
Vringo's cash position
As per 31st March 2014, Vringo has $28 million in cash and no debt. Vringo burns about $5 million per quarter, so Vringo is financially secure for at least a year. Therefore, I don't expect any near-term dilution. I expect the cash balance to increase this year, either via an agreement with ZTE and/or the damages Google owes Vringo. Additionally the settlements with ADT (NYSE:ADT) and TYCO will probably add some cash to the balance sheet too, but I can't predict how much, since the agreements are confidential. Lastly, any warrant conversion will add cash to the balance sheet.
What is Vringo worth today?
Vringo's value is essentially made up of 2 elements: its net cash and expected value from the pending lawsuits. With IP litigation, patents aren't worth anything unless you are able to extract cash from it (monetization).
Net cash is $25 million and the potential reward of the ZTE and Google cases surpass $1 billion. A previous article on Seeking Alpha even outlined the Google case alone could top $1.8 billion. Thus the key questions are what the odds are Vringo will win, and when they will win. By winning I mean actually banking the cash. As of now, the market doesn't really seem to believe Vringo has a serious shot at winning its current lawsuits, since its market capitalization is currently $250 million, which equates to a less than 25% chance Vringo will win.
I argue the market is seriously wrong, since I believe a settlement with ZTE could occur this year and Vringo will prevail against Google. Even if I put the odds at less than 50% that would make a market cap of $500 million, or $5 per share today. I actually think the odds are higher than 50%, but I rather stay conservative. My point is this: Vringo is currently deeply undervalued.
But I'm not that surprised Vringo is so undervalued today. Wall Street mispricing small-caps is a common phenomenon. Sometimes the mispricing is so extreme, that a trade almost resembles arbitrage. You may need to be a little patient, but at the end of the day, buying shares of deeply undervalued small caps like Vringo is a highly rewarding investment strategy.
The multiplier effect
Here's an interesting factor most investors don't realize: the whole dynamic will change the moment Vringo wins a case. It would open the door, that would otherwise stay shut, for many more potential lawsuits against a large pool of potential defendants; the multiplier effect. The analyst team at the Maxim Group understands this, as they have put a $10 price target on Vringo. I concur, and argue that a settlement with ZTE could triple Vringo's share price.
Insiders start buying shares
The insider trading pattern reveals that insiders have started buying. One insider bought a good portion of shares last month:

Why is the short interest so high?
Vringo has a notoriously large short interest that has kept the share price low. Why would anyone short Vringo? VirnetX (NYSEMKT:VHC) recently has made some good points in their conference call regarding predatory short shelling. Read this hyperlink. It's an intriguing insight in the dark corners of Wall Street. Is Vringo also a victim? I don't know, but it could be a sound explanation, or at least partially, for the irrational high short interest that has been plaguing many IP stocks. But here's the good news: the short sellers have already initiated their position, and must cover eventually, thereby amplifying any share price appreciation. A recent example: I called Spherix (NASDAQ:SPEX) when it was trading at $1.40. A day later, a short squeeze made the stock triple, from $1.40 to over $4. Vringo could be next.
What's the downside risk?
A longer-term risk is dilution. If Vringo does not manage to turn any trial victory into hard cash, management is forced to do a capital raise next year.
Court delays remain a real possibility, but that's a common risk that goes with the territory of IP investing. However, I believe delays are more or less baked into the share price, because they already occurred, so they aren't that unexpected. Markets are efficient in that regard.
An obvious risk is losing a case. Vringo has multiple lawsuits pending, and has executed excellent so far, so it is unlikely Vringo will lose, but losses do lie within the realm of possibilities.
Conclusion
From my analysis, Vringo is worth $5 today. But Vringo's undervaluation won't last long. Near-term catalysts could drive shares higher, and I expect a settlement with ZTE this year. This event would be the game-changer Vringo wants, that could instantly triple its share price from current levels. The downside risk is limited, given the company's undervaluation and the excellent progress Vringo has made throughout the various stages of its lawsuits. I see Vringo therefore as the ideal asymmetrical trade: limited downside risk vs. huge upside potential.
For full disclosure and disclaimer information click here
To join my free stock pick alert service click here
Disclosure: The author is long VRNG. The author wrote this article themselves, and it expresses their own opinions. The author is not receiving compensation for it (other than from Seeking Alpha). The author has no business relationship with any company whose stock is mentioned in this article.
Editor's Note: This article discusses one or more securities that do not trade on a major U.S. exchange. Please be aware of the risks associated with these stocks.