Muni bond ETFs are at the low end of the risk spectrum, but ongoing state and locality woes have investors fearing defaults. Is there that much cause for concern, though?
Many investors fear a tsunami of municipal defaults amid falling tax revenues, which has led many to hesitate getting into muni bond funds. Municipal bonds are issued by cities, counties or states that are in need of cash to fund development of projects, such as schools, airports, hospitals or other municipal amenities.
Muni bond ETFs hold a variety of municipal bonds issued by various states and localities. Top holdings may include "general obligation bonds," or munis backed by credit and tax revenues from the project.
Benjamin Shepherd for Investing Daily reports that a large proportion of municipalities face spending cuts, but most are positioned to make do with weaker tax revenues. If you're holding shares in a well-diversified muni bond ETF, there's little downside risk, aside from the initial market jolt triggered by an unexpected default.
Muni bonds are considered fairly conservative investments and when a muni bond issuer offers a new bond for sale, it usually discloses the details of the offering and information about its financial condition in the bond's "official statement," says Napsnet.

According to the ETF Analyzer, the highest-yielding muni ETF is Market Vectors High Yield Municipal Index (NYSEARCA:HYD), which yields 5.7% and is up 0.7% in the last three months.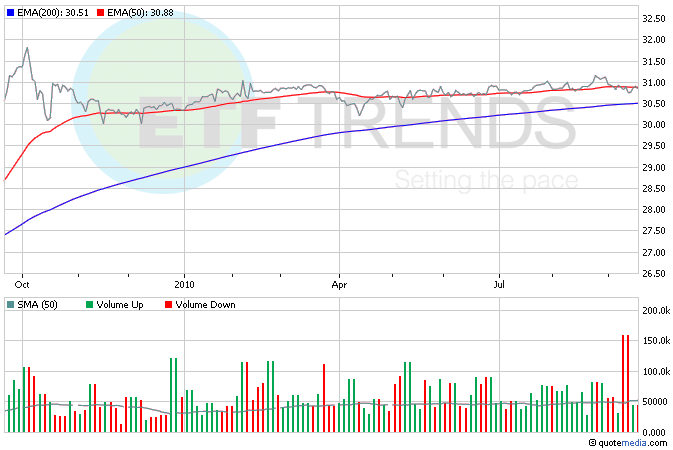 Tisha Guerrero contributed to this article.
Disclosure: None