General Electric (NYSE:GE) had about $87B in consolidated cash at the end of Q1 2014. Most of this was held abroad. Repatriating it would mean extra taxes. Instead GE is trying to spend about $17B on Alstom's Energy (OTCPK:ALSMY) business. The actual price is closer to $13.5B due to the cash that stands to be acquired with Alstom's books. At this price GE would be paying an approximate 25% premium. This sounds like a good deal for GE (and a good one for Alstom).
This is a deal to acquire Alstom's Power and Grid business; but Alstom will retain its Transport business. GE is acquiring $13.5B in enterprise value with 7.9x pro forma EBITDA. This will be 4.6x with run rate synergies. The deal is expected to close in early 2015. It is expected to be immediately accretive to earnings with +$0.04-$0.06 per share in the first year and +$0.08-$0.10 per share in 2016. The cost synergy opportunity is expected to reach approximately $1.2B within 5 years. As a ballpark figure let us say GE is adding about 5% in earnings for $13.5B. When you consider that GE's enterprise value is $644.05B, GE will be adding about 5% in EPS with only a $13.5B/$644.05B = 2.1% incremental investment. This sounds like good business. GE investors should hope the deal goes through.
Is there a hold up? Yes, a lot of French and European sentiment is against selling to a US company. Alstom tried to get counter offers from other European companies. Siemens (OTCPK:SIEGY) promised it would make a counter offer by June 16, 2014, if it is going to make a counter offer at all. On June 10, 2014, GE agreed to extend this deadline until June 23, 2014 at the behest of some French officials. This is less than two weeks away, so things are looking up for GE. Besides there is no guarantee that the Siemens offer would be preferred.
In the meantime GE has been negotiating with the French government over the little issues that will need to be addressed before the government will allow the deal to go through. CEO Jeff Immelt has CEO of GE France Clara Gaymard, supposedly the consummate insider, helping him smooth the way. Immelt's promise to not only preserve jobs, but to create jobs in France may be the critical piece to the puzzle. French President Hollande has been promising to increase jobs; and a deal that promises to help him do that would be much more palatable to the French people than a simple takeover. GE also promised to guarantee France access to nuclear-power technology if the purchase is approved. GE investors should be encouraged.
GE says it likes the deal for the following reasons:
Broad services business with big installed base (about $350GW).
An approximate $38B backlog.
Strong customer relationships.
A leading fossil and nuclear steam turbine technology.
Complementary renewable energy platform, including hydro and offshore wind capability.
Broad high voltage wind business, which is more competitive with market leaders Siemens and ABB.
Total power plant and project capability.
Emerging markets footprint. Alstom adds $10B of revenue to GE's growth market footprint.
Global leadership team; good engineering.
Overlapping global structure with GE.
The drivers for the $1.2B in synergies are:
Optimize manufacturing and service footprint (consolidation opportunities) -- about $400 million
Combine sourcing buy (5% savings on common spend) -- about $250 million
Optimize R&D efforts -- about $300 million
Consolidate support functions (eliminate duplicate SG&A, etc.) for a combined 10% reduction -- about $250 million
GE expects to spend $900 million to achieve these synergies by year 5. GE is assuming modest revenue synergies. It expects about $4B of incremental cumulative operating profit over three years. It expects to improve their operating margins by 7%-10%. Plus this buy will expand GE's competitive capabilities. It has a long history of investing in European competitiveness. It has an experienced, proven integration team. Plus who can argue that this is a down time for France and Europe in general. Logic says that this is an ideal time to buy if you can afford to, which GE can.
Looking forward, GE foresees an approximate 50% increase in electricity demand by 2030. It expects about 65% of this will come from centralized generation. This will require grid infrastructure investment. GE wants to be the provider. The Alstom acquisition should make it a lot easier for GE to win this kind of business worldwide. 85% of Alstom's revenues come from outside North America. 80% come from outside Europe. Further 34% of Alstom's revenues are from services. This is recurring revenue; and Alstom's business should help GE expand its own services business.
All told, there is very little wrong with this deal for GE; and Alstom needs the money. If Jeff Immelt can convince the French government that this deal will help create jobs, it stands a good chance of going through. It should be a big positive for GE long term. Further the extra approximately $0.05 in EPS that this buyout is supposed to generate in 2015 will mean an extra approximately 2.6% in EPS in 2015. This should help the stock go up modestly. GE investors can only hope the deal goes through.
The two year chart of GE provides some technical direction for this trade.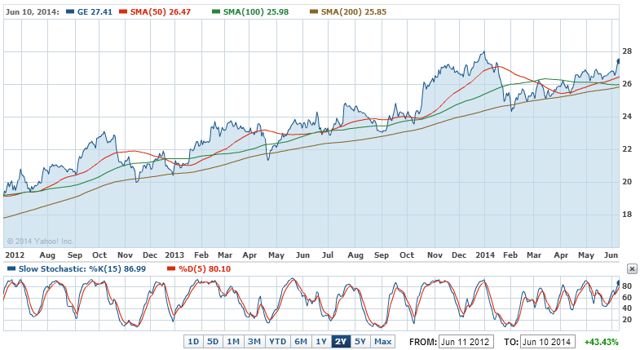 The slow stochastic shows that GE is at overbought levels currently. The main chart shows that GE has been in a strong uptrend for the past two years at least. The stock price appears to be a little over extended at the moment, but the stock is still very buyable. The $1.2B in synergies that will take 5 years to fully achieve should continue to feed into EPS as they are achieved. This makes GE's outlook that much rosier for the future. With an approximate 3.3% dividend, it should be a very nice stock to own.
GE trades at a PE of 22.54 and an FPE of 15.06. This seems reasonable given the next five years average analysts' EPS growth estimate per annum of 8.48%. GE has minor insider buying; and it has little institutional selling. A lot of people like the stock. Investors can probably average in around the deal.
If you think that the overall market is in for a sharp downturn in the near future, you will want to average in over a much longer time period (1 year or more). Alternatively you may want to wait until the downturn is near its bottom before attempting to buy. GE is a cyclical stock. If economies start to slow, GE's business will slow too. Investors will have to decide this for themselves. However, investors should be aware that the World Bank on June 10, 2014 lowered its 2014 GDP estimate for developing countries (emerging market countries) to 4.8% from 5.3%. This is another negative to heap on top of the US Q1 GDP growth of -1.0%. It may pay to be a little leery of this market. However, the acquisition described appears to be a very good one for GE for the short and the longer term. GE is a buy. It has an average analysts' recommendation of 2.3 (a buy); and it has a CAPS rating of four stars (a buy).
NOTE: Some of the fundamental financial information above is from Yahoo Finance.
Good Luck Trading.
Disclosure: The author has no positions in any stocks mentioned, but may initiate a long position in GE over the next 72 hours. The author wrote this article themselves, and it expresses their own opinions. The author is not receiving compensation for it (other than from Seeking Alpha). The author has no business relationship with any company whose stock is mentioned in this article.
Editor's Note: This article discusses one or more securities that do not trade on a major U.S. exchange. Please be aware of the risks associated with these stocks.