In this inaugural edition of our Mining News Review we've chosen to spotlight Silver Standard Resources (NASDAQ:SSRI).
This past Monday, Silver Standard announced the results of a preliminary economic assessment combining its Snowfield and Brucejack projects. Although the net present value and production profile of the combined mining operation is still not very large relative to the estimated $3.5 billion in capital costs, there is quite a bit of room for growth and improvement as the parameters are refined. With some optimization work, it is possible that Snowfield and Brucejack might even justify Silver Standard's entire market cap by themselves.
That would leave substantial upside to account for the production at the Pirquitas mine in Argentina where estimated silver production in 2010 is 7 million ounces, not to mention Silver Standard's other properties. The compay's silver production is targeted to grow to over 19 million ounces in 2013 (plus significant zinc, lead, and tin by-product credits) as Pirquitas is expanded and the large Pitarilla project in Mexico, as well as the small but high grade San Luis project in Peru, are brought on line.
When it was an ounces-in-the-ground accumulator, Silver Standard was arguably valued more highly by the market than the sum of its parts, so perhaps it shouldn't come as a surprise that having graduated to the coveted silver miner/developer status means the company is now seemingly valued at less than the sum of its parts. Silver Standard's management is acutely aware of this problematic situation and we expect them to monetize Snowfield and Brucejack in the near future, perhaps by pairing up with the nearby KSM project of Seabridge Gold (NYSEMKT:SA). This emerging gold-copper porphyry district in northwest British Columbia is already host to over 60 million ounces of gold, 300 million ounces of silver, 12 billion pounds of copper and significant molybdenum and rhenium credits. Such a massive resource base is quite remarkable when considering that most of the exploration work took place within the past 3 years.
In any case, it may makes little sense to develop Snowfield, Bruejack and KSM separately because a large portion of the capital cost is infrastructure, energy transmission and transport. Sharing these costs would make each project more economically viable on a standalone basis but the greatest value would probably be realized upon the entrance of a major mining company that is looking to control an immense district-scale resource base while being in no hurry to develop it. Be that as it may, it seems to us that most Silver Standard investors are paying little attention to Snowfield and Brucejack and are instead worried about production difficulties at the newly-commissioned Pirquitas silver-tin project in Argentina. While these worries are justified, we suspect that Silver Standard is in the midst of a successful rebuilding of its credibility. Should the company start firing on all cylinders in the months ahead, the share price will easily outperform the silver producer peer group.
Shown below is a small sample of the many charts used in our comparative peer analysis technique. (Click to enlarge)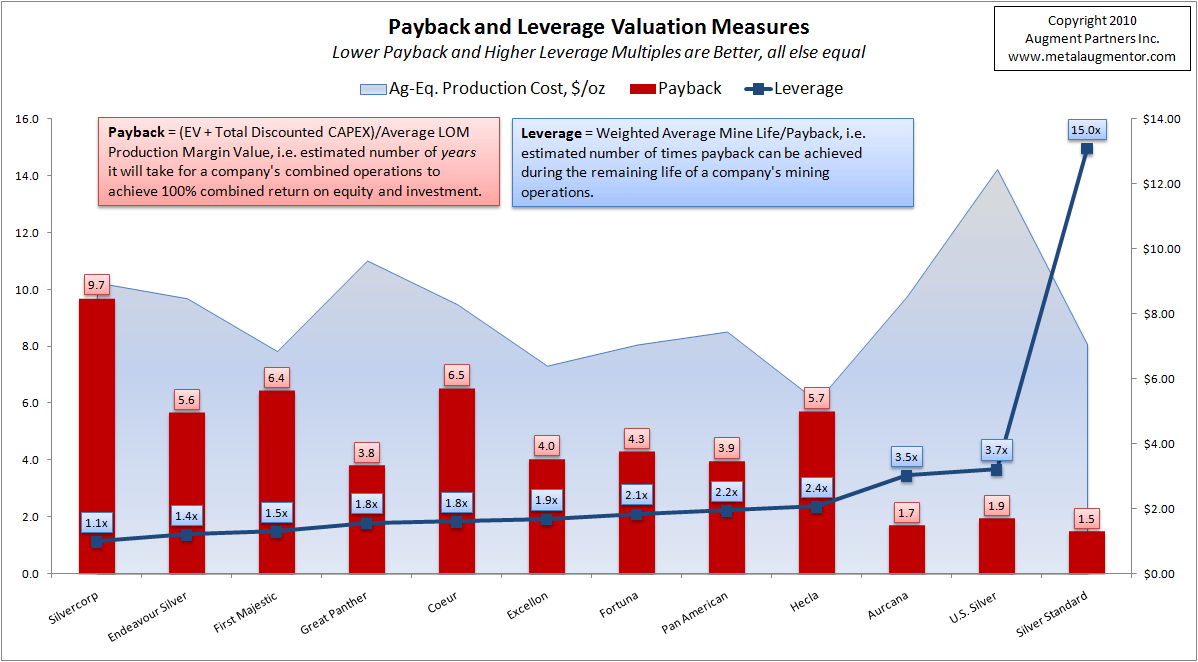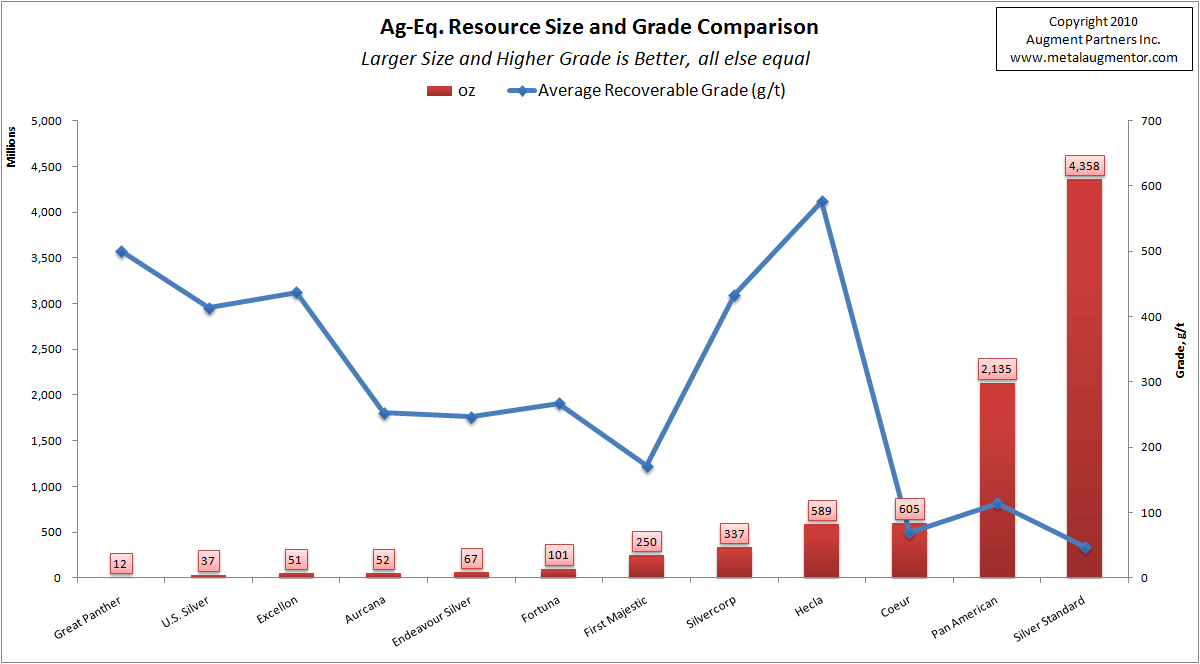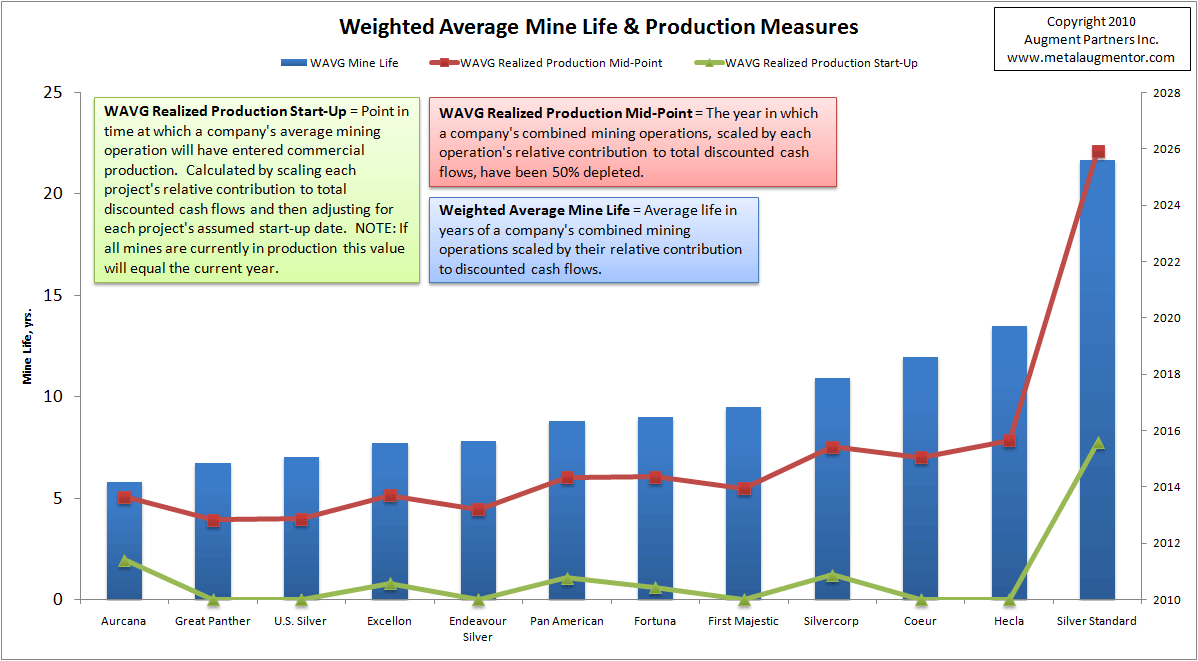 As can be easily seen, Silver Standard stands head and shoulders above the competition in terms of its "leverage," resource size, and mine life characteristics. At current metal prices our valuation target for Silver Standard comes in at a smokin' hot $51 per share, of which about 50% is attributable to the Snowfield and Brucejack projects. This means the market is still valuing these projects at less than zero. As Silver Standard starts to monetize its vast resource base, we expect the share price to start moving toward our target. If we are right, Silver Standard shares could double even without an increase in metal prices.
Disclosure: Long SSRI