Apple (NASDAQ:AAPL) opened their long awaited World Wide Developers Conference 2014 on June 2 with much fanfare. Apple's stock price has been below its all time high of $700 for almost two years as investors worried about falling margins, and even more importantly, they questioned Apple's ability to innovate since the death of Steve Jobs. While it has recovered significantly (up 45% from 1 year ago and about 65% from its low last June), it has yet to match its lifetime high.
The major key to price recovery is convincing investors that innovation is still strong.
In the two-hour opening keynote, CEO Tim Cook led the presentation of the new Mac OSX, dubbed Yosemite, and iOS 8 for mobile iDevices. Many of the new features are little more than evolutionary eye-candy. This is not to say that they are not useful and worthwhile advances, but by themselves they are not particularly revolutionary.
On the other hand, there are a few features that really do grab the attention and make a real difference. There are also a few of what I call sleepers -- things that are easily passed over, especially by the non-technical folks, but which, to my mind, will have very deep effects on the bottom line.
These are things that will ultimately further the success of the platform by increasing positive differentiation of the products.
OSX Yosemite and iOS 8
One of the most notable aspects of the presentation was the sheer number of additions to the two operating systems. From new fonts to advanced Spotlight searches, there were so many things to cover that two huge ones that were widely anticipated received relatively little attention. These are HomeKit and HealthKit. The first is a set of standardized protocols for home automation devices -- lights, garage doors, entry locks, etc. -- to communicate with a central controller that would coordinate communications with all such devices in your home. The second does pretty much the same thing, but with all your health, exercise, and nutrition information -- from heart rate monitoring, to miles jogged -- all are saved in a secure, centralized location and may be shared (with your express permission) with other apps.
Guiding theme
In fact, there appears to have been a real theme that ran throughout the whole event -- Integration. Apple wants to help simplify your life by integrating all the various aspects of your digital world. This not only provides a better experience for you, but ties you more and more into their overall ecosystem.
Walt Mossberg astutely remarks:
To my mind, the overwhelming theme at WWDC was that your digital life can be better if your phone, tablet and laptop all have the familiar Apple logo. Unlike in the past, it wasn't just about a better laptop operating system, or a better phone-and-tablet platform. It was all about the advantages you get if you use Apple hardware, software and services for everything.
This is very good from the investor's point of view.
Mossberg goes on to note that the center of all this is what Apple calls Continuity, a set of functionalities that can happen seamlessly across your iPhone/iPad and Mac OS Yosemite. You can:
Begin editing a document (email, iMessage, etc.) on your iDevice, and simple pick it up instantaneously on your Mac, in a process called Handoff.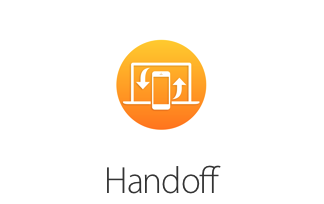 You can answer or initiate phone calls on you iPhone right from your Mac.
SMS messages appear on your Mac, and you can send new ones.
You can create an instant wifi hotspot with your iPhone for your Mac or iPad running on the same iCloud account.
The new iCloud Drive lets you share any file between Macs, iDevices, and Windows PCs. (This is a throwback to the iDrive released in 2000 as part of MobileMe service, but regrettably discontinued in the original iCloud.)
It should be noted that some of these technologies are not limited to Apple's apps. Any developer can now add iCloud and Handoff functionality to their products.
I can see the day where an MS Word document will be emailed to my iPad, I can start to edit it, walk over to my Mac and with a simple mouse click, open it up. With Handoff, whenever you are working on an enabled app in the foreground of an iOS device, a corresponding icon appears to the left of the dock on your Mac (assuming you are within range, of course). Clicking this will open up the Mac app with the same document.
Some of these services are already available on Android, or via third party apps (Dropbox, for example), but others are unique, and all integrate totally seamlessly. Together, they add up to an incredibly fluid experience. Again, the sheer number of improvements is virtually staggering.
Bob O'Donnell of TechOpinions wrote:
One capability that won't take much time to evaluate, however, was the Continuity features they showed that will enable iOS8 and MacOSX Yosemite-based devices to work together in a completely seamless fashion. In my view, these were the most important capabilities Apple unveiled yesterday by far. Finally, we can start to see a world where the devices play a secondary role to the people and what it is they want to get done.
Investors should be happy, as this increases buy-in of Apple products. (More on this in a future post.)
Sleeper Features
1 - Advancing Swiftly
One new feature that will have an enormous impact is the new programming language Swift. It is difficult for non programmers to realize the potential impact of this new language for building iOS apps.
Programming is an intense and highly detailed activity, and the products are extraordinarily complex with some applications running to literally hundreds of thousands (if not millions) of lines of code.
Programming languages are also very picky. They do exactly what you tell them to do -- nothing more and nothing less. Natural languages are much more relaxed allowing for a great deal of ambiguity that is usually resolved by the listener, generally from the context. (To whom does a particular "he" refer?) Programming languages do not have this capacity, and so it is extremely detailed work.
Swift helps here by simplifying the language and making certain technical inferences as you work so that you do not have to type in some of the details. It also can be interpreted on the spot in the X-Code development environment with visual "playgrounds" showing the results of code as you enter it. This simplifies development enormously, in turn increasing productivity and reducing the frustration of the inevitable errors.
So the result of Swift is two-fold. First, it will increase productivity and satisfaction of each programmer. This means that work will get done with fewer resources -- either few programmers (decreased cost) or less time (quicker to market).
Importantly, it will also increase interest, especially by younger programmers as the ease of learning and fun aspects are so attractive.
These two points will drive further motivation for the best programmers to develop for Apple products first. The competition between Apple's iOS and Google's (NASDAQ:GOOG) (NASDAQ:GOOGL) Android for the loyalty of developers is keen, and the results important to sales.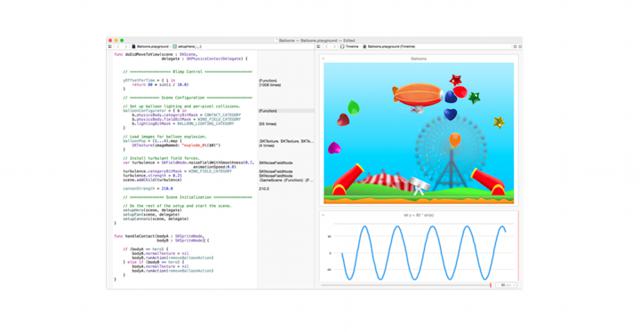 Note: Already Swift language is generating so much interest that it is moving into the top 10 most searched for programming language. [See here]
2 - The future is cloudy
Not only did Apple introduce new cloud features -- enhanced photos, iCloud Disk -- but they also introduced a whole new API called CloudKit. This allows a company that creates apps for either iOS or Mac OSX to store data in Apple's iCloud, where it can be accessed by any other device using your app -- including browser-based web access.
This has two use cases. First there is the obvious -- you use it to store documents, as do Apple's own products: Pages, Keynote, iPhoto, etc.
But there is another, possibly enormous, use case -- the database. CloudKit enables the creation of applications that create user databases, and allows the users to store their data in iCloud -- virtually free to the developer.
Here is something under the radar of most analysts, yet potentially will facilitate a complete new class of applications.

What this means is that the traditional needs for writing server code, and operating and deploying your servers are all done by Apple's iCloud services, which is an enormous cost savings. It will be interesting to see if they will bring this into their subsidiary software company for the FileMaker Pro database, giving their users the option of creating solutions with storage in iCloud -- even to build services based in iCloud.
Now, if they were to allow payments to these applications from the iTunes store accounts… (you can fill in from here).
3 - Pedal to the Metal
The final sleeper feature with deep implications is Metal.
Metal is some new technology for writing graphics programs, particularly animations and games. It allows programmers to write code at a much lower level than previously, and this produces a real, up to 10x performance improvement.
Last September, Patrick Moorhead wrote for Forbes Apple's iPhone 5s A7 Chip Is A Benchmarking Beast.
Based on benchmark numbers published last night by AnandTech, I was proven right. The Apple A7 is a benchmark beast, and Apple accomplished this through big improvements in their CPU, GPU… [emphasis added]
[Background: What is a GPU?]
If you follow in particular the graphics tests for the GPU, you find that the A7 chip performs very well. Moorhead continues:
...based on graphics benchmarks, the A7's GPU performs really well, but it's not as decisive as the CPU scores. The A7 won many of the benchmarks, but the Qualcomm Adreno solution held its own.
[I wrote in detail on the A7 in this post, and here I present my speculations on the A8.]
But Apple wants to improve this and they have come up with a clever way to do so, and one, which they are uniquely able to do. The basic concept of what they did is as follows. But first…
Computer programs are written in programming languages and the program is then compiled to run on a particular type of computer. Compilation is the process whereby the code that has been written in a "high level," "general purpose" language is translated into a long list of simpler instructions (Machine Code) that the processing units of the particular computer can run to produce the desired behavior.
Problem: Every computer Processor (or family of processors) has its own particular machine code.
Solution: Create a High Level language that is the same for all processors and have the compiler "target" a particular system. These high level languages (C, C++, Objective C, Java, Ruby, Prolog…) are standardized, and every programmer knows some subset of them. Thus, I do not have to learn a new language for every job or every computer system. [This description is greatly simplified.]
Problem: This standardization generally does not produce the most efficient code. For various reasons this is a particularly strong problem for GPUs.
Solution: If performance is so overwhelmingly important, then go back to writing code for one particular processor.
YIKES! That is impossible! There are too many possible processors you may have to deal with.
That is a problem for everyone -- except for Apple.
Since Apple controls both its software and hardware systems, and it knows exactly what processor technology it will be using in 4 years, and can control it even beyond then, it can create a system that will alleviate this problem. And it has done so -- Metal.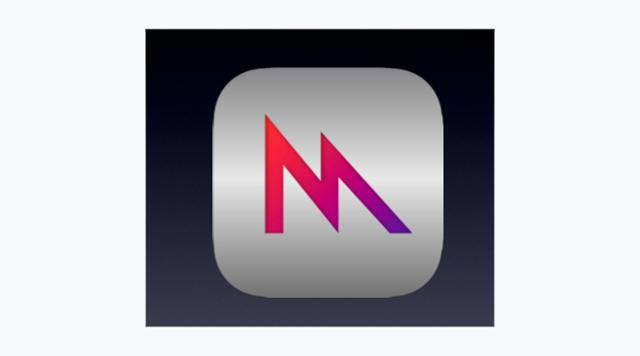 So, if the graphics performance for the A7 is already so good, why go through all this trouble?
The answer is simple. Games. It was noted by an Apple VP that they are "pushing on gaming heavily." Electronic Arts (NASDAQ:EA) Johan Andersson said regarding an initial port of their Frostbite 3 game engine to Metal on an iPad Air, that they could get the same performance as AAA games on a console. They were rendering up to 1.2 million triangles per frame, and that they were able to do an initial port in just a couple of weeks.
"Metal for us is literally a game changer," Andersson noted.
As we all know, games are big business. They also appeal to a very tech savvy population, people who are likely to promote the systems they use. A gamer might want a tablet, but will buy a game console instead. If, however, he can buy an iPad that will realistically serve both needs, then that will be his purchase.
The increased performance that Metal brings to iOS will bring many converts to Apple's line from other systems. Performance on iOS will so far exceed that on any Android device, that anyone who seriously likes gaming will find it a no-brainer choice. AND -- this is a differentiating feature that will exist far into the future, perhaps indefinitely, since Android cannot duplicate it.
EA writes in its official statement on Metal and Frostbite:
Apple's Metal technology in iOS 8 introduces a whole new level of performance that is unmatched in mobile today. With the ability to maximize game performance on the A7, we can deliver a console-level experience on an iPhone or iPad. We're excited by the Metal technology in iOS 8 and are evaluating its potential application to our mobile games. [source: personal email]
At WWDC, they illustrated this with a demo of their game Plants vs. Zombies running on an iPad Air. The performance was amazing with everything rendered in real time.
The implication here is that Apple is pushing very strongly on gaming. Why? Not only because it is a significant source of revenue, but:
Apple sees high level gaming as a strong differentiator of its products in the mobile space.
It should be noted that powerful graphics are not just for games. While it is unlikely that biology researchers are going to rely on an iPad to do 3D molecular modeling, for end use applications such as medical imaging in the doctor-patient relationship, the increased speed will solidify the iPad's dominance in tablet use in the very lucrative medical field.
Summary
The investor wants to know one thing -- Can Apple keep growing?
The answer depends on its ability to:
Maintain sales and margins, which is to some degree a function of its
Ability to innovate.
The items discussed in this post show that it most definitely is innovating -- setting up systems that cannot be duplicated by competitors.
These software features, such as Handoff, will continue to differentiate Apple's products and services and provide high value for their customers.
The new Swift language will simplify app development and draw in new developers.
The highly generous new Cloud services will both get more apps using iCloud sharing, and generate a whole new class of hosted services.
Metal will take graphics applications literally to a whole new level.
The last one may be the most important. Gamers are a huge source of revenue and if the iPad really does rival that of a console, then it will become the platform of choice for many. With matching controllers already available, and the ability to hook up to your big screen via an Apple TV, this is a winning combination that will draw in new converts and solidify existing ones.
Finally, it needs to be restated how Metal, above all, is totally differentiating of the iProducts. Apple has clearly been working on this for many years, converging hardware implementations to align with the future (now current) demands of the new system. Again to emphasize -- nobody else can do this! (At least not in foreseeable future.)
Alex Cho is positive, looking for a price of $101.28 (post split). I believe he is too conservative. I believe the stock price will rise in the short run into the $110-115 range. I believe the announcements of new products will be so strong and surprising that it will take the stock to the $130 +/- $10 range. In the new year, IF an iWatch is announced and it is moderately successful, then I believe it will rise even higher.
Resources:
Microsoft Surface Pro 3 vs. Apple iPad/MB Air Make your own analysis
Apple's A8 -- What It Will Be And Why It Matters
[NOTE: all graphics from Apple]
Disclosure: The author has no positions in any stocks mentioned, but may initiate a long position in AAPL over the next 72 hours. The author wrote this article themselves, and it expresses their own opinions. The author is not receiving compensation for it (other than from Seeking Alpha). The author has no business relationship with any company whose stock is mentioned in this article.