By Omar Venerio

Luxury retail has been performing well, and we expect sales of accessories and luxury goods to outpace that of apparel over the near term. So, in this article, let's take a look at Fossil Group, Inc. (NASDAQ:FOSL) and try to explain to investors the reasons this is an apparently appealing investment opportunity. We will also compare it to peers such as Michael Kors Holdings (NYSE:KORS) and Coach (COH).
New Products And Brand Acquisitions
Fossil's growth strategy focuses on new products, selective brand acquisitions and international expansion. Fossil's principal offerings include a line of men's and women's fashion watches and jewelry, handbags, small leather goods, belts, sunglasses, shoes, soft accessories and clothing. In the watch and jewelry product categories, the company has a portfolio of owned and licensed brand names under which its products are marketed. Its most popular brands include Adidas, Armani Exchange, Burberry, Diesel, DKNY, Emporio Armani, Marc By Marc Jacobs, Michele, Michael Kors, Relic and Zodiac.
In order to suit customer preference, Fossil has acquired and developed new brands and entered into new agreements. In 2011, Fossil entered into a licensing agreement with Karl Lagerfeld for watches. In 2012, it acquired Skagen Designs, Ltd. This company offers contemporary Danish design watches and accessories in a huge amount of global markets. This agreement had helped the company strengthen its European and East Asian emerging market business. For example, during the first quarter of 2013, the firm introduced Fossil Swiss watches in Asia. Finally, last year, it announced a new licensing agreement, in this an opportunity with Tory Burch for watches expected to launch in late 2014.
Meanwhile, Michael Kors is expanding into new products and markets as well. The company's collection of watches is a key contributor to revenues. The recent deal with Luxottica Group will introduce a Michael Kors eye-wear collection in early 2015.
On the other hand, Coach hasn't held a major product launch, and delays in some product launches contribute to fashion obsolescence in a highly dynamic environment.
International Expansion
Fossil distributes its products to department stores in over 120 countries worldwide, which include Africa, Asia, Australia, Europe, Central, and South America, Canada, the Caribbean, Mexico and the Middle East. It ended 2013 with 442 Fossil-branded stores, and it plans to open 75 to 80 new stores in 2014 (and to close about 17 stores).
We think a key to its long-term growth strategy is the penetration of the international markets by the internationally-based subsidiaries, and licensing and developing international brands. Further, developing existing markets (like Japan, Australia and Korea), as well as searching for opportunities in new markets. For example, in China, it will expand its distribution network, as it is still not fully penetrated. Further, the company plans to increase the number of concessions that it operates in the Asia-Pacific region. This ground will be one of the key growth drivers for Fossil, as it is projected to be the home for approximately one-third of the global market for luxury jewelry and watches. The Asia-Pacific region is also one of the focus markets for Michael Kors. The firm has opened a 5,800-square foot flagship store in China, and expects to operate around 200 stores.
Relative Valuation, Earnings and ROE
This Zacks Rank # 3 (hold) company continues to be one of the best investments from a valuation standpoint, trading at a 16 P/E, which stands at a discount compared to the industry mean. This indicates that other companies operating in the same sub-industry are much more richly valued. Consider that Michael Kors trades for almost 30 times trailing earnings, Guess Inc. (NYSE:GES) trades at a P/E of 15.6, Abercrombie & Fitch Co. (NYSE:ANF) at a 62.1 P/E and Urban Outfitters Inc. (NASDAQ:URBN) is at 18.2.
With respect to earnings per share (NYSEARCA:EPS), Fossil has increased them by 6.8% in the fourth quarter compared to the same quarter a year ago. Earnings of $2.68 per share beat the Zacks Consensus Estimate by 8.9% and the year-ago earnings by 7.0%. A few days ago, after reporting first-quarter earnings below analysts' estimates, the shares traded lower and many investors are wondering if it is the appropriate time to buy them now.
In the third-quarter fiscal 2014, the results were pretty good for Kors, with earnings of $1.11 per share beating the Zacks Consensus Estimate by 29% and surging 73.4% year-over-year.
In the next chart, we can appreciate a very interesting upward trend in the last five years.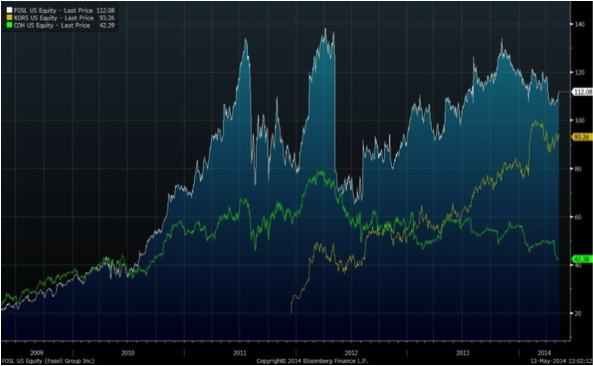 Source: Bloomberg
In this new graph, we include EPS because it often leads the stock price movement. As we can appreciate in the chart, the price performance and EPS showed an interesting upward trend in the last five years.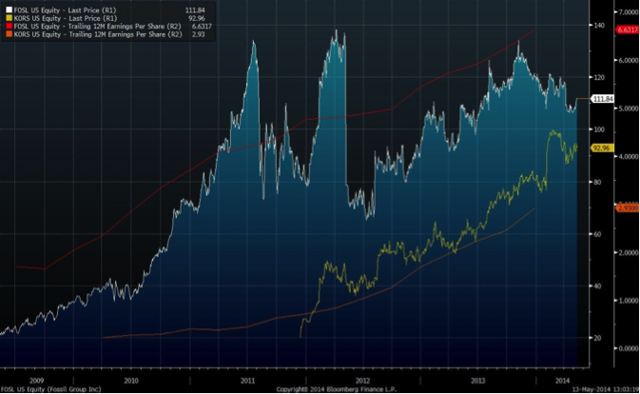 Source: Bloomberg
Finally, I always like to see one of the most important financial ratios applying to stockholders, the best measure of performance for a firm's management: the return on equity. The ratio has increased from the same quarter year-ago prior. This is a clear sign of strength within the company.
Let's compare the current ratio with the peer group in the next table:
| | | |
| --- | --- | --- |
| Ticker | Company Name | ROE (%) |
| FOSL | Fossil Group | 35.39 |
| KORS | Michael Kors | 37.97 |
| COH | Coach | 42.94 |
Fossil has a very good ratio of 35.39%, but still lower than the ones registered by Kors and Coach. We think that a ROE greater than 30% is quite enough to provide dividends to owners and have enough funds for future growth of the company.
Final Comment
As outlined in this article, there are too many reasons not to ignore Fossil. Its stock price performance and EPS growth over the past decade, the growing business, as well as the success reached in emerging markets and the future plans make me feel bullish on this stock.
According to Yahoo Finance, the estimated one-year target share price is $130.33, so if you buy shares at current market price ($108), your return from price appreciation would be 20.7%, which is the total expected return for investing in this stock, because it doesn't pay dividends.
I would recommend investors to consider adding the stock to their long-term portfolios. Hedge fund gurus have also been active in the company in the first quarter of 2014. Gurus like Ray Dalio, Joel Greenblatt, Larry Robins and Murray Stahl have taken long positions on it.
Disclosure: The author has no positions in any stocks mentioned, and no plans to initiate any positions within the next 72 hours. The author wrote this article themselves, and it expresses their own opinions. The author is not receiving compensation for it (other than from Seeking Alpha). The author has no business relationship with any company whose stock is mentioned in this article.