Genoptix (GXDX) caught the market off guard Tuesday during their presentation at the UBS Life Sciences conference in which they announced lower than expected case volumes and revenue for Q3 2010. However, with the stock now down over -60% from its peak in May, I think it offers a compelling opportunity for investors at this point. The stock trades at a large discount to peer companies such as Lab Corp (NYSE:LH) and Quest Diagnostics (NYSE:DGX) and with a pristine balance sheet, 53% of the share price in net cash, free cash flow yield of 11%, and EV/EBITDA of 3.4x, I think the downside is limited. Given the huge cash hoard, I think it is not only possible but also prudent for GXDX to announce a large share buyback should the stock continue to trade at this level. I see fair value for the stock at $21-22 per share.

Company overview
Genoptix is a specialized laboratory service provider focused on delivering personalized and comprehensive diagnostic services to its physician customers which are hematologists and oncologists. GXDX provides integrated testing and diagnostic reports designed to optimize the care of patients suffering from cancers of the blood and bone marrow including leukemia and lymphoma. GXDX derives 60% of their revenue from contracted business (Medicare 40%, contracted commercial payors such as Aetna (NYSE:AET) 20%) with the other 40% coming from non-contracted business that is reimbursed by commercial payors.

Investment Thesis:

GXDX is now trading at its 52 week low as a result of a transition in the shareholder base as growth investors have realized the company has hit an inflection point in its growth trajectory. GXDX had been a very popular growth stock as the company grew top and bottom line rapidly even through the Great Recession; however, the past few quarters have shown a moderation in growth and without hesitation growth investors have headed for the exit, resulting in a shareholder base "vacuum" which has sent the stock down -60% since May.

The lowered outlook given Tuesday was attributed to softer patient volumes at community oncologists as macroeconomic stresses are causing people to delay visits to their general doctor, which then impedes the referral process to a community oncologist and the resulting GXDX testing. The typical treatment/business model is that a patient will see their family doctor if they are not feeling well and if the doctor suspects cancer they will refer that patient to a community oncologist who will then take a sample and send it off to GXDX for testing. However, the current macroeconomic stresses are forcing people to delay visits to their general doctor which then impedes the referral process and the GXDX testing. Instead of the usual process, people are waiting until they feel really sick and going to the ER and now some of these diagnostic tests are being done in the ER/hospitals. It is not that less people are developing these blood based cancers, but rather they are being tested for in different places. GXDX believes disease incident rates are stable and that new case levels are consistent with historical averages. The second reason for the decline in Q3 is that this time of year is typically weaker than Q2, however this seasonality has mostly been masked thus far as GXDX has enjoyed rapid growth so far in its life as a publicly traded company and has not yet been in a steady-state type mode.

Inflection point for growth has lead to a shareholder "vacuum"
When the "story" changes for a stock there is often a transition in the shareholder base which typically takes some time to play out. GXDX has recently seen its growth rate moderate after being a highflyer even through the Great Recession. The chart below shows the significant deceleration in revenue growth starting in Q1 2010 which, not surprisingly, is when the stock started to get hit.
GXDX was down -28% following a disappointing Q1 2010 and then was down another -31% following the Q2 pre-announcement in June and down another -10% Tuesday. Peak to trough the stock is down over -60% which I think is a gross overreaction given the profitability, stable pricing, and future growth prospects.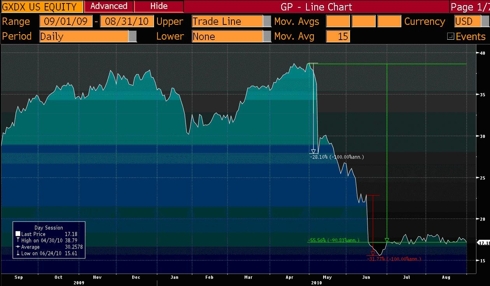 The "tension" in the GXDX story comes from the below chart in my opinion. Despite ramping up the sales forces (yellow line = # of sales employees), GXDX has been unable to grow the number of ordering physicians that are customers. This is certainly frustrating for investors, however I think it's important to note that the number of customers is stable - so I do not see GXDX as a declining business with fundamental structural issues leading to obsolescence. Growth has slowed at GXDX primarily as a result of two things; increased competition in the industry leading to possible market saturation, and softer case volumes due to macro economic forces such as loss of insurance. However, GXDX is currently taking steps to improve this stagnation in the customer base. The most promising in my opinion is the pilot program to start selling directly into hospitals, which will address the problem of a greater proportion of tests being done at the ER as opposed to the community oncologist office. Additionally, GXDX has put new sales leadership in place this quarter and has just recently adjusted the sales incentives for employees. Potential growth drivers going forward include expanding the range of testing capabilities to access new cancer markets. At the current valuation I see the GXDX stock as compelling even with no future growth so any growth would be incremental upside.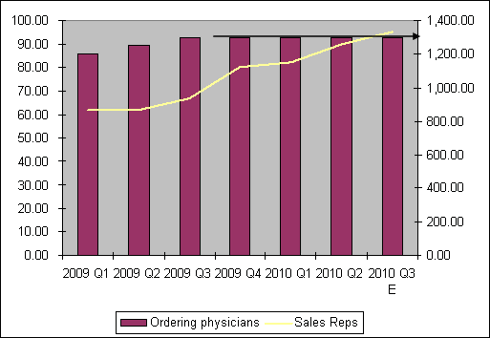 Despite the lack of growth in ordering physicians, GXDX has been able to maintain pricing discipline as the average revenue per case has been a relative constant.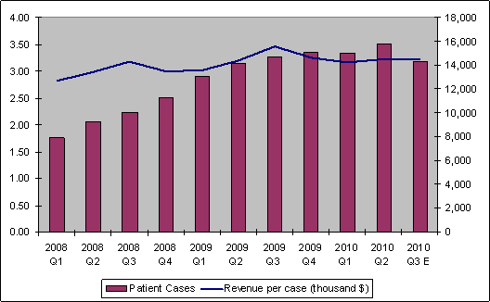 Transition to contracted business from commercial payors results in more stable FCF
GXDX is transitioning towards more focus on contracted business from commercial payors. GXDX announced a three year deal with Aetna in February that will give Aetna members the option to use GXDX as an in-network specialty lab service. These types of deals are positive for GXDX because they give access to the large number of people who are in these networks. GXDX expects to sign another major commercial deal with a national provider network before the end of the year which should be a positive catalyst for the stock.

Net cash and possible stock buyback plan should limit the downside
With $7.70 in net cash on the balance sheet and strong FCF generation I see the downside as limited. Also with that much cash I think a share buyback could be enacted if the stock stays at these levels, which would provide a floor.

Poor Street sentiment could be artificially depressing the stock price
GXDX has not been popular with Wall Street analysts following their recent growth disappointments. Here is an example of a direct quote, "With no evidence of either management competency or board engagement on deploying its $137m cash hoard, we have grown profoundly disillusioned with the GXDX investment opportunity." Call me crazy but that sounds a lot like someone who is still sour about adding GXDX to their "Best Ideas" list when the stock was trading at $34.75.

Reimbursement rates could actually be a positive
Unlike some health care stocks where reimbursement rates were always a headwind for the business, GXDX actually stands to benefit next year from an increase in reimbursement rates for the 40% of their business that comes from Medicare. Some analysts estimate this could benefit EPS by roughly $0.35 per share.

Risks
Increased industry competition results in market share being taken away from GXDX. Although GXDX has been unable to meaningfully grow their ordering physician base recently, there is no sign that they are losing existing physicians to competitors.




Reimbursement rates get cut for Medicare. This is always a risk when dealing with a business exposed to Medicare reimbursement, however a lot of activity surrounding health care reform has taken place in the past 12 months and I think it is unlikely we see another wave of reform that would damage reimbursement rates. As I mentioned above, GXDX actually stands to see an increase in reimbursement rates next year.




A weak macro economy continues to pressure volumes and those with health insurance. I see no reason why this should turn around, but at the current valuation I think we are being adequately compensated for this risk.



GXDX destroys value through a bad acquisition. GXDX is a relatively new company so there is no history to base their M&A acumen upon. I think a share buyback should the stock remain at these levels would be the best use of the cash; I have also heard rumblings of a special dividend.
Disclosure: Long GXDX