Cliffs Natural Resources (NYSE:CLF) (CLV) is troubled and the clearest course to a solution is restructuring. Such restructuring must occur not only among the company's growth strategy, but also its leadership. Many shareholders will likely jump-start this needed transformation by voting alongside Casablanca Capital in its endeavor to elect new members to Cliffs' board of directors at the annual meeting on July 29.
What might have started out as apparent poor judgment has quickly turned into an irrational scramble by executives that hope to keep their positions in spite of their performance. Much of this recent calamity began in late 2011, when iron ore prices were peaking and Cliffs acquired Bloom Lake. The company, which now sports a market valuation of about $2.2 billion, paid $4.9 billion for the Canadian asset, or over double the present value of the entire company.
In retrospect, the price paid for Bloom Lake was simply too high, but to make matters worse the company subsequently sustained unanticipated delays and ballooning costs associated with bringing the site into productivity. In early 2013, the increased capital expenditures from Bloom Lake and lower iron ore pricing combined to force Cliffs to slash its quarterly dividend by 76 percent, from 62.5 cents to 15 cents a share.
Following significant losses in 2012 and the dividend cut to start 2013, Cliffs initiated some turnaround measures. In the second half of 2013, the company announced a CEO succession plan by appointing a new President and Chief Operating Officer that would eventually assume the CEO role, and added new directors to its board. Cliffs also indefinitely suspended its Canadian chromite project.
These measures were largely in response to problems Cliffs caused to itself, though it was also undoubtedly affected by a significant decline in iron ore prices. Of course, that decline would not have been so devastating if it weren't for the Bloom Lake acquisition at what must be considered terrible timing and an excessive price, even before considering the significant expenditures Bloom Lake required.
Near the start of 2014, Casablanca Capital, an investment fund that had amassed a 5.2% stake in Cliffs, proposed a split of the company, where the North American assets would be converted to a master limited partnership and its international assets would become a standalone corporation. Cliffs' initial response to Casablanca's activism was that it would cut capital expenditures by 50% from 2013 to 2014, largely in acceptance of Bloom Lake's significant costs, and that it would consider strategic alternatives. Cliffs also recently decided to delist on Euronext Paris in order to reduce costs. While this move did cut costs, it also probably caused some shareholders to divest.
Beyond these abovementioned measures, Casablanca has argued that Cliffs made multiple "knee jerk reactions and entrenchment tactics." Even before Casablanca arrived, Cliffs' board engaged in entrenchment tactics, including proposals to remove shareholders' rights to approve bylaw amendments and eliminate cumulative voting, both of which failed to gain shareholder approval in 2013.
Examples Casablanca presents in response to its engagement include that roughly two weeks after filing its 13-D, Casablanca proposed Lourenco Goncalves as Cliffs' next CEO. Its basis was that Goncalves has experience as a CEO of a metals company where he created value for shareholders, while Gary Halverson, who whom Cliffs brought in as president and COO, had never led a company. Cliffs appeared to acknowledge Halverson's need for on the job training in his hiring as they did not place him in the CEO role immediately, despite needing one. In any event, the day after Casablanca proposed Goncalves, Cliffs officially appointed Halverson as CEO. The timing, from the perspective of Casablanca, was undoubtedly an insult.
Cliffs' dubious to outright hostile treatment of Casablanca's proposals did not end there. The following month, in the days after Casablanca rejected a Cliffs proposal that it receive two board seats and no more, Casablanca nominated six alternative directors. The following day, Cliffs indefinitely delayed the company's annual meeting. The following month, Cliffs set an annual meeting date after Casablanca forced the issue. Below is a timetable that Casablanca prepared, highlighting these events.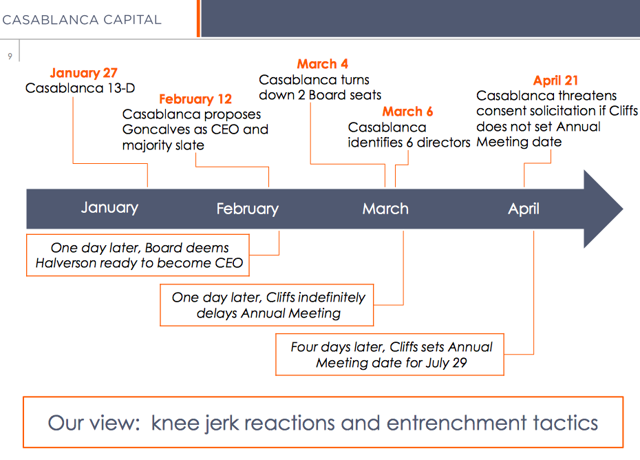 On June 10, Cliffs commented that it expects at least two nominees proposed by Casablanca to be appointed to the company's board at its annual meeting on July 29. Cliffs based this upon discussions with various shareholders. Cliffs' current board holds a very small stake in Cliffs shares, and so the decision will largely be out of its hands.
Casablanca appears most disappointed with James Kirsch, who was appointed the Chairman of the Board last year and who has been on the board since 2010. Kirsch and five other current board members (Richard K. Riederer, Susan M. Cunningham, Barry J. Eldridge, Susan M. Green and Janice K. Henry) approved the Bloom Lake acquisition that squandered billions, and Kirsch was the most senior executive and apparent puppet master behind Cliffs' reactions to Casablanca.
I suspect there will be no deal with Casablanca where Kirsch maintains such a position of authority, and that a growing number of shareholders are inclined to agree with Casablanca. Similarly, it is likely that Casablanca will soon release its own proxy statement, and that it will find significant support from shareholders.
Given Cliffs' size, it is possible that a large competitor would be interested in acquiring some or all of the company's assets. ArcelorMittal (NYSE:MT) is about ten times the size of Cliffs, Rio Tinto (NYSE:RIO) is about 30 times the size and BHP Billiton (NYSE:BHP) is over fifty times larger. Such peers could easily afford acquiring the Asian assets or the Canadian assets, and even the whole company.
Casablanca has argued that because the Asian assets will likely be nearly depleted by the end of the decade, it is not a core asset and a sensible one to sell or spin off. Of course, with iron ore prices being so weak, it is probably not the best time to go looking for a buyer unless facing a liquidity event. The better time to have looked for a buyer was when Cliffs opted to buy Bloom Lake.
It appears of increasing likelihood that Casablanca's vision for Cliffs' future will grow in popularity and that even if it only gets the two board members whom Cliffs' board has capitulated in the hopes of maintaining the others, more will come in time. Other activists may also join Casablanca in its Cliffs endeavor now that shares have fallen so much and the eve of change appears upon the board. Reduced uncertainty often generates increased investor interest. Hopefully, the eve of change is also upon share valuations.
Disclosure: The author is long CLF, CLV. The author wrote this article themselves, and it expresses their own opinions. The author is not receiving compensation for it (other than from Seeking Alpha). The author has no business relationship with any company whose stock is mentioned in this article.