Business Overview
Annie's (NYSE:BNNY) is a natural & organic food company that sells meals (48% of sales), snacks (39%), and dressings and condiments (13%) primarily through the Annie's Homegrown brand. The company was founded in 1989 and began operations selling macaroni & cheese products in the New England area. Private equity firm Solera Capital funded the company from 2002-2005 and helped the company enter adjacent categories. The company IPOed in early 2012 and trading began on March 28, 2012.
Economics
Part of why I was attracted to the company is because it seemed pretty obviously to be of very high quality. In my view, that constitutes a stable, differentiated business in a good industry that is growing. My research largely confirmed that Annie's has these qualities.
Competitive Position
Annie's sells a differentiated product. It is not difficult to see the opportunity for meaningful competitive advantages in the food & drink industry. Warren Buffett, who coined the term "economic moat" and is an undisputed expert on the subject, uses Coca-Cola (NYSE:KO) as his go-to example in explaining a moat. Many of the established companies Annie's identifies as competitors - Kraft (KRFT), General Mills (NYSE:GIS), Mondelez (NASDAQ:MDLZ), Campbell Soup (NYSE:CPB), PepsiCo (NYSE:PEP), and Nestle (OTCPK:NSRGY) - are all companies I would consider to be highly-differentiated businesses. I believe this is because of the different and enduring brands these companies own and the unique tastes of their products. Humans have a keen sense of taste to detect even slight differences in taste. The never-ending Pepsi vs. Coke debate is evidence of that. We are picky about food and this is exceptionally true about the wealthy and health-conscious, which is Annie's demographic. In addition, once we find something that we like and recognize, we are typically loyal customers.
The counter-argument I expect to receive is "You have named many of Annie's competitors as companies with moats. How can an entire industry all have a strong competitive position?" There is competition in the food industry as shelf space is limited and consumers are flexible to some extent, but I strongly believe that it is possible for many businesses to be differentiated, have their own customers, and do well at once. That's what happened in the past with all the established companies I've named and I expect that to continue. I do respect this argument though as it is value-adding. Annie's does faces some very high-quality competition.
However, the company has a strong brand, loyal customers, and is true to its roots. The product is differentiated as it is designed to be healthy, affordable, and natural/organic. Over 80% of 2014 net sales were certified organic or made with organic ingredients.
The company also has an opportunity to expand internationally. International sales were entirely composed of sales in Canada and only made up 3-4% of total sales from FY2012-2014.
I was a bit disappointed to find that the company is already selling its product through mainstream channels. I went into my research with the conception that all or most of the company's sales are to natural/organic/specialty grocers like Whole Foods (WFM), Trader Joes, The Fresh Market (NASDAQ:TFM), etc., and that there was a big opportunity through expansion into mainstream channels like Target (NYSE:TGT) and Walmart (NYSE:WMT), but in fact the company has already largely executed on this. 78% of 2014 sales came from mainstream grocers and mass merchandisers. Only 22% comes from natural organic retailers.
The company is also exposed to risks associated with customer concentration. 28% of sales come from the company's two largest customers, Target and Costco (NASDAQ:COST). In 2015, the company expects a 3-4% sales headwind related to Whole Foods choosing to lower its inventory levels of Annie's products. This is quite significant considering that sales to WFM must have been less than 13% of total sales in 2014 based on the customer concentration disclosure. So WFM, the leader in natural/organic retail, is cutting Annie's shelf space by 1/3 despite continuing to open new stores at a modest rate. Besides the immediate financial impact and probably more importantly, this serves as a reminder that there is indeed competition in the food industry.
Finally, the company is heavily exposed to commodity prices. The company is exposed to several commodities but its largest dependence is on organic wheat. Wheat prices have increased recently and 5.9% annually over the past 10 years: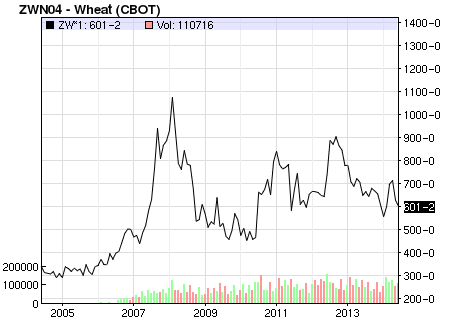 (Source: Nasdaq)
The company may have trouble keeping up with this through price increases or may intentionally choose not to so as not to disenchant its customer base. This has and could well continue to pressure margins.
Industry Prospects
The sky is really the limit for Annie's. The natural & organic grocery industry currently totals $54B, grew 12% annually from 1997-2012, and is expected to continue to grow at 11.3% annually to $113B in 2020 (SFM 2013 10-K page 2). The total grocery industry totals $620B. Annie's FY2014 sales of $204.1M represents just .38% market share in the natural/organic industry and .033% of the total grocery industry. Sales growth should not be difficult to come by through the combined impact of industry growth and market share gains.
Overall, I believe Annie's is a highly differentiated business with a ton of potential in a very attractive industry. There are some concerns, but I think they pale in comparison to the larger bullish points.
Timeliness
I am increasingly concerned with buying stocks at relative lows as a form of protection in case the rest of my thesis does not pan out. As such many of the stocks I've covered recently have been below moving averages and well off their 52 week highs. This is no coincidence. I've been screening for these characteristics and discovered Annie's in this way. The stock is well below all major moving averages and very attractively positioned relative to its 52 week range:


(Source: FinViz.com)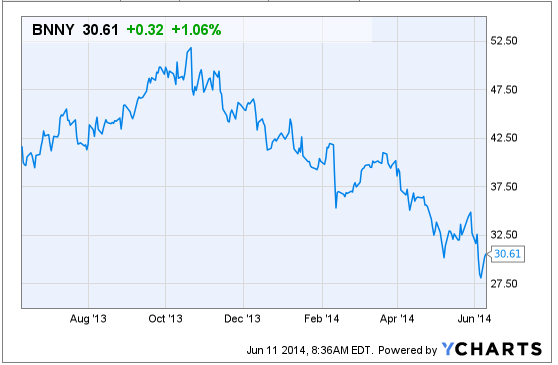 If you are considering buying but concerned about timing your entry, now is probably the time to buy.
Performance & Valuation
Annie's has performed very well in the past. The company has posted above average ROA averaging about 14.5% from 2012-present: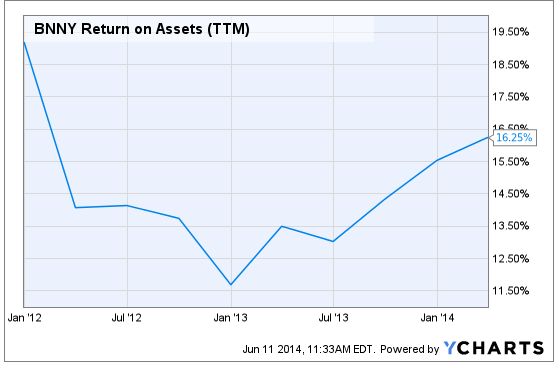 The company has also grown at a high rate since 2010:
Net Income 26.4% annually
Cash flow 17.2% annually
Revenue 20.8% annually
Adjusted EBITDA 36.3%
However, recently the company has struggled a bit. FY2015 guidance implies Y/Y growth of:
Adjusted EBITDA 11.7%
Adjusted EPS 6.4%
Revenue 19%
At a quote of $30.61, the stock trades at:
17.5x 2015 est. Adjusted EBITDA
33.5x 2015 est. Adjusted EPS
In addition, I wanted to figure out why the stock trades at relative to no-growth FCF. The company consistently invests a few million dollars in R&D that has reduced operating cash flow, but is truly a growth expenditure considering it has translated into new product releases recently. Capex also exceeds D&A so some of that is also attributable to growth. Thus, to calculate no-growth FCF, I took LTM operating cash flow, added back R&D, and subtracted D&A instead of capex. It totals $18.08M. The stock currently trades for 29.5x that.
These multiples imply substantial growth depending on your cost of equity; for me they imply long term annual growth in profit metrics of 21-24%. I think that level of growth is probably realistic but am a little bit uncomfortable with such a high-growth situation as I typically seek situations where expectations are lower. The stock seems fairly valued in my opinion.
Miscellaneous
M&A Talk
An excellent Bloomberg news piece from 2 days ago highlighted the potential for Annie's as an acquisition target. The piece makes goods points:
Annie's high growth rate is in complete contrast to larger food companies whose brands are a bit dated
Annie's stock is the cheapest it's ever been right now
Annie's CEO John Foraker seems open to M&A
The food industry has been very active in M&A recently with over $100B of transactions over the last 12 months
Accounting Issues
Recently Annie's disclosed an internal control issue which led to the company being late with its 10-K and its auditor, PwC, resigning. PwC cited an insufficient complement of finance and accounting resources. This seems to suggest that the issue is more one of merits and lack of internal organization than of intentional fraud, and apparently it didn't lead to any material misstatements of financials, but any time an auditor resigns it is a significant red flag in my opinion.
Conclusion
Annie's really is a high-quality company. The company seems to have a differentiated and advantaged business through its strong, 25 year old brand, loyal customer base, wealthy and health-conscious demographic, international expansion opportunities, and the nature and continued growth of the natural/organic food industry. There are some concerns, such as customer concentration risk, high quality, capital-advantaged competitors, dependence on increasingly expensive commodities like organic wheat, and an auditor resignation red flag. I was also disappointed that the company seems to have already tapped many of its growth avenues through a move to mainstream distribution and entry into adjacent food categories, however I believe the company still has plenty of potential for growth considering the high growth industry it is in and that its market share is immaterial right now. The stock seems exceptionally timely below moving averages and near a 52 week low and there is a solid catalyst as the company could be acquired by larger food companies who are struggling to grow organically and increasingly resorting to M&A, but in my view the stock is fairly valued at the current price.
Disclosure: The author is long TFM. The author wrote this article themselves, and it expresses their own opinions. The author is not receiving compensation for it (other than from Seeking Alpha). The author has no business relationship with any company whose stock is mentioned in this article.