Vine is a mobile video application that was acquired by Twitter (NYSE:TWTR) in October 2012 for $30 million. The application was launched on January 24, 2013. Vine allows users to film 6 second videos by simply touching the screen of their smartphone or tablet. The ability to let go of the screen to stop filming allows multiple scenes to be packed into one video. It also allows for amazing stop motion animation. Videos play on a loop when users scroll through their feed. It may seem outlandish to compare Vine to YouTube, since the application has about 40 million active users, while YouTube has 1 billion users per month, but the companies are not all that different. Vine is often compared to Instagram, especially after Instagram started allowing videos on its site, but these comparisons were made by the same people who predicted its downfall after this occurred. This, of course, did not happen as Vine added 27 million new users, since Instagram started allowing videos. Instagram is not the same as Vine because Vine doesn't allow pictures. This may seem like a small difference, but it isn't because many users only upload pictures and many users also don't watch any videos on Instagram because they take too long to load. Vine videos play in a loop, so it is likely that users will watch the video multiple times which is good for marketers.
It is easy to see the similarities between YouTube and Vine when you get inside the minds of teenagers. Teenagers and young adults are an important demographic when it comes to social media because they tend to be the early adopters that drive usage to older adults. Teens are currently gravitating to the Vine stars like Nash Grier just as they did with Jenna Marbles a few years ago. Nash currently has over 8 million followers on Vine. Vine and YouTube have become communities of collaboration that produce great content that is taking away the time consumers spend in front of linear T.V. When I say that Vine will have similar success as YouTube, I am not saying that YouTube will have a decrease in engagement. Vine fills a slightly different niche than YouTube. The median YouTube video is 2 minutes and 1 second, while Vine's are 6 seconds. Vine captures the shrinking attention spans of viewers today as we are bombarded with media 24 hours a day 7 days a week. The reason why it is important to have people become famous by using the platform of Vine is that inspires more usage by people trying to capture that same success level.
When YouTube was founded in 2005 it was much more difficult to film as only 25.9% of households had a camera-phone.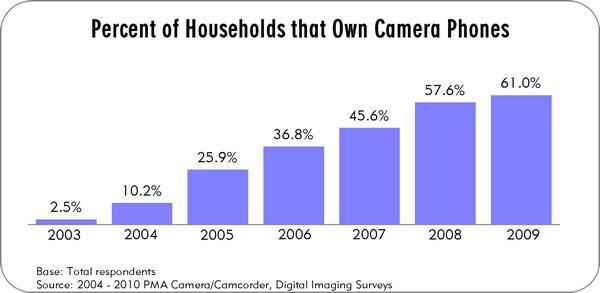 Clearly computers were much slower and the cameras that were on cell phones were very low quality. This slowed down YouTube's growth considerably. Nine years later YouTube is an estimated $26 billion by Trefis, who states that YouTube is worth about 7% of Google's (GOOG, GOOGL) market cap. Vine is in the early stages of its growth as it's only one and half years old. Based on the increased speeds of computers and the fact that virtually every family in America either has a tablet or a smartphone that can film videos, I believe that Vine can reach YouTube's stature much more quickly than the 9 years it took YouTube to gain its lofty valuation. The internet is also more social today, which gives Vine videos other avenues to be shared on besides the app itself.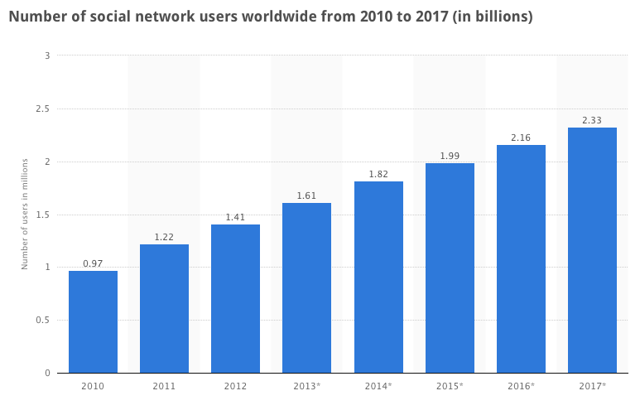 If Vine and Twitter grow together, their popularity can certainly feed off each other as Vine videos get shared on Twitter and people on Vine use their Twitter account to gain more Vine followers and discover who to follow.
The new use of direct messages on Vine certainly puts it in the forefront of short form mobile communication that has given Snapchat such a huge valuation (estimated to be about $4 billion). Snapchat has certainly evolved into an even greater disruptor through its stories concept, which allow users to send pictures and videos that last 24 hours and are displayed in chronological order. Surely, more innovation is ahead for Vine as time goes on. Vine's recent update allows users to separate likes and posts on their feed making for a better user experience. The skeptics that complain that Twitter, Snapchat, Vine, and basically all other social media companies except Facebook are a fad are simply wrong. I am not saying that every single social media company will succeed. If the company puts out a faulty product then it will fail. Skeptics point to MySpace as a prime example of a 'fad,' but I can point to BlackBerry (NASDAQ:BBRY) as a reason why smartphones are a 'fad' or J.C. Penney (NYSE:JCP) and say that it is impossible to sell affordable apparel using this same line of reasoning. This clearly is not sensible. MySpace, BlackBerry, and J.C. Penney are bad companies that failed to innovate; this doesn't mean that every new popular company will fail in the future! Some of these companies will receive valuations that are too high, just as Twitter did when it was in the 70s, but this does not mean that the company will fail just because it is returning to more reasonable levels.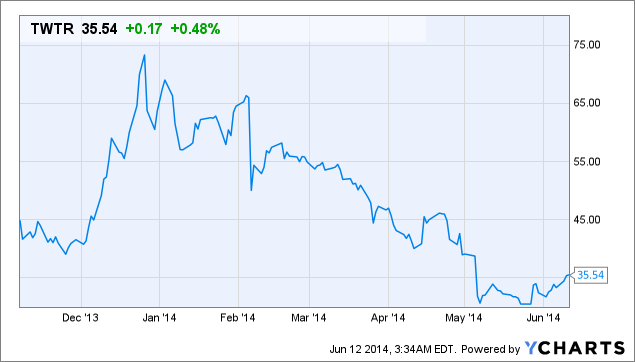 When trying to value Vine, it is important to recognize that it is okay that the company currently has zero revenues. It is foolish to assume that a company that has 40 million active users is worth nothing or very little just because the revenues are not in place yet. Vine will be able to monetize its user base just as Instagram will in the next 5 years; however, it makes more sense to grow the user base first, just as Facebook (NASDAQ:FB) did. Introducing ads will slow down growth. Social media companies make a low amount of profits on each user, so they need a lot of users before looking to start the monetization process. Costs also get lower on a per user basis when the amount of users increases.
Vine has certainly been growing at an extremely fast clip. In the UK, awareness of Vine has increased from 4% of the public to 24% from March of 2013 to January 2014. From Q1 2013 to Q3 2013, the apps' usage has increased a staggering 403% worldwide. Last year the company reached milestone that more Vines were shared on Twitter than there were Instagram pictures and video. In April of last year, the Vine app became the number one free app downloaded in the Apple (NASDAQ:AAPL) app store. It is difficult to value Vine because of the speed at which it is growing at. One way to look at the valuation is to analyze the usage. According to a survey in February 2014, 9% of Americans have used Vine once. That statistic for Snapchat is 13%.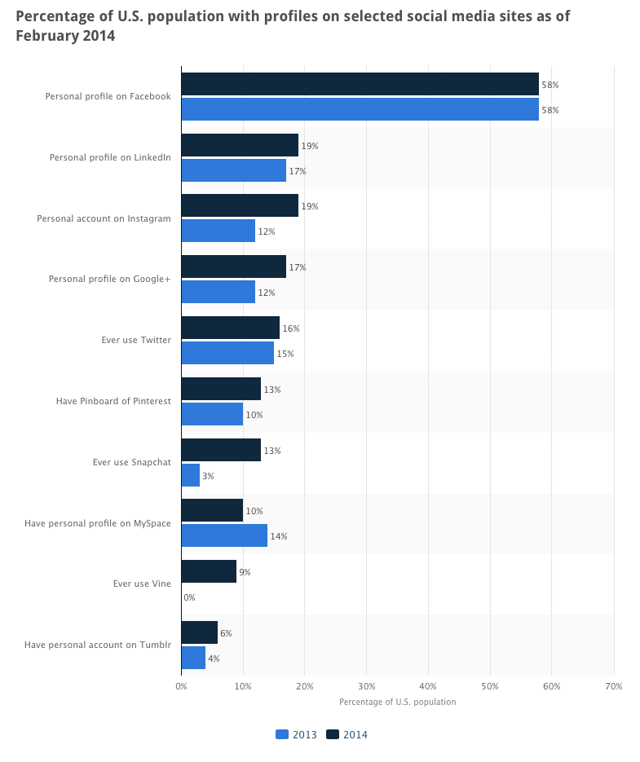 If Snapchat is worth $4 billion then that would mean Vine should be worth $2.76 billion. If YouTube is worth $26 billion and it has 1 billion monthly users then Vine should be worth $1.04 billion. The difference in valuation is due to the higher growth that Snapchat has versus YouTube. These are ballpark valuations that don't take into account time spent on the platforms. Users spend an average of 6.6 minutes of time on Snapchat. Consumers spend much more time on YouTube as they spend 462 minutes on Google sites which mostly consists of YouTube. 40% of YouTube viewing occurs on mobile devices. The top YouTube partner is Vevo which services music videos. Vevo was recently valued at $1 billion and the company has 47 million active users. I could not find similar data for Vine, although I did find that Twitter has about 7.4 minutes per user and Instagram has 13.5 minutes per user.
Engagement isn't the only metric that must be considered when looking at valuation. The most important metric is how much money advertisers will pay to be on Vine. Currently there are three ways that companies advertise on YouTube. They are the following: paying famous YouTubers to mention their products in their videos, putting ads at the beginning of all videos, and finally they can attempt to make viral videos themselves. Popular Viners have already begun to start to sponsor brands; this helps them make money, which is good for the platform. The main future revenue stream for Vine is sponsored videos akin to sponsored stories on Facebook. I believe that when this service is released it will be a huge boost to companies trying to advertise with social media. The short nature of the videos will assure that they will be watched in full and if the video is well made it can certainly help the companies' brand image. The statistics of course have not been released, as advertising has not started, however, I believe that it's important to not discount the idea of it being a success just because the videos are short in nature. Vine stars have convinced consumers, who otherwise wouldn't know they exist to attend their meet and greet events and buy their merchandise, just as YouTube stars have. This leads me to believe that short videos could also encourage consumers to buy a certain product. Corporations have already begun to make Vine videos with examples being Urban Outfitters (NASDAQ:URBN), Oreos, and Trident. Here is an example of an Oreos video. When feed promotions are made available I am sure these companies will be willing to pay Vine to promote their videos.
Therefore, Vine should currently be valued at about $1-$3 billion and can grow to be as huge as YouTube is in the next 5-7 years. Currently Twitter is valued at $20 billion, so Vine will become a significant part of Twitter's growth in valuation that will likely occur in the future. In this article I did not discuss Twitter's main business, but I expect that this will grow as well.
There are many risks to this investment. The proliferation of the social and the mobile trends of the internet are depended upon for Vine to grow, if this slows Vine's growth will decelerate. The greatest risk to Vine's future is execution. Most of the original Vine team has left since the Twitter acquisition. Currently Twitter is focusing on growing its main business and has left Vine alone. It is possible that once the company focuses on Vine and tries to monetize it, that it will offend users and hurt engagement. The key advantage that I believe Vine has is that it is more immature than Instagram. Therefore, as Instagram begins to monetize this year vine will be able to learn from the company's successes and failures. Competition among mobile apps is fierce, which can hurt Vine. What will help it is the fact that the entire mobile usage amount is growing so all the mobile apps can grow in the near to medium term. Pornography has been a problem for Vine in the past, but it has worked to remove the explicit hashtags from being used, so this has limited its effect. Recently it has instituted a ban on porn. If this ban proves futile and a story about pornography on Vine gets publicity, it will hurt Vine's usage among the key demographic of young teenagers. If Twitter's main business, which I did not discuss, fails, then the stock will decline whether or not Vine experiences success.
Disclosure: The author has no positions in any stocks mentioned, but may initiate a long position in TWTR over the next 72 hours. The author wrote this article themselves, and it expresses their own opinions. The author is not receiving compensation for it (other than from Seeking Alpha). The author has no business relationship with any company whose stock is mentioned in this article.