By Rom Badilla and Maulik Mody

Treasuries gained and stocks fell, shedding its gains from yesterday after the Fed said in its meeting today that they are prepared to ease monetary policy in needed, but no action will be taken as of now. The Fed also said that rates will continue to remain in the less than 0.25% range. Gold climbed to a record high and the dollar ended weaker at the end of the day.
Economic Data
Housing starts in the U.S. rebounded in August after collapsing in recent months. The Commerce Department reported that builders began work on an annualized pace of 589,000 homes, which is an increase of 10.5 percent in August. The jump in Housing Starts, which was above market forecasts of 0.7 percent, follows three straight months of flat to negative growth. Much of the growth was concentrated in multifamily housing since starts increased by 32.2 percent. Single-family housing starts improved by a more modest gain of 4.3 percent. On a year over year basis, total Housing Starts is up by 2.2 percent, which is a marked improvement from the last two months. In June and July, Housing Starts declined by 7.5 and 7.8 percent on a year over year basis, respectively.
New home construction was extremely weak in the Northeast part of the country as housing starts declined by 28.0 percent. Conversely, housing starts were robust in both the Midwest and West regions as new construction increased by 21.7 and 34.3 percent. In a similar fashion with the total number, the South increased by 7.0 percent after muddling around in negative territory for the past three months.
Building Permits, which can be interpreted as a leading indicator for Housing Starts, increased by 1.8 percent or at an annualized pace of 569,000 applications in August. The increase, which follows July's pace of 559,000, surpassed market expectations as forecasters expected an increase of just 0.2 percent. Despite the latest round of improvement, Building Permits on a year over year basis is down 6.7 percent, which suggests that this economy has a lot of wood to chop before signaling the end of this latest downturn in the housing market.
Interest Rates
Investors parked their funds on safe government bonds after the Fed said that the economic recovery remained slow and inflation low. Yields pushed down across the curve as a result, more at the far end of the spectrum. The yield on the 2-yr fell to a record low of 0.41%, 5 bp lower than yesterday. The bond had reached its previous low of 0.46% last month, and after falling in price last week, the bond gained today pushing yields lower. The yield on the 5-Yr slumped 11 bp to 1.30%, lowering the belly of the curve. The benchmark 10-yr bond rallied pushing yields 13 bp lower to 2.57%. The yield on the 30-Yr shed 10 bp to 3.78%. (Click to enlarge)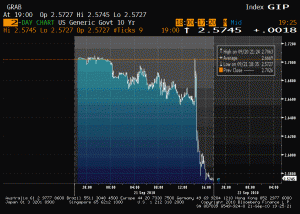 Inflation expectations, as indicated by the yield differential between the 10-yr Treasury note and 10-Yr inflation-indexed bonds (TIPS), widened 6basis point to 1.85%.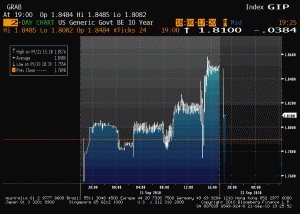 Sovereign yields fell across the Atlantic as investors shed risky assets for relatively safer government issues. Germany's 5-Yr bond yields fell 3 bp to 1.45%. Yields on the 5-Yr U.K Gilts slid 4 bp to 1.77%. The yield on the French 5-yr bond ended 3 bp weaker at 1.80%.
Among the peripherals, Ireland's 5-yr bond rallied, reversing its losses since a week. The yield on the bonds fell 18 bp to 5.29%. Yield on the Greece 5-Yr bond fell 27 bp to 11.39%. Portugal's 5-Yr bond yields were 8 bp lower at 4.91%. Spain's 5-Yr bonds gained pushing yields 2 bp lower to 3.11%.
Credit Markets
Corporate bonds rallied as seen in the iTB Indices. The shorter bond climbed to 1088.43, as the average yield fell 9 bp to 2.38%. Bonds in this index outperformed Treasuries as yields tightened by a basis point to 1.66%.
The rally was led by BP's 5.25% issue due 2013, which 60 cents to 107.20. The yield on the bond fell 20 bp to 2.83, narrowing its spread by 12 bp to 2.13.
The longer index improved 0.5% to 1149.98, ending within spitting distance of the 1150 mark. The average yield weakened 11 bp to fall below the 4.0% mark to 3.95%. Spreads remained flat 1.64% as the index performed at par with Treasuries.
The best performer in the far end of the spectrum was ArcelorMittal's 9.85% issue due 2019. The yield on the bond fell 17 bp pushing its price $1.34 higher to 127.52. The extra yield demanded by investors to hold the bond over a Treasury with comparable maturity fell 6 bp to 3.54%.
Across The Capital Markets
Stocks ended their green streak as most indices fell in afternoon trading, closing slightly below yesterday's close. The S&P ended 0.3% weaker at 1139.78. NASDAQ followed suit to call it a day at 2349.25. The VIX volatility index gained 4% to 22.35.
The DXY index ended lower at 80.296. Euro strengthened 1.5% against the dollar to 1.3264. The GBP gained 0.6% to 1.5623.
Gold spot price closed at an all-time high to 1278.15. Crude spot price fell 1.8% to 74.69.