I believe that Xiaomi poses a bigger threat than Amazon's (NASDAQ:AMZN) upcoming Android smartphone. Xiaomi, the world's fastest growing phone vendor, has surpassed Apple (NASDAQ:AAPL) in China. Canalys Report puts Xiaomi as the third biggest phone vendor in China in Q1 2014. Copycatting the iPhone has made Xiaomi, a four-year old company, the 6th largest global seller of smartphones.
The rapid rise of Xiaomi is due in part to Apple's complacent attitude towards it. While Apple took Samsung to court for copying some of the features of the iPhone, Apple allowed Xiaomi to become a $10 billion company by selling iPhone clones using the Android OS. Xiaomi hired Google veteran Hugo Barra last year. Barra is spearheading Xiaomi's expansion in 10 countries this year.
Apple's performance on the stock market is highly dependent on iPhone sales. Xiaomi's global ambition is a clear and present danger to Apple's quarterly desire to beat the Street estimates on iPhone sales. Amazon's entry in smartphones this June will hurt iPhone sales in North America. Xiaomi will continue to hurt Apple sales in China and 10 other foreign markets.
Imitation Is Easier Than Innovation
Lei Jun, CEO of Xiaomi, loathes being compared to the late Steve Jobs. He resents that the media portrays Xiaomi as the "Apple of China." However, one needs only to look at the pictures below to see the resemblance of Jun's fashion style/mannerisms to Jobs and the Xiaomi Mi3 UI's similarity to iOS.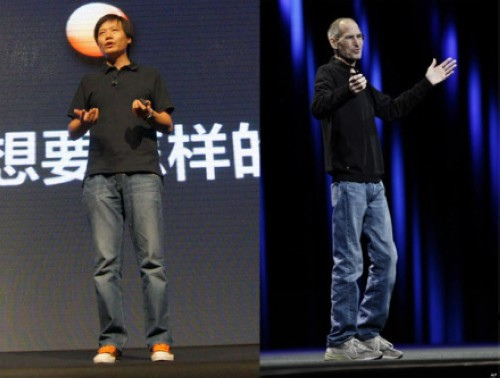 Source: buzzom.com
The Xiaomi Mi3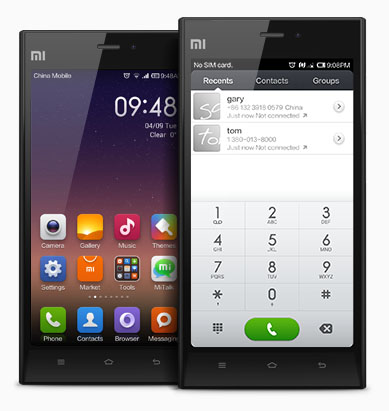 Source: Xiaomi
The new Xiaomi MIUI v6 ROM has iOS 7 vibes all over it.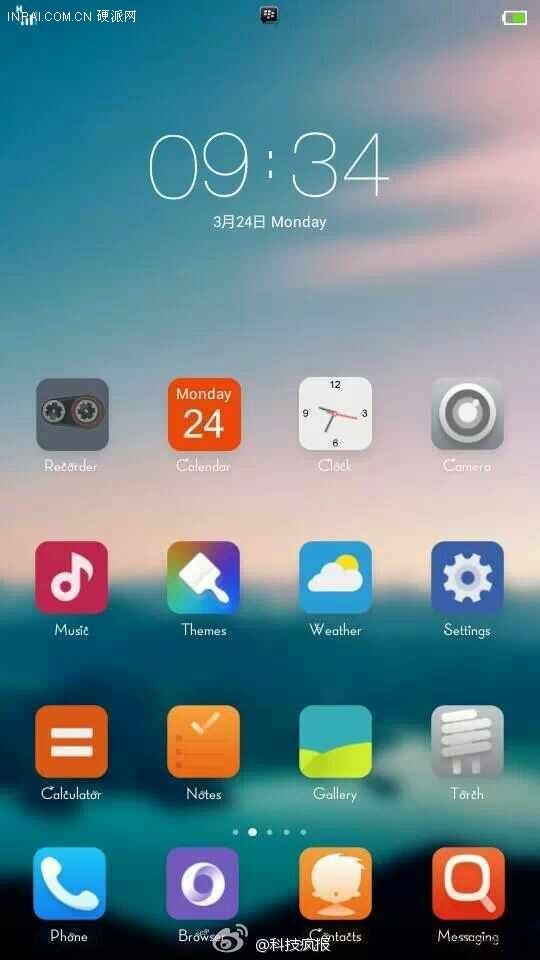 Source: Gizmochina.com
Lei Jun founded Xiaomi as a software company in 2010 that makes the MIUI custom ROM version of Google's (NASDAQ:GOOG) (NASDAQ:GOOGL) Android OS. Jun created an iOS-like user-friendly version of the Android OS and it became an instant hit. However, making money on software was slow. Lei Jun decided to make the first Android Xiaomi Mi One smartphone in 2011.
The first Xiaomi phone looked a lot like the iPhone 4 in terms of hardware looks and user interface software.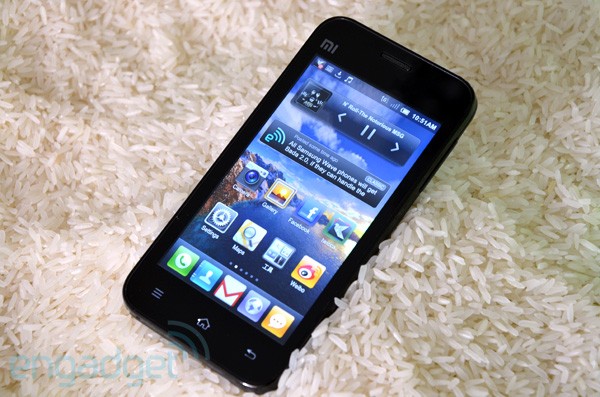 Source: engadget.com
Xiaomi launched the Mi 2 in August 2012. The phone looked like an iPhone again.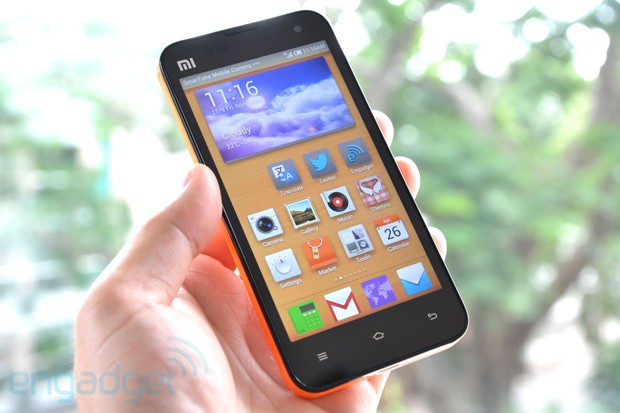 Source: engadget.com
By 2012, Xiaomi was a major vendor of smartphones in China with more than 7.2 million handset sales. Having premium phone specs and retailing at around $330 made the Mi2 very attractive to Chinese customers. The direct online sales strategy of the company has helped it make a big breakout in 2013.
The Mi3 smartphone no longer has the rounded edge design of the iPhone but Xiaomi still launched it on the same month that Apple released the iPhone 5S. The superior specs and lower price of the Mi3 have helped Xiaomi gain a massive cult-like following of customers. Apple has its iLoyalists and Xiaomi has its legion of iFans.
The Xiaomi Mi3 is now available in other countries. The company sold 18.7 million smartphones last year. Lei Jun is aiming to sell 60 million phones in 2014, and 100 million units in 2015. Xiaomi sold 11 million handsets for the first three months of this year. Xiaomi's global expansion will help Lei Jun fulfill his target of 60 million.
Why Apple Investors Should Take Notice
Xiaomi can and will steal bigger market share from global iPhone sales. It easily beat Apple in China, Xiaomi is likely to outsell Apple in price-sensitive emerging markets too. Aside from the Mi3 model, Lei Jun is saturating the world with the $135 Redmi phone and Redmi Note phablet. Apple will have a harder time disposing of refurbished iPhone 4/4S units to emerging markets if people in India can buy a cheaper Redmi.
AAPL's stock market performance is vulnerable to iPhone sales. Apple gets a boost or beat down not through missing EPS or revenue estimates, but by hitting or missing Wall Street's quarterly estimate of iPhone sales. Apple will find it very difficult to meet or surpass industry expectations when Xiaomi starts stealing customers from Asia, Brazil, Russia, and India.
Furthermore, Xiaomi is also expanding beyond smartphones. The company recently released the iPad Mini-clone, the $240 Mi Pad in China. Apple will also soon feel the pain of lower global iPad sales due to the cheaper copycat tablet from Xiaomi. Tim Cook is still ignoring this blatant copying of Apple's products.
Xiaomi already has a $63 Mi Box, a 4K set-top box to compete with Apple TV. I suspect that when the Apple iWatch is released, Xiaomi will also release a cheaper version of it within the same month.
If Xiaomi does a U.S. IPO, I'll be more than happy to buy a few shares. Xiaomi might be worth $20 billion soon if Apple keeps letting it imitate iOS products.
Conclusion
Cook's apparent inaction in the face of repeated offenses of Xiaomi is a brewing long-term headwind for Apple. Letting Xiaomi become too big and successful outside of China will make litigation as difficult as Apple experienced with Samsung (OTC:SSNLF).
I fear that Apple will only take legal action if Xiaomi starts selling and beating iPhone/iPad sales in the U.S. But by then, it might be too late.
I don't really know why Apple is still neglecting Xiaomi's threat. I am assuming that Xiaomi is untouchable because of its powerful Chinese backers and investors. Tim Cook, shrewd and always politically correct, might not want to rock the boat by openly castigating Xiaomi like it did with Samsung.
China is very sensitive to allegations of copycat products. Cisco's (NASDAQ:CSCO) John Chambers previously accused Huawei of cloning Cisco routers and selling them at bargain prices. Cisco is now becoming a pariah in China.
China is the world's 2nd biggest market for smartphones. American companies have to bow down to China's politicians and command economy warlords. Otherwise, Apple and others will find themselves having mediocre or zero sales in China.
In spite of the threat of Xiaomi and Amazon, AAPL is still a Strong Buy. My favorite stock valuation tool, Alpha Omega Mathematica, gives Apple a Strong Buy recommendation and 100% score. Apple is the perfect stock for long-term investors.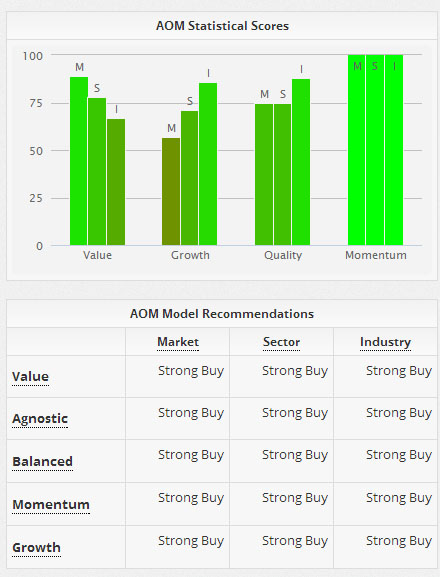 Source: getaom.com
Tim Cook must be amused that Xiaomi's success is also inspiring Chinese cloners to make cheaper imitations of the Mi3.
Disclosure: The author is long AAPL, GOOG. The author wrote this article themselves, and it expresses their own opinions. The author is not receiving compensation for it (other than from Seeking Alpha). The author has no business relationship with any company whose stock is mentioned in this article.