Miller Energy Resources (NYSE:MILL) is a small cap oil and gas E&P company headquartered in Knoxville, TN. MILL is focused on the Cook Inlet area in Alaska. While recent quarterly production and revenue numbers were up nicely, the company is not profitable and there are several other warnings flags.
The slide below was taken from a recent company presentation and does a fairly decent job of summing up key company metrics: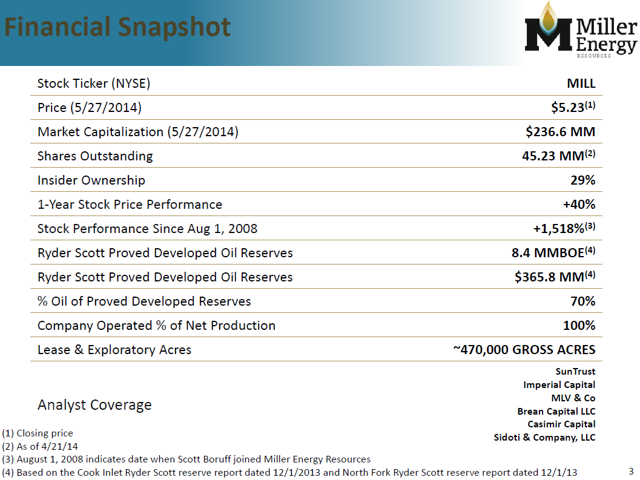 Assets
Alaska Operations: 2,855 boe/d of production as of 4/28/14 (95% of total production). Infrastructure includes processing and storage capacity.
North Fork Acquisition (Alaska): ~ 9.8 MMcf/day of production as of 4/28/14. Several wells chocked back. PV-10=$94.5 million; 2P PV-10 over $185 Million.
Tennessee: ~228 boe/d of production as of 4/28/14. MILL owns 38,199 net acres in TN.
The Bull Case
From the graphic above, things are looking pretty good at Miller Energy Resources: 29% insider stock ownership, a 40% up move in the stock, and a market cap of $237 million on proved reserves value of $366 million. The company has a significant proved reserve base in Alaska enabling a relatively clear line-of-sight to low-risk production growth. Additionally, existing in-place infrastructure will empower operating efficiencies to kick-in as more production is brought online. As a result, incremental production growth will reduce overall per barrel lease operating expenses ("LOE"). All this is happening in Alaska which last year passed legislation cutting oil production taxes. Today, Alaska presents a favorable environment for oil producers because tax credits reduce risks and production costs.
Reserves Growth
From the company's latest reserves report, the value of MILL's proved developed reserves' PV-10 increased a stunning 1015% in 2013 from $32.8 million (as of 4/30/13) to $365.8 million (as of 12/1/13). The majority of the PV-10 increase came from drill-bit success in 4 wells:
The Sword-1 well: recoverable reserves of 898,000 bbls and a PV-10 value of $63.4 million.
The RU-2A well: recoverable reserves of 1.5 million bbls and a PV-10 value of $78.0 million.
The RU-1A well: recoverable reserves of 1.0 million bbls and a PV-10 value of $52.0 million.
The RU-5A well: recoverable reserves of 516,000 bbls and a PV-10 value of $25.1 million.
Another $185 million in PV-10 came (pro-forma) from the expected close of the North Fork acquisition (which did close on 2/5/2014).
The RU-2A well listed above is a case in point in terms of how Alaska is promoting oil development and the kind of returns MILL is capable of: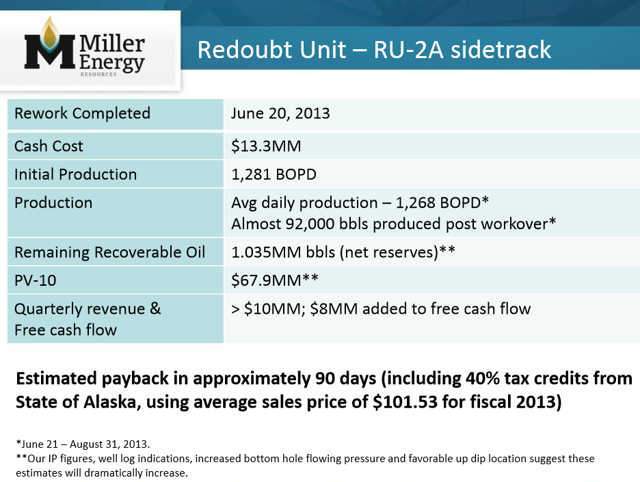 Note the very short 90-day payback on this re-worked Redoubt Unit well when the State of Alaska's 40% tax credit is included. The slide above was taken from a 2013 presentation, but investors should note that realized prices on Alaskan crude are similar to Brent.
So Miller definitely has some interesting acreage in the Cook Inlet of Alaska. However, two metrics were suspiciously absent from this article's first graphic: earnings and debt. Let's take a look at the company's latest earnings report to gain additional insight into fiscal performance.
Latest Quarterly Results
I will never understand why some companies offset their fiscal years but MILL is one company that has done so. As a result, please note the latest quarterly Q3 2014 EPS report is for the period ending January 31, 2014 and was released on March 13th.
The headlines looked pretty good:
174% increase in production
108% increase in revenue
However, a deeper look into the numbers (see below) show that Miller has some big challenges going forward. Three things immediately jumped out at me:
The company is losing money.
Operating expenses exceeded total revenue by ~40%.
The company has substantial preferred stock dividend obligations ($2.9 million in the quarter).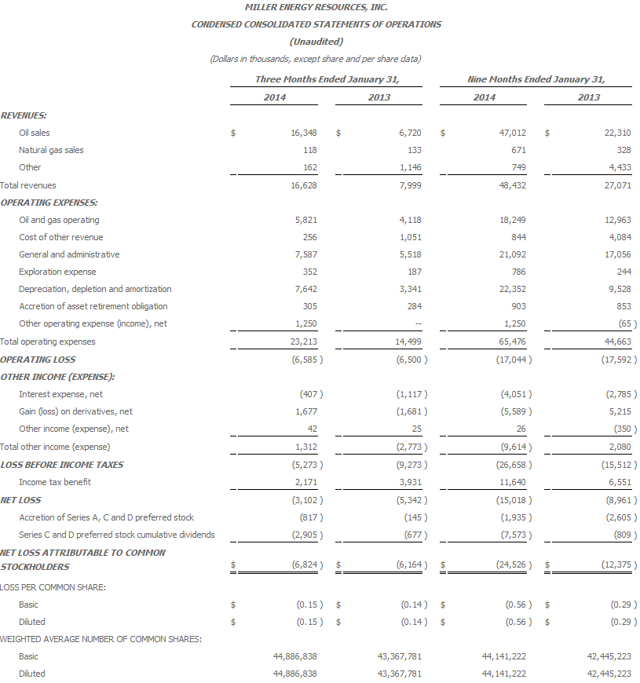 I tuned into the Q3 webcast to learn more about this company. I heard about several issues that disturbed me:
The company is involved in several lawsuits.
Many references to "accounting control" issues.
Debt is currently financed at >10% (see below), the company is not profitable, yet there was much discussion about additional financing for more acquisitions.
With respect to the company's legal issues, we can learn a lot from the Q3 Seeking Alpha conference call transcript. The company says it has "resolved several lawsuits that have been pending" and discussed the dismissal of all "federal derivative actions" and that this dismissal was upheld by the 6th Circuit Court of Appeals. MILL also said it had an agreement on a similar derivative action filed in the State Court of Tennessee. Then there is this:
We also reached terms on the settlement of our lawsuit with CNX which we settle for 1.25 million and we believe we have reached terms with another dispute of Voorhees Equipment and Consulting where we have an agreement in principal to settle the matter on a cash flows basis. We are still working on the settlement agreement with Voorhees documenting the specific terms.
You can read more about the company's legal entanglements in the latest Form 10-Q reports. There are a multitude of lawsuits filling nearly two full pages of the report. Some of these lawsuits involved executives in the company. I was not left with a favorable impression.
If one does a search of "accounting" in the Q3 Seeking Alpha conference call transcript, you will get quite a few hits. The company has hired John Brawley from Guggenhiem Partners as its new CFO. Brawley along with new hire Jeff McInturff, MILL's new VP and Director of Financial Reporting (huh? never heard of that position before...) have apparently made progress in "improving accounting controls". The company says it will continue to review and improve on these systems.
My question is this: if there are problems in accounting, why is the company out looking for additional financing for more acquisitions? As the old saying goes, if you want to get out of the hole, stop digging!
Another anecdote which does not ingrain confidence: when I accessed the company's website to view recent annual reports (trying to get more company commentary on its legal and accounting issues), I was surprised to see only one Annual Report link available - from 2010.
In addition, on the conference call, company execs discussed the progress MILL has made in its cost of capital. However, note the current cost of financing is >10% and the company recently took out a $175 million second lien credit facility to finance the recent North Fort acquisition at 11.75%: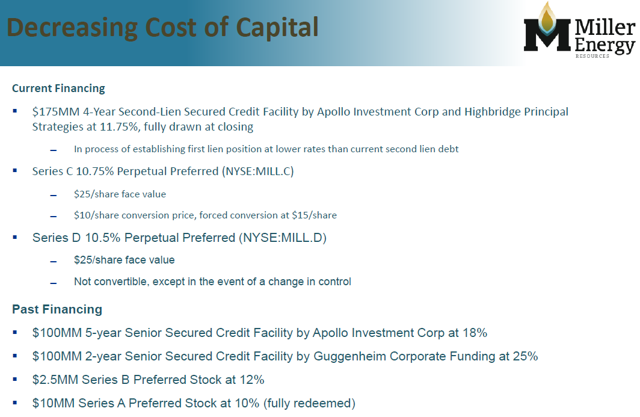 Note the preferred stock A (10%) and B (12%) payouts. For Q3, total preferred stock dividends equated to $2.9 million - 17% of total Q3 revenue.
So while the company may indeed be bringing down the cost of capital - it is the highest cost of financing I have seen for any energy company I have ever covered. In fact, most of the companies are now enjoying relatively low financing costs. Obviously, MILL's lenders see risks on the horizon... and so do I.
Inventory and Tax Rebates
The company's "production" is booked when it enters the Cook Inlet pipeline system owned by Hill Corp. However, the sales point is a point at which the ship is loaded at the Drift River terminal. Oil "produced" but not "sold" is considered "inventory". In the Q3 conference call, the company said it expects that some of the revenue associated with the inventory build of 57,000 barrels will be shifted into Q4. For a company producing only 2,855 boe/day in Alaska (forgetting the gas from North Fork), that is a big chuck of production that's in "inventory".
Complicating matters further is the Alaska Cash rebates. Now this is a good thing because Alaska is promoting energy development by helping companies with development costs. Anywhere from 20%-65% of development costs are reimbursed by the state. But the proceeds can take 4-6 months following application. For a company of MILL's size, combined with the other issues previously discussed, it makes quarter-to-quarter analysis most difficult. Just another moving piece for a company that already has a lot in motion, most of it (excluding drill-bit results) not real positive.
Unhappy Shareholders
Lastly, in the Q3 conference call CEO Scot Boruff announced:
In the past six months several shareholders have suggested we will reevaluate our options grants that the Board and our compensation committee approved as part of senior management's compensation in July of 2013. I took those concerns back to other members of management and we all agree they will be best to amend our employment agreement to cancel those options.
Obviously, shareholders are not happy with the executive team's performance. From what I can see, I cannot blame them.
Bear Case
Let's put the legal, accounting, debt, and shareholder unrest issues to the side for a moment and just take a look at the company's recent financial performance:
For the 9 months ended January 31, 2014, revenues increased 79% to $48.4M.
Net loss applicable to common stockholders increased 98% to $24.5M.
Higher net loss due to an increase in Exploration Expenses from $244,000 to $786,000. Depreciation, depletion and amortization expenses increased from $9.5 million to $22.4 million.
It's one thing to have legal, accounting, and debt issues if you are making money and/or gaining on profitability. But for losses to be doubling while revenue is increasing at a near 80% rate, it seems the prudent thing to do would be to "stop digging" and get out of the hole. Yet the company is bent on even more acquisitions (and debt) even as it admits it still has "accounting control" issues. The company obviously believes the solution to leverage is more leverage.
Summary & Conclusions
Miller Energy Resources may indeed have some good quality Alaskan assets, but it is hard for me to get past all the debt, red ink, legal and accounting issues. The company has hired new people in an attempt to fix its accounting controls, so why are they talking about additional financing and more acquisitions until the problems are pronounced "fixed"? Why is there much discussion about more financing (i.e. debt) and acquisitions when operationally they have not yet proven they can exploit their existing asset base in a profitable manner? There are just too many moving parts to this company, and most of them are questionable or just downright negative. I would stay away from Miller Energy Resources. If there is a spike up in interest rates, or a drop in commodity prices, MILL may be an excellent short candidate. Meantime, if you own shares, just SELL Miller Energy Resources. There are much simpler companies out there offering much better risk/reward propositions. Perhaps this is why despite the company's assertion that the stock is up 40% over the last year, MILL is down -23.6% YTD while the overall energy sector as measured by the Energy Select Sector SPDR ETF (NYSEARCA:XLE) is up +11.4%: one of the best performing sectors in 2014.
| | |
| --- | --- |
| Market Cap: | 228.92M |
| P/E ("ttm"): | N/A |
| EPS : | -0.87 |
| Div & Yield: | N/A (N/A) |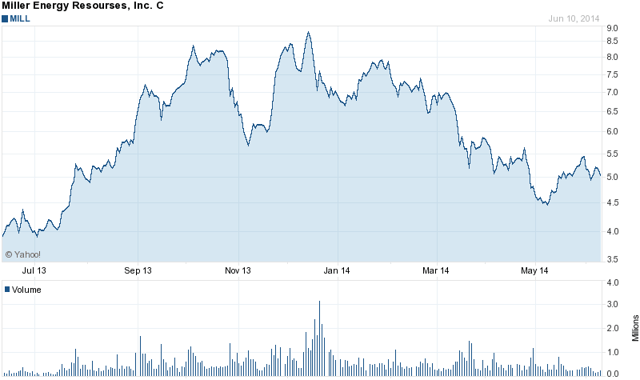 Disclosure: The author has no positions in any stocks mentioned, and no plans to initiate any positions within the next 72 hours. The author wrote this article themselves, and it expresses their own opinions. The author is not receiving compensation for it (other than from Seeking Alpha). The author has no business relationship with any company whose stock is mentioned in this article.
Additional disclosure: I am an engineer, not a CFA. The information and data presented in this article were obtained from company documents and/or sources believed to be reliable, but have not been independently verified. Therefore, the author cannot guarantee their accuracy. Please do your own research and contact a qualified investment advisor. I am not responsible for investment decisions you make. Thanks for reading and good luck!