I have written extensively about Annaly Capital (NYSE:NLY) over the last few years. Some of those years have been good ones, others have been precarious. That being said, I own NLY within my Team Alpha Portfolios, but not in our new BTDP. Since the stock is not one of those that fit into a category of dividend champions, and probably never will, there are reasons to hold a risk allocation within a well diversified and well balanced portfolio.
Since 1997, Annaly Has Enriched Shareholders With Dividends
Annaly qualifies for REIT status under the IRS rules, and therefore MUST pay out at least 90% of net earnings in the form of dividend payments to shareholders. While this exempts NLY from paying taxes, the shareholder will pay their regular tax rate on these dividends, which means this type of security is best held in an IRA or ROTH IRA for those in the highest of tax brackets. For most folks, the stock can be held in any account but be aware of your tax rate.
The world of mREITs is a rather confusing one, especially in an unstable interest rate environment. Over the years, NLY has been able to navigate through just about every scenario and while the share price has gone up and down, and dividends have been cut sometimes drastically, through the long term Annaly has made its shareholders enough money to have paid for the shares several times over, if held through thick and thin.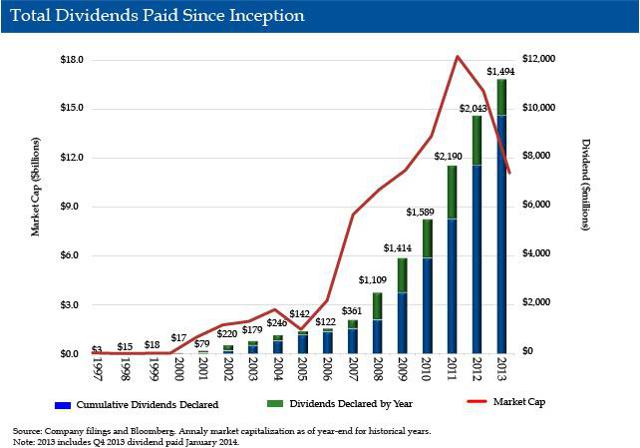 The chart above from Annaly's website clearly shows that even though the dividends have swung both high and low, the cumulative effect of the dividends declared has rewarded shareholders for nearly 20 consecutive years.
If you had followed any of my previous NLY articles here on Seeking Alpha, you would find that I have been in and out of the stock over the last 3 years simply because of the wild actions that the Federal Reserve has taken with its quantitative easing policies.
That being said, right now the current interest rate environment is very stable. This gives a company like NLY, which tends to use less leverage and is more conservative in its approach, the ability to move through the business segment more profitably than in an uncertain interest rate environment.
The Interest Rate Environment Has Remained Remarkably Stable
The fears of the Fed tapering its purchasing of mortgage-backed securities turned out to be a mouse rather than the elephant in the room. While the entire sector took a beating, as the 10-year treasury rates rose quickly just in anticipation of the tapering by the fed, the reality has been that since our economic recovery has been slower than anticipated, and the fed is keeping its policy of short-term interest rates in place (ZIRP) for the foreseeable future, those treasury rates that rose quickly, fell back even quicker once tapering actually began.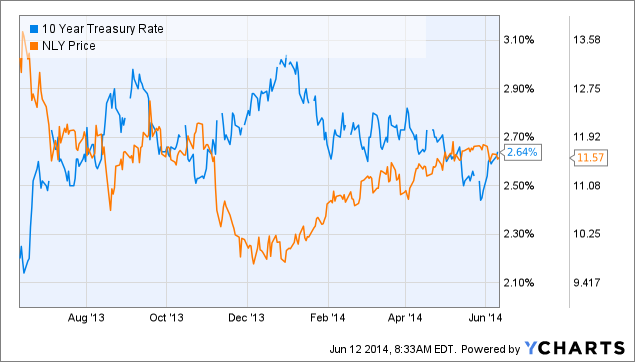 The share price of NLY moved in direct proportion to the interest rate environment as you can see in the chart above. From the third quarter of 2013, when the "taper-talk" began, the share price of NLY began to plummet (as did the net earnings of the company) sending shock waves throughout the entire mREIT sector.
As the share price dropped, the price to book value began offering a compelling case to eventually buy back into the stock.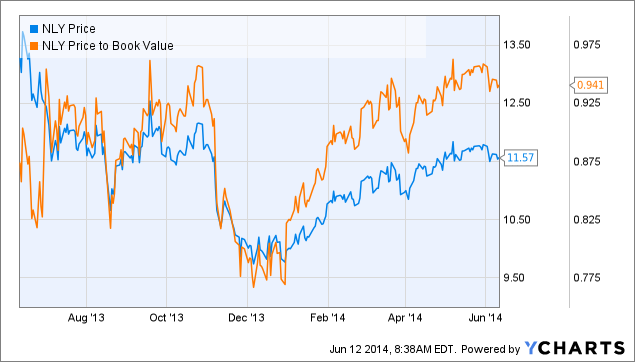 As you can see, at its lowest point, the discount to book value was an appealing 24%. Towards the end of December, when tapering began to become a reality, it was apparent that the world was not going to end for the sector, and Annaly became a buying opportunity once again.
As I discussed in this article on December 28th, I suggested that those investors who understand the risks involved with this security might want to consider placing a risk allocation within a well diversified portfolio. As it stands now, it appears I was fortunate to call a bottom and I bought shares of NLY at about $9.80 at that time, and hopefully so did my subscribers and followers.
Looking Towards The Future
It would be appropriate to note the basic fundamentals of the stock to offer some clue as to where it might be headed for the remainder of this year, and in my opinion, right through 2015.
The current share price of $11.57 has a 6% discount to book.
The enterprise value is over $74 billion.
A current payout ratio of 52% (from Yahoo Finance).
A current dividend yield of 10.40% at $1.20 per year, per share.
Keep in mind that the recent highs of the share price had been over $18/share and that was prior to the company becoming more of a "hybrid" mREIT by acquiring CreXus to develop a considerable commercial mortgage business rather than just rely on residential mortgage-backed securities. It did this rather than become the typical hybrid mREIT that works with agency-backed as well as non-agency backed securities.
Annaly considered this a better and more conservative path, and I happen to agree.
NLY has also recently entered into the "net lease" business with Inland Real Estate Group.
"We believe that the potential to utilize Inland's extensive experience acquiring, managing, leasing, financing and developing real estate nationwide will complement our ability to take advantage of a variety of opportunities as we expand our commercial platform into ownership of real property," said Wellington J. Denahan, Annaly's Chairman and Chief Executive Officer. This initiative further augments Annaly's continued expansion of its commercial real estate portfolio. As of March 31, 2014, Annaly owned approximately $1.7 billion in commercial real estate assets, an increase from $1.0 billion at June 30, 2013.

Dan Goodwin, Inland's Chairman and Chief Executive Officer said, "We are honored to have been chosen by Annaly to assist in creating an enviable net lease platform and excited about our strategic relationship." Joe Cosenza, a Vice Chairman of Inland and President of Inland Real Estate Acquisitions, Inc., who is leading the Inland team said, "Annaly's impressive expansion of its commercial real estate business highlights the strength of its balance sheet and flexibility, and we look forward to helping one of the largest mortgage REITs leverage upon those attributes."
In plain English, this means that NLY will now have some actual hard assets to produce income in the commercial leasing business with this alliance, not only mortgages. My opinion of this is that NLY has become a mREIT that will have less reliance on the unstable residential mortgage market, which could mean even greater income and higher dividends over the intermediate to long term.
The Risks Are Still The Same
As I stated in my last article on NLY:
All stocks come with risks. The dividend investment strategy is not immune to the risks. A stock like NLY has a higher risk level as well. Here are some of the basic risks that any investor needs to be cognizant of:
The dividend stocks could cut dividends or stop them completely if we have a fiscal crises that impacts the economy as a whole.

If interest rates rise, then equities have gone down historically.

Rapid interest rate rises will affect the mREIT sector, and NLY could see not only a loss in share price, but a cut in dividends.

If the housing industry goes through another round of high foreclosure rates, NLY will potentially have more issues turning over inventory which would impact earnings and dividends.

While dividend income can rise, the share price of the stocks held could drop. This will affect the total return of any portfolio.
By monitoring your positions and watching for fundamental changes either in the economic environment, interest rate direction, and individual company challenges going forward, a prudent investor will be able to make any adjustments they might want to, well ahead of the "herd".
Nothing has changed aside from the very real possibility that with the moves that NLY has taken, a dividend increase could be in our future by the end of the year.
I will reiterate my "buy" opinion of NLY, as a dividend opportunity stock as well as the very real possibility that given the added revenues and earnings from the recent moves noted above, the share price could eclipse the former highs of $18/share, giving it the potential capital gain of more than 30% from current levels.
The Bottom Line
Anything can happen of course and if any of the risks faced happen to rear its ugly head, I might do another about face on NLY. That being said, a well diversified portfolio might be able to handle a 3-6% risk allocation of funds, if you can handle the fluctuations.
If not, then stay away. If you can, then NLY is a great dividend opportunity stock to own right now!
Disclaimer: The author is not an mREIT expert, so please remember that these are his opinions of current situations, and not a recommendation to either buy or sell any security. Do your own research prior to making any investment decisions.
Disclosure: The author is long NLY. The author wrote this article themselves, and it expresses their own opinions. The author is not receiving compensation for it (other than from Seeking Alpha). The author has no business relationship with any company whose stock is mentioned in this article.