Shares of MannKind Corporation (NASDAQ:MNKD) have been on fire over the last four weeks, with a total increase in their value of more than 72%. Shares reached one 52-week high after another over the last month, and now quote close to their current 52-week high of $11.11. The increase in buyer interest and share price can be explained by a milestone PDUFA date approaching for MannKind: July 15, 2014. By this date, investors expect the U.S. Food and Drug Administration (FDA) to approve MannKind's rapid-acting, inhaled insulin drug, Afrezza.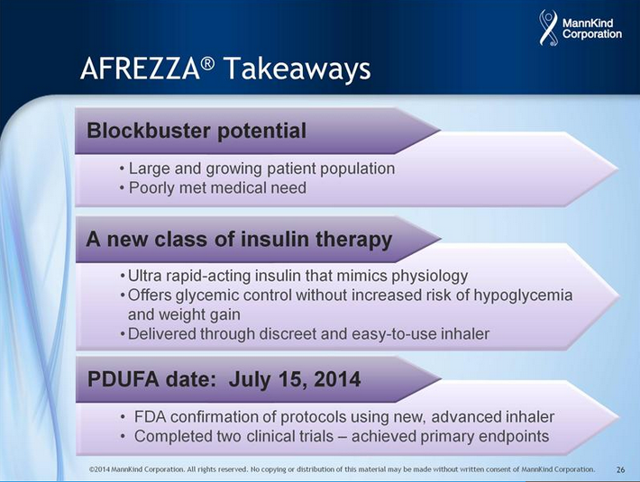 (Source: MannKind Corporation, Jefferies 2014 Global Healthcare Conference Presentation, June 2-5, 2014)
Accelerating insider sales a red flag?
I have repeatedly mentioned in my articles -- most recently referring to Facebook (NASDAQ:FB) -- that investors should pay close attention to insider transactions. Insider buy and sell transactions carry specific and valuable information as to how insiders see the value of their shareholdings.
Of course, insiders can have a variety of personal reasons to sell their shares; stock holdings can be sold for diversification purposes or because insiders sell their stock holdings down via automated divestment plans that do not consider the particular timing of sales transactions.
However, at the end of the day, insider sales make a profound statement, and that is: Insiders believe the current market price is a good opportunity to cash out. If insider transactions are enacted before a pivotal FDA approval date, this raises some serious questions. If the drug in question is a milestone product for a company, which Afrezza clearly is for MannKind, why would insiders sell their stock holdings into the ensuing stock rally?
This is a particular issue worth repeating. Selling shares as an insider when the stock price jumps -- as it did in the case of MannKind -- in anticipation of FDA approval, leaves a really bad taste in my mouth. Again, insiders might have their fair reasons for ditching their shares, but the timing of the sales -- in an environment of sharply rising share prices -- does not convey insiders' full conviction in the valuation of MannKind shares. Insider sales are what they have always been: An indicator of overvaluation.
The overview below depicts MannKind's insider transactions since the beginning of May. Insider sales in MannKind shares for a longer time period can be found here.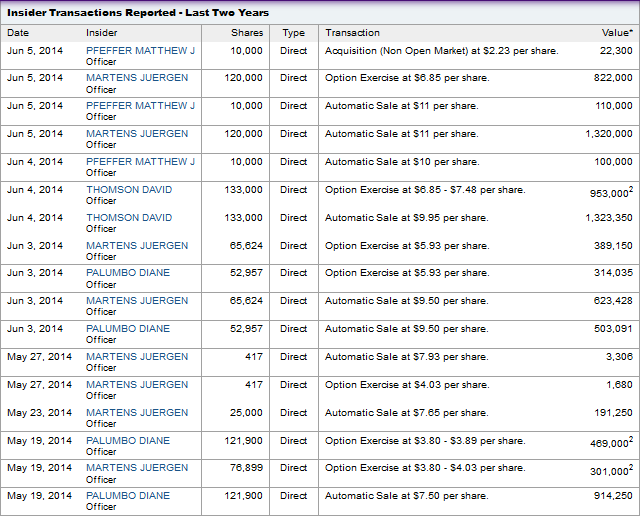 (Source: Yahoo Finance)
Approximately 392k shares have been sold by company executives since June 3, 2014, and according to Yahoo's insider transaction history for MannKind, insider sales have clearly accelerated.
Diabetes a major, global healthcare problem
Diabetes is a major health issue in developed countries, but especially in the United States. The American Diabetes Association commissioned a study on the estimated economic costs of diabetes in the United States, which pegged total costs at $245 billion in 2012 (split into direct and indirect costs). And further healthcare cost increases for treating diabetes in 2013 and 2014 are likely.
Diabetes is a disease expected to spread significantly over the next two decades, with larger increases in developing countries (see below).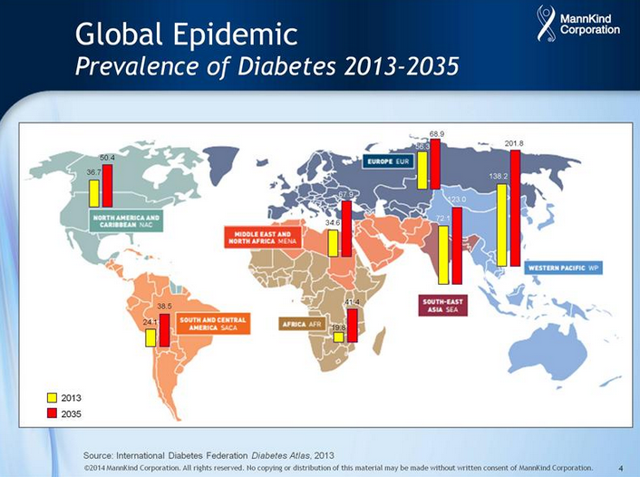 (Source: MannKind Corporation, Jefferies 2014 Global Healthcare Conference Presentation, June 2-5, 2014)
Manufacturing an insulin drug to counter the massive projected spread of diabetes certainly sounds attractive -- and the revenue potential is certainly there. However, MannKind is already very expensive as investors price in a huge expected revenue windfall, if Afrezza is approved: The biopharmaceutical company fetches a market capitalization of $4 billion, which seems overly ambitious for a development-stage company with no revenues in 2013 and a reported net loss of $191 million. Investors already price in a major success of Afrezza, and the stock, correspondingly, reflects this kind of euphoria.
Selling into the rally?
Undoubtedly, as mentioned in the introduction, MannKind's shares have done extremely well over the last month, with a return of over 72%. The fact that insiders sold into the ensuing strength of the stock is neither a confidence-building endorsement of the company nor its shares.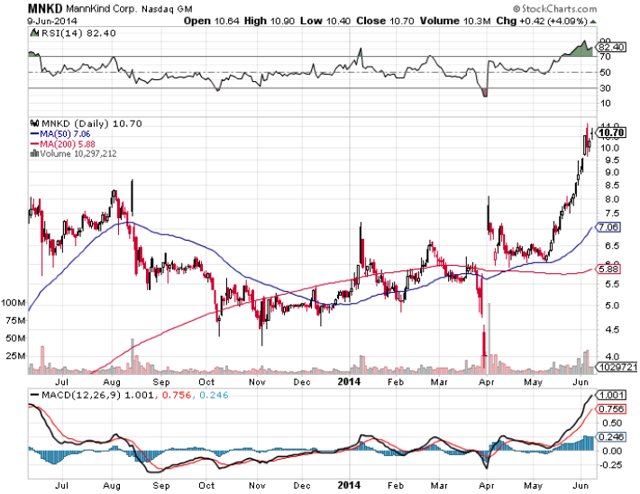 (Source: StockCharts.com)
Bottom line
I am always very, very cautious when it comes to insider sales transactions. And especially when insiders are selling into a rally driven by euphoria as the company approaches a pivotal date. Investors need to ask themselves whether they want buy at a 52-week high when insiders are increasingly selling their shares. Insider sales, whether they are enacted automatically or not, clearly show investors the way. Short.
Disclosure: The author has no positions in any stocks mentioned, and no plans to initiate any positions within the next 72 hours. The author wrote this article themselves, and it expresses their own opinions. The author is not receiving compensation for it (other than from Seeking Alpha). The author has no business relationship with any company whose stock is mentioned in this article.