Investopedia explains "Low-Hanging Fruit"
An example is when sales professionals new to the field tend to seek out the easiest customers to sell to first. These customers are considered "low hanging fruit." Low-hanging fruit is also a strategy a company implements in order to boost sales quickly. However, there are usually only so many low hanging fruits, and once those have been "picked," the company has to put in more effort to achieve results.
The key phrase above is "the company has to put in more effort to achieve results." This is what we currently see with Netflix (NASDAQ:NFLX).
I will show that Netflix has put in more effort (paying more cash and suffering lower margins) in order to grow revenues at a lower pace than in the past. Then I will discuss valuation of the stock.
Cash Flow
Netflix has been spending more cash in the last couple of years: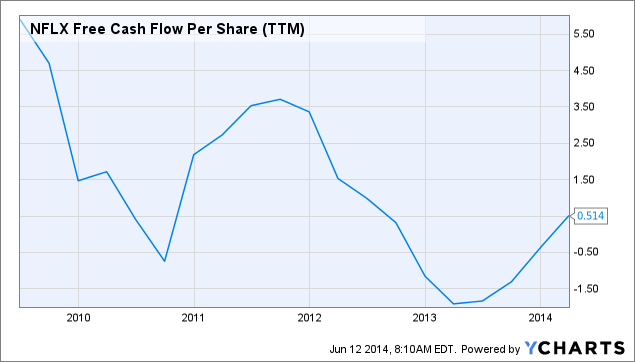 NFLX Free Cash Flow Per Share (TTM) data by YCharts
The above cash flow graph shows a somewhat downward trend, even dipping into the negative for a while. The working capital of the company has gone up steadily for the last five years, which lowers cash flow. In short, Netflix is building assets.
In itself, there is nothing worrisome about a high-growth company spending cash. But it is telling that Netflix has had to spend much more in the last few years in order to promote continued growth. New content, ventures in Europe and delivery costs are eating up cash much faster now than when Netflix was picking that low-hanging fruit.
Gross Margins
The gross margin history mirrors the cash flow graph: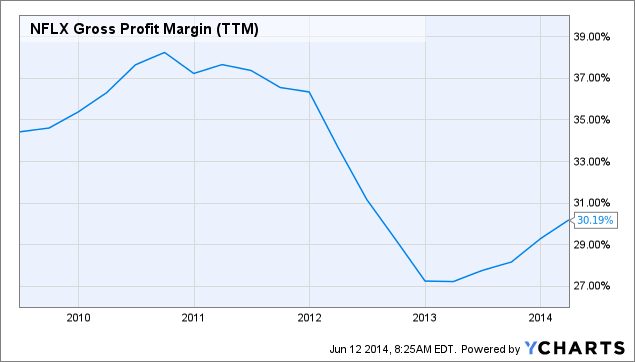 NFLX Gross Profit Margin (TTM) data by YCharts
I believe that it will be a struggle for NFLX to keep its gross margin over 30% going forward. Increased competition and entry into new markets will continue to challenge the margin and represent significant hurdles for the company to overcome.
There is also the factor of ISP payments to consider. Netflix has already forged a new agreement with Comcast in order to improve performance. Higher payments to other ISPs may be in the works according to Business Insider:
Comcast, Time Warner Cable, Verizon and AT&T have all refused to hook their data centers up to Netflix's servers without payment from the video streaming service. Their logic: when they move data for content networks like Akamai, they get paid for delivering that content to end users. Netflix is doing the same thing, so they should pay up too.
I certainly don't expect the margins of Netflix to drop dangerously. But it does seem like the halcyon days of 2006-2011 (approximately 35% gross margin) are gone for good.
Revenue Growth
Naturally, as a company grows, the rate of revenue growth tends to level off. NFLX is starting to see that trend: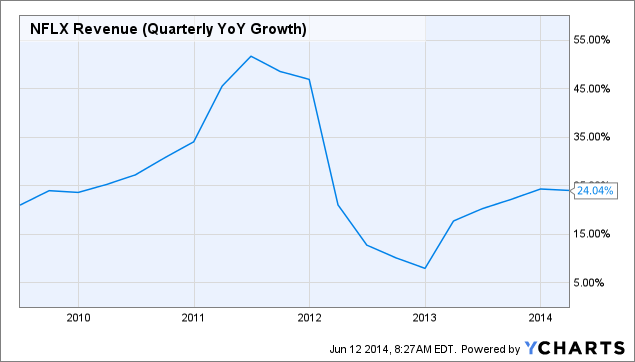 NFLX Revenue (Quarterly YoY Growth) data by YCharts
In the last couple of years, we see that Netflix has grown revenue by about 20% annually. For 2015, analysts expect revenue growth of 21.8% over 2014 (source: Yahoo Finance). Twenty percent top-line growth is still very good, of course, but again it goes to show that the best days of Netflix - from a fast growth perspective - are likely behind it.
When we take all three graphs above in context, my article thesis emerges. Netflix is spending more cash and having to lower margins in order to stay on top of the marketplace. Although the company continues to grow revenue at an impressive pace, that growth is slowing down. In short, the low-hanging fruit has been picked and from now on we can expect to see that revenue growth come at a higher cash and margin cost than it did in the past.
Valuation
Netflix is a wonderful company. It has grown impressively in the past and while that growth is beginning to show a bit of a slowdown, it is still rather impressive. Unlike many fast growing companies, Netflix makes healthy profits. The company also has done a good job of keeping the number of outstanding shares at a reasonable level and not diluting the stock.
NFLX the stock is overpriced. I estimate that the EPS will be around $11 per share at the end of 2017. That puts the forward P/E at 39x - for three years from now (using a current stock price of $430). I would perhaps be willing to pay something like 30x forward 2015 EPS, which would be a price of about $210 per share.
The dominance of Netflix in the streaming market is awesome and perhaps the company will continue to lead the pack for many years to come. Some subscribers use more than one service so that helps give room for all of the video streaming companies. However, the number of streamers will continue to grow and there is a limit to how many services the average viewer will pay for. I believe Netflix will see its market share start to erode at some point.
Furthermore, even if Netflix does somehow keep market share high for the foreseeable future we can see from the cash flow and gross margin trends that it is working harder than in the past to get new subscribers. I fail to see any reasonable "best case" scenario that justifies the price of the stock.
Again, it comes back to the low-hanging fruit. NFLX is priced as if there is still an abundance of easy pickings just waiting to be plucked. Metaphorically speaking, the company has had to buy a lot of ladders, hire new pickers, water the trees more...well, you get the idea. I'm confident that the company will continue to do well. I would not buy the stock anywhere near the current price.
Disclosure: The author has no positions in any stocks mentioned, and no plans to initiate any positions within the next 72 hours. The author wrote this article themselves, and it expresses their own opinions. The author is not receiving compensation for it (other than from Seeking Alpha). The author has no business relationship with any company whose stock is mentioned in this article.