My recent eBay (NASDAQ:EBAY) and Francesca's Holdings' (NASDAQ:FRAN) article titled 3 Dead Money Stocks To Sell Now elicited more than its fair share of feedback. I've learned over the years that bear-themed articles raise the dander of many shareholders as if I make it rain instead of simply reporting the weather forecast.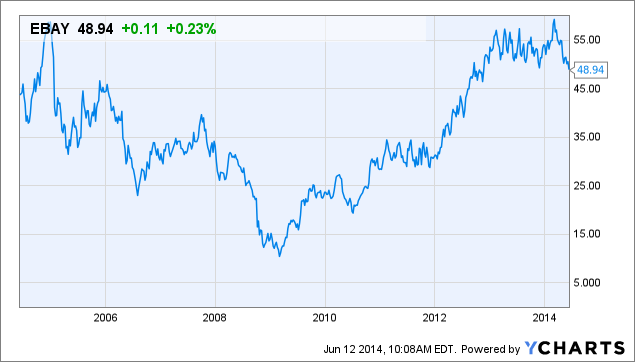 EBAY data by YCharts
Some were incredibly curious and instead of quickly replying and attempting to offer instruction with little more than a sound-bite, I thought greater clarity may offer more value.
There're no two ways about it - eBay has a 900 pound gorilla named Amazon (NASDAQ:AMZN) on its back and the ability to maintain margins, revenue and income. Unlike Amazon shareholders, eBay investors and potential shareholders are focused on earnings. Regardless of the ramifications to Amazon, it's difficult to reach a conclusion other than future downward pressure on eBay's shares as the two compete for payment services market share.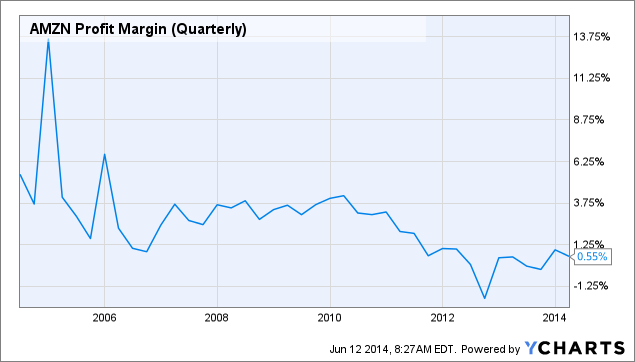 AMZN Profit Margin (Quarterly) data by YCharts
Amazon's net profit margin average during the last two years is less than 1%, and averages less than 3% since 2009. Meanwhile, Amazon's shares more than tripled in price during the same period. Clearly, Amazon is an outlier and received a pass to ignore profits in return for greater market share.
If there's any remaining doubt in your mind with regard to Amazon's ability to disrupt eBay's earnings, a glance at Amazon's nose-bleeding 100-plus forward price-to-earnings ratio should remove it. Amazon is all about gaining market share through squeezing the competition and eBay's PayPal division is in Amazon's crosshairs.
Returning to the comments, I'm reminded that the market complexities can easily make misunderstandings and result in difficulties achieving objectives. American Realty Capital Properties (ARCP) obviously is a current favorite among some yield seekers. One comment that is flat-out in error mathematically with regard to unrealized and realized gains/losses.
It's a common mistake to dismiss unrealized losses and only focus on gains (realized or unrealized).
"Also if the stock drops 15%, and the yield is 8%, you are still up as long as you don't sell."
Sorry, as mentally comforting as it may be to use financial gymnastics in an attempt to convince yourself that your portfolio hasn't declined in value, you're not up, you're down. Leave tax issues aside because my article is an investment opinion, not a tax planning guide (another comment alluded to the particular tax situation benefit from a falling stock price and large dividend). If a stock drops 15% and the current yield is 8%, your account is worth less than 93% of your starting value.
We can use a car as another way to illustrate the concept. If your neighbor bought an average new car for $50,000, drives it for three years, and claims it's still worth $50,000 until sold, you would rightly question the valuation method. Stocks are no different; they're "worth" whatever the market is at and your investment account reflects this reality on the line "account net worth."

Thinking in absolutes is filled with peril (and common) and eBay isn't an exception to the rule. Carl Icahn is a legendary investor, and I've written many bullish pieces relative to his Herbalife (NYSE:HLF) long position. The commenter has two concerns that immediately come to mind. First, Icahn is legendary, not infallible.
It's reasonable to assume Icahn's team didn't know Amazon would become much more aggressive toward eBay's PayPal division (a fair assumption considering it wasn't public information, and Icahn entered before the announcement). Understanding Icahn doesn't have an eBay crystal ball should be obvious, albeit what may have greater opacity is what happens next.
When a well-known fund manager commits to a significant investment in a company (as defined by a 13G/D requirement) the price often significantly jumps higher. The flipside is when the same hedge funds exit, the shares often decline precipitously. The appreciation happened, and it's clear what the next expected transaction event is. It's no secret Icahn's relationship with eBay's Board is less than cozy.
With regard to selling low, many short sellers look for stocks making new 52-week lows because they tend to continue lower. eBay's price may feel "low" today, but what if it continues lower? $49 eBay may become a dream if Amazon's assault turns into a long-term market share capturing campaign. If history is a good guide, the odds favor it will.
Disclosure: The author has no positions in any stocks mentioned, and no plans to initiate any positions within the next 72 hours. The author wrote this article themselves, and it expresses their own opinions. The author is not receiving compensation for it (other than from Seeking Alpha). The author has no business relationship with any company whose stock is mentioned in this article.