Energy prices are rising, as the fighting in Iraq escalates and draws greater attention from the world media. Since the US has pulled its forces out of the country, the predicted political and religious infighting has occurred and gradually escalated. It is unfortunate but sadly to be expected, as the minority mistreated the majority for decades (now that the minority is getting the same treatment from the majority and has decided to align with Islamic militants).
This is not just an Iraq situation though, it actually is a multi-state issue affecting both Iraq and Syria. The most recent events have even led Turkey to address the situation and could require the US to assist in some strategic air strikes. With this news driving oil prices to 52-week highs, we think investors need to put this at the top of their watch lists over the next month or so to see what the military response from NATO and the rest of the world powers will be. Currently, the Islamic State in Iraq and the Levant (Syria) has an estimated army of 10,000 and is taking over large portions of Iraq and Syria. This is bad news for Russia-backed Syria and the US-backed Iraq, so it could be possible to see a UN Security Council resolution.
Chart of the Day:
Below we have attached a map showing the territories that the Islamic State in Iraq and the Levant controls. There are numerous maps out there, but this seems to be the most accurate according to what we have read in the news.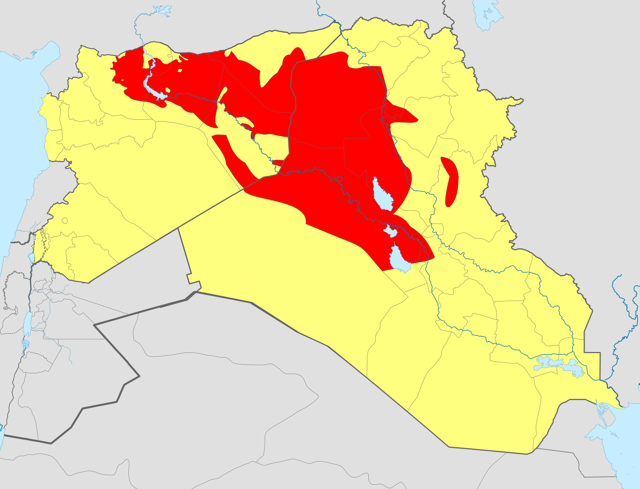 Source: Wikipedia
Commodity prices are as follows (at time of submission):
Gold: $1,266.40/ounce, up by $5.20/ounce
Silver: $19.28/ounce, up by $0.108/ounce
Oil: $106.18/barrel, up by $1.78/barrel
RBOB Gas: $3.047/gallon, up by $0.0462/gallon
Natural Gas: $4.55/MMbtu, up by $0.042/MMbtu
Copper: $3.0245/pound, down by $0.016/pound
Platinum: $1,443.70/ounce, down by $37.60/ounce
More Acquisition Rumors
Many readers will remember that we were bullish both Anadarko Petroleum (NYSE:APC) and Apache (NYSE:APA) at lower prices this past year, as we thought both companies had prime assets in the US and could monetize certain lower margin and/or capital intensive assets in order to continue developing their onshore US assets. There was always the possibility of a takeover once the two companies answered the big questions investors had about their assets and potential liabilities, and now that both seem to have answered those questions we are not surprised to see that the rumors have begun to swirl.
Both names have performed well since cleaning house, but bigger gains could be ahead if any of these rumors materialize and a bidder emerges.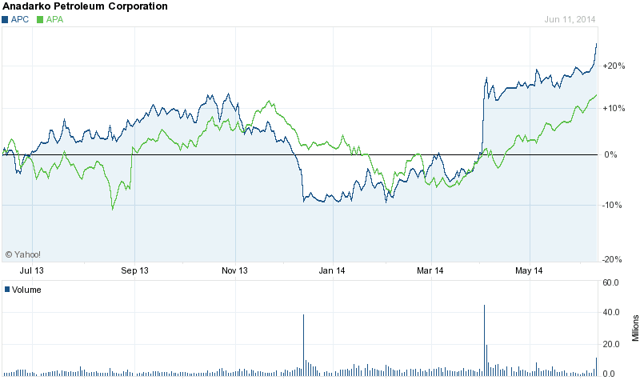 Source: Yahoo Finance
The rumor yesterday was that Exxon Mobil (NYSE:XOM) was possibly looking to buy Anadarko, which in our opinion would be a transaction which makes plenty of sense. It would allow Exxon Mobil to add onshore US domestic production with plenty of acreage for future growth while also increasing the company's liquids production. Many investors have complained about the company's big dry natural gas acquisition which was completed just before the bubble in that area burst, and while this would be another venture into some key shale formations, it would be a more diversified foray in terms of the type of production.
Areas To Avoid In The Short-term
With oil prices rising, the airlines are getting crushed today and although we agree with the move, we are not as bearish of all of the names which have been included with the move lower. Big names such as United Continental (NYSE:UAL) make sense to be sold, especially if this uptick in oil prices turns out to be a sustained move higher, but long-term we think this is a sector to be owned as a hedge to energy allocations within a portfolio. There is a lot that is right taking place in the industry right now and while the short-term does look to see volatility increase, the correct side of this trade down the road is to be long.
One point we would like to make regarding the airlines is that Delta Air Lines (NYSE:DAL) seems to be put in the same group as the rest of the airlines, even though they have what we believe is a superior hedging program which they put in place a few years ago. It should be impacted in the short-term, but not necessarily to the same extent as its peers.
Disclosure: The author has no positions in any stocks mentioned, and no plans to initiate any positions within the next 72 hours. The author wrote this article themselves, and it expresses their own opinions. The author is not receiving compensation for it (other than from Seeking Alpha). The author has no business relationship with any company whose stock is mentioned in this article.