Empires come and empires fall, whether we are talking about the fate of nations or that of personal electronics dominance. Just as BlackBerry (NASDAQ:BBRY) gave way to Apple's (NASDAQ:AAPL) iconic iPhone, it seems that Samsung (OTC:SSNLF) may be finally eclipsing Cupertino. The battle between the iPhone and the Galaxy S line is certainly not new - the Galaxy S5 has been on the market for several months already - but as both devices have now had time to get "comfortable," we may have a better look at what the future will hold for both companies. Furthermore, with the recent introduction of Samsung's first Tizen OS smartphone, the smartphone landscape is potentially in flux.
How We Got Here
At the dawn of the smartphone era, BlackBerry was the undeniable leader to such an extent that when Apple introduced the iPhone, many believed it would have little impact. Last April, BlackBerry renewed its efforts to court enterprise customers as the smartphone maker struggles to rebuild and rebrand itself. The message here is that stagnation can be deadly, and consumers are willing to flock to the new market leader in a relatively short period of time.
Apple fans will note that the iPhone is still the iconic symbol of the smartphone, and that while Google (NASDAQ:GOOG) (NASDAQ:GOOGL) Android may continue to take market share, Apple's position is well defended. Likewise, Galaxy advocates will posit that the shift to Samsung domination began with the Galaxy S3, and has continued ever since. Regardless of your starting point, and now that each company has a "mature" product, I believe there are some important points to begin with.
First, Android and iOS have become fairly comparable. Many users praise the simplicity and small learning curve of iOS, while others prefer the flexibility of Android. Again, there is no longer a significant distinction in functionality. Next is the reality that both devices perform the full range of functions. While there are important differences, it seems fair to acknowledge that there are as many similarities as points of differentiation.
So What Are We Talking About
Two areas in which Samsung has excelled in meeting consumer needs are screen size and durability. While many market commentators expect the iPhone 6 to finally be offered with a larger screen, Apple has been slow to offer this choice. In comparison, Samsung offers the standard 5.1-inch screen, as well as a mini that is more comparable to an iPhone. Samsung has removed the question of which is better and simply let consumers decide which they prefer.
On the question of durability, the Galaxy S5 is water resistant and dust resistant. The S5 Active model adds shockproof, making the need for a case nonexistent. While this may seem trivial to some, for users who just want to buy a device and have it work, the durability factor is important. Furthermore, it removes another level of potentially expensive add-ons, the need for which annoys some consumers.
Looking Ahead
As perennial speculation about what features will be included in the next generation of the iPhone mounts, it is hard to deny that many of these features will simply be bringing Apple in line with Samsung, and not ahead of it. This same argument has been posited before, but shareholders should pay very close attention on this iteration because never before have the stakes been higher. This is owing to the fact that as smartphone commoditization continues, and the battlefield becomes increasingly even, small victories can have a more significant impact.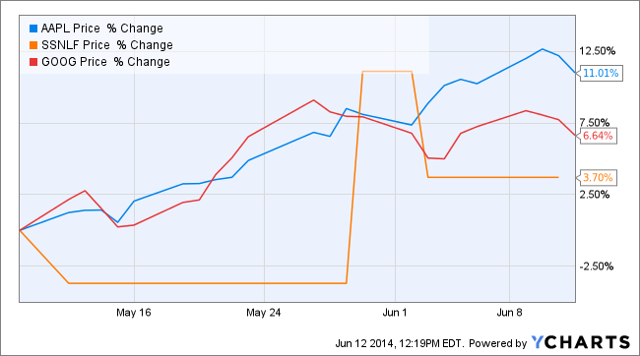 Additionally, given how little notice was taken of the announcement of the Samsung Z, investors should be watching how the market reacts to the new device. If it is well received, this could have a significant impact on Samsung, Google and Apple. Given the reach of Android, do not expect a successful Tizen launch to spell the end of Samsung Android smartphones, especially in the U.S. where apps are more critical. With that in mind, however, a third serious ecosystem contender, especially given the popularity of Samsung televisions and laptops, could rocket Samsung into an even more dominant position.
It is likely too soon to make trading decisions based on the launch, but this should prove an important factor looking ahead. Samsung may not have quite stolen the driver's seat from Apple, but never before has the threat been more real or had the potential to make a more significant impact on the stocks on so many key technology players.
Disclosure: The author has no positions in any stocks mentioned, and no plans to initiate any positions within the next 72 hours. The author wrote this article themselves, and it expresses their own opinions. The author is not receiving compensation for it (other than from Seeking Alpha). The author has no business relationship with any company whose stock is mentioned in this article.
Editor's Note: This article discusses one or more securities that do not trade on a major U.S. exchange. Please be aware of the risks associated with these stocks.