The Great Recession bankrupted many companies and resulted in others trading at mere pennies of their former selves. As the major indices are hitting new all-time highs, many of these companies recovered. However, there are a few that have yet to experience a revival. First BanCorp (NYSE:FBP) certainly is trading at a discount to its former self, down 96.4% off its former high. With a return to profitability and an improving balance sheet, FBP is undoubtedly undervalued, and the market will soon realize this mispricing.
About First BanCorp
First BanCorp is a full service provider of financial services and products, with operations in Puerto Rico, the U.S., and the USVI and BVI. It provides a wide range of financial services for retail, commercial, and institutional clients. The company is domiciled in San Juan, Puerto Rico. The corporation has six distinct business segments: consumer banking, commercial and corporate banking, mortgage banking, treasury and investments, U.S. operations, and Virgin Islands operations.
The company nearly defaulted during the Great Recession, and required $400 million in TARP funding to stay afloat. The treasury has subsequently sold off most of its stake, but with a 9.5% current stake, investors are remaining wary. However, the company is clearly turning its business around and is becoming highly profitable. The looming threat of shares being released from the treasury has held this stock at grossly undervalued levels.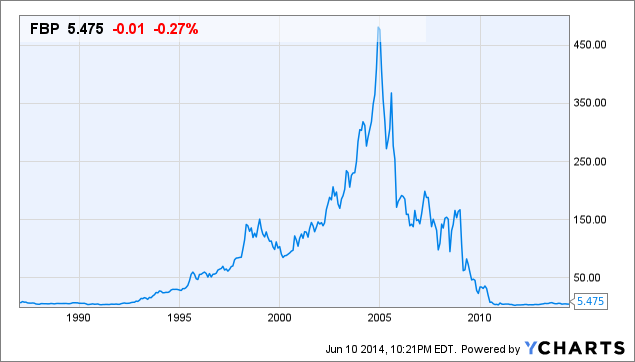 Valuation with Peers
Regional banks operate differently than traditional banks, and as such, I have only used regional banks in my comparison analysis peer group. The banks considered in this peer group include: Union First Market Bankshares Corp. (NASDAQ:UBSH), OFG BanCorp (NYSE:OFG), and the Royal Bank of Canada (NYSE:RY).
Union Bankshares was included in the peer group because it is nearly the same size as FBP and has a similar business model. Although it operates mainly in Virginia, it gives an indication of where the trading level for a regional bank can be when the area it is exposed to is stable.
The Royal Bank of Canada, although it is much larger with roughly a $100 billion market capitalization, has significant exposure to the Caribbean. Additionally, it is much more diversified, with exposure in Canada and the U.S. RY represents a possible future outlook for FBP, as it is seeking to diversify in a similar fashion. FBP is increasing its exposure in the U.S. through Miami investments, which will make it look even more similar to RY. The most similar bank to FBP is OFG BanCorp. The banks share a similar size, geographic distribution of assets, and segments of operations. Although, OFG is roughly 35% smaller, so it should have more of a risk premium priced into its shares compared to FBP.
The first metric to be considered is price-to-tangible book value, which provides insight into where the banks trade based on their hard assets. As you can see, FBP trades at a substantial discount to peers.
Another metric to consider is price-to-sales. FBP is considered grossly undervalued by using this metric as well. The final metric that will be examined is generally considered the most appropriate to determine value, price-to-earnings. Since FBP has just recently turned profitable and 2014 is set to be its first year of profitability in a while, we will consider forward price-to-earnings. Once again, FBP is undervalued both on a historical and peer comparison.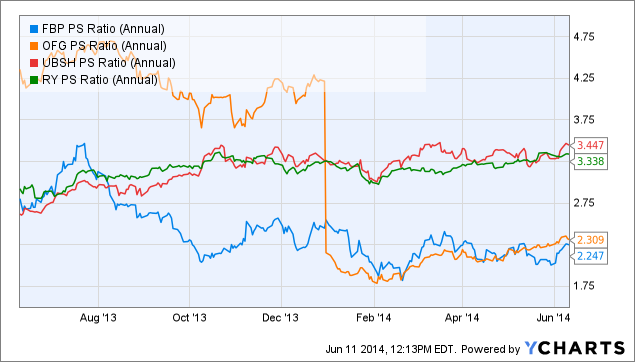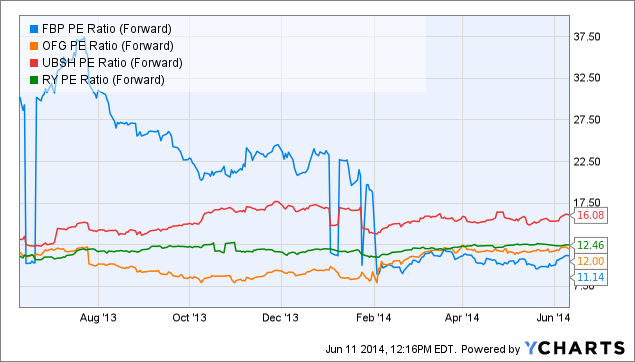 This simple analysis alone does not give investors justification for an investment. There could be a valid reason for FBP trading at such a steep discount. If the assets are much riskier or the business model is much worse, FBP could warrant such a discount.
Now we will go into a deeper analysis to determine if the reasons for this discount are unfounded.
Puerto Rican Economy
Since First BanCorp is domiciled in Puerto Rico and much of its business is exposed and thus tethered to its economy, it is prudent to analyze the health and outlook of the economy.
The debt of Puerto Rico was downgraded to junk status amid high unemployment and budget deficit issues. However, signs of a recovery for the Puerto Rican economy are beginning to percolate. Many new multinational companies have made new investments in the Commonwealth, and the budget deficit has been reduced tremendously.
Hedge fund manager John Paulson espoused his conviction in a Puerto Rican resurgence, when he stated, "I think tomorrow the Island will develop into the Singapore of the Caribbean." He further went on to say that he plans to invest $1 billion in Puerto Rican projects over the next couple of years.
An upward revision in its credit rating could be in the works, as the approved budget is set to reduce the budget deficit to just $820 million in 2014. This reduction marks a significant improvement from the $2.375 billion deficit in 2012 and $2.213 billion in 2013.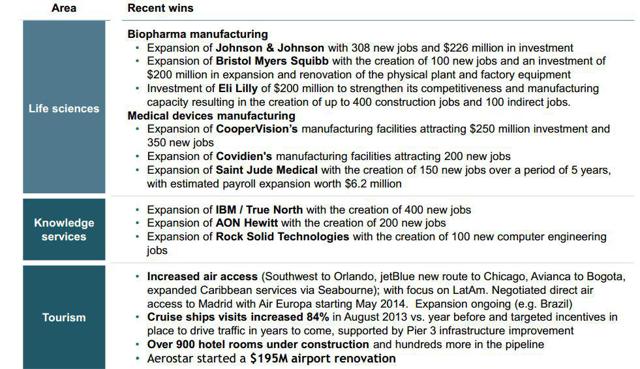 Source: Puerto Rico's Economic Outlook
Puerto Rico is also set to become a safe haven for traders, investors, investment managers, and financial institutions, with the passage of Act 22. This seminal legislation allows investors and traders to exclude 100% of all short-term and long-term capital gains. Money is set to flow into the country and stimulate the economy.
A recovery in the Puerto Rican economy is being validated by investors and Wall Street. In its latest bond offering, demand was stronger than expected, as orders eclipsed the original offering amount, and the offering consequently was increased by 17% to $3.5 billion.
Puerto Rican Loan Portfolio Concentration
As the corporation's primary lending area is Puerto Rico, 84% of its loans have risk concentration there. As of the most recent quarter, it had $454.2 million of credit facilities granted to the Puerto Rico government, of which, $403.9 million was outstanding. Approximately $200.3 million of the credit facilities outstanding consists of loans to municipalities that are secured by taxation. Furthermore, FBP had $201.7 million outstanding as of Q1 of 2014 in financing to the hotel industry in Puerto Rico, which is guaranteed by the Puerto Rico Tourism Development Fund. With a broad Puerto Rican recovery, this portfolio should perform quite well.
Improving Loans
Levels of non-performing loans decreased 43% during 2013 as compared to 2012. This reduction was the impetus to turn the third and fourth quarters of 2013 profitable.
As of December 2013, FBP has $550.4 million in non-performing loans, which represents approximately 5% of its $9.7 billion loan portfolio. Management has guided that the company will see a further reduction in non-performing assets in the coming quarters.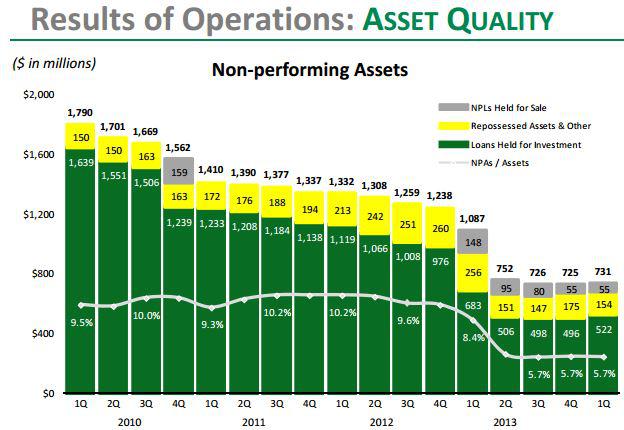 Source: Investor Presentation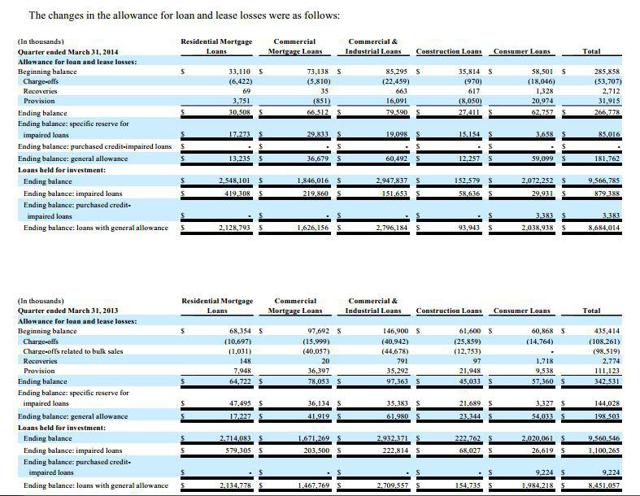 Source: 10Q
The current trading level of FBP is well below its assets and peers. Thus, one would expect its assets to be grossly overstated and expect impairments in the future. However, the level of impairments for these assets has been declining precipitously, and most of the assets are level 2 or higher. Thus, it is unwarranted for FBP to trade at this discount. The 3 levels refer to how liquid the assets are, and give an indication of how likely they are to reflect the full value. Level 1 is the most liquid, while level 3 is the least and presents the greatest risk for impairments.
Level 1
Valuations of Level 1 assets and liabilities are obtained from readily available pricing sources for market transactions involving identical assets or liabilities. Level 1 assets and liabilities include equity securities that trade in an active exchange market, as well as certain U.S. Treasury and other U.S. government and agency securities and corporate debt securities that are traded by dealers or brokers in active markets.
Level 2
Valuations of Level 2 assets and liabilities are based on observable inputs other than Level 1 prices, such as quoted prices for similar assets or liabilities, or other inputs that are observable or can be corroborated by observable market data for substantially the full term of the assets or liabilities. Level 2 assets and liabilities include (i) mortgage-backed securities for which the fair value is estimated based on the value of identical or comparable assets, (ii) debt securities with quoted prices that are traded less frequently than exchange-traded instruments, and (iii) derivative contracts and financial liabilities (e.g., medium-term notes elected to be measured at fair value) whose value is determined using a pricing model with inputs that are observable in the market or can be derived principally from or corroborated by observable market data.
Level 3
Valuations of Level 3 assets and liabilities are based on unobservable inputs that are supported by little or no market activity and are significant to the fair value of the assets or liabilities. Level 3 assets and liabilities include financial instruments whose value is determined using pricing models for which the determination of fair value required significant management judgments estimation.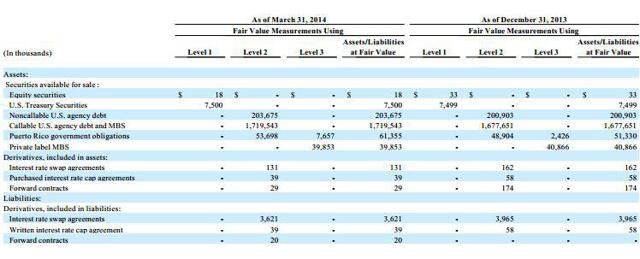 Source: 10Q
Positive Future Outlook
First BanCorp relies primarily on customer deposits, the issuance of brokered CDs, and advances from the Federal Home Loan Bank to maintain its lending activities and to replace certain maturing liabilities.
As of December 2013, it had $3.48 billion in brokered deposits (including CDs and money market accounts) outstanding, representing approximately 35% of total deposits. However, that marks a reduction of $253.4 million from 2012. The average time to maturity of these outstanding CDs is 1.2 years. As those CDs begin to mature, they will be replaced with lower-yielding deposits, which will improve net interest margins. NIM has improved over the past few quarters, but with further expansion, it will provide a boon to FBP's profitability.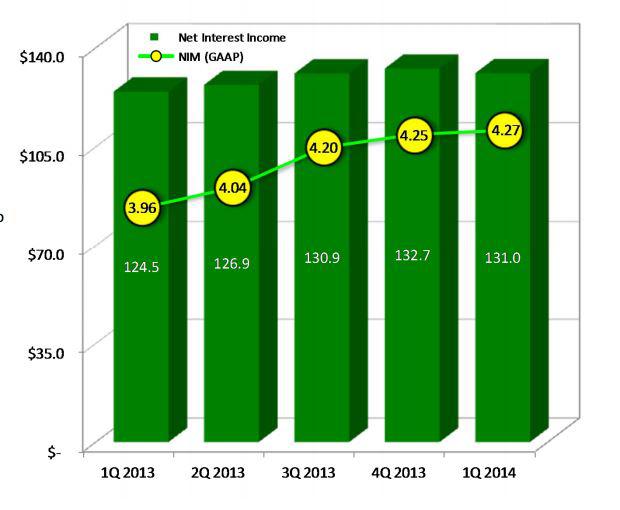 Source: Investor Presentation
Another notable positive for First BanCorp is a substantial tax loss carryforward that the company can use to mitigate taxes. As the company returns to profitability, it will be able to retain most of those profits, as it has this asset to offset taxes. As of March 31, 2014, the company holds a deferred tax asset of $519.3 million.
Improving Balance Sheet
First BanCorp's balance sheet has been improving greatly. From Q4 of 2013 to Q1 of 2014, its cash position nearly doubled. Further, its deposits grew at a great pace and passed the $10 billion mark. This growth was driven by non-interest bearing deposits, which is a great sign for this recovering bank.
More optimism for investors can be found in regards to preferred stock. Their preferred stock yields anywhere from 7.00% to 8.35%, which is exceptionally high in the current low interest rate environment. Exchanging these for common shares and retiring them will drive profitability. Although the conversion will dilute ownership to a degree, the company trades at a deep discount, and the savings from ceasing the hefty dividend payments will go directly to the bottom line and drive book value growth. It is also worth mentioning that the company can begin a new dividend and share repurchase program only after all of the preferred shares are retired. Thus, this retirement is one step closer to that end, and should be viewed positively.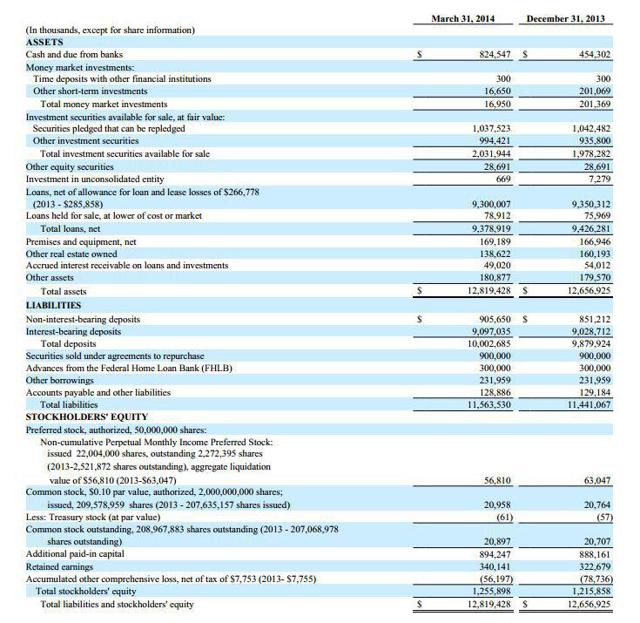 Source: 10Q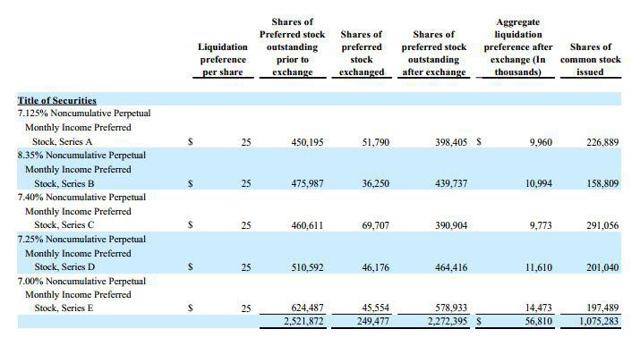 Source: 10Q
A Swing to Profitability
During Q1 of 2014, interest income grew slightly, but profitability was achieved by a reduction in interest expenses and a significant reduction in provisions for loan and leases losses. Interest expenses fell because First BanCorp was able to grow the amount of non-interest bearing deposits. Ultimately, net income was $17 million in the quarter, compared to a loss of $72 million in the same quarter a year ago.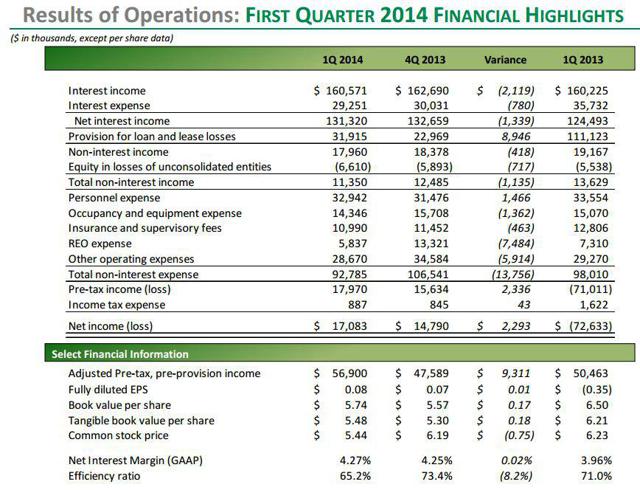 Source: Investor Presentation
First BanCorp is reducing its cost of deposits and saving on interest expenses by altering its mix of deposits. It is gaining much more non-interest bearing deposits and savings deposits, while reducing interest-bearing checking deposits, as well as brokered CDs. A considerable portion of these brokerage CDs are maturing shortly, which will help the company with this initiative.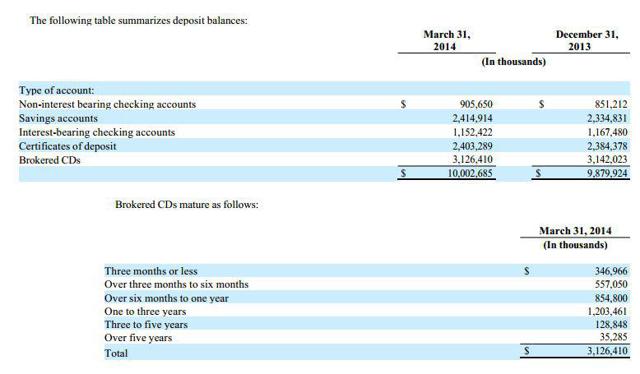 Source: 10Q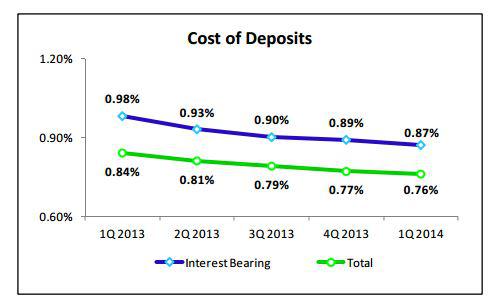 Source: Investor Presentation
Moreover, each of the six business segments is profitable and has improved from the same period a year ago. Management outlined this outstanding performance in the conference call, when CEO Auerlio Aleman stated:
"But more importantly, we posted a very strong pre-provision pretax income of $56.9 million. I have to say that this is our highest quarterly PBT since the fourth quarter of 2009. Primarily, the improvement in PBT was driven by, as we have mentioned before, our focus in reduction credit cost and management initiatives to deal with our expense base which was unexpanded to-date."
(PBT is profit before tax)
Source: Earnings Conference Call
The company is firing on all cylinders, but the stock price has yet to reflect it.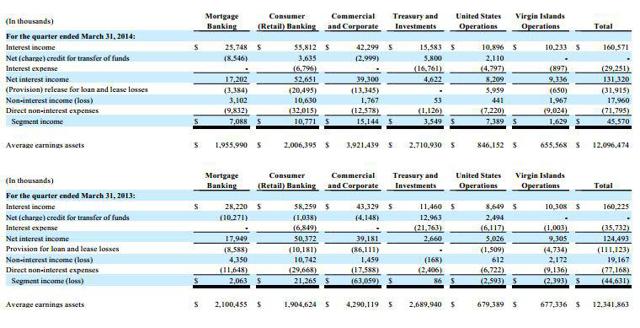 Source: 10Q
Final Remarks
After nearly failing during the Great Recession, First BanCorp is finally positioned to perform. The company has returned to profitability, has an improving balance sheet, and is set to benefit from a Puerto Rican resurgence. Previous companies that required TARP funding experienced large gains when it was announced that the treasury sold its final holdings. First BanCorp is set to remove the U.S. from the ownership table with its return to profitability, and investors will surely benefit. I would not be surprised to hear that the Treasury sold its stake already in the next earnings release. FBP does not deserve the negative sentiment it has received, and is assuredly undervalued.
Disclosure: The author has no positions in any stocks mentioned, but may initiate a long position in FBP over the next 72 hours. The author wrote this article themselves, and it expresses their own opinions. The author is not receiving compensation for it (other than from Seeking Alpha). The author has no business relationship with any company whose stock is mentioned in this article.