Brazil faces Croatia to kick off the 2014 FIFA World Cup. The largest event of the year is here. Twitter (NYSE:TWTR) is ready to capitalize on the event in more ways than just letting fans and celebrities voice their opinions throughout the game. The 2010 FIFA World Cup, which consisted of 65 matches played by 32 countries, was watched by more the 3.2 billion people, almost 50% of the world's population.
Twitter will be keeping you up to date as the events unfold. How will it be done? Twitter has come up with a new feature called the World Cup starter kits. These are sites for participating teams competing in the World Cup. Each team has about 90 starter kits to make sure that the world follows the events happening in Brazil in realism at the comfort of their homes. Alexis C. Madrigal, of The Atlantic, discusses the starter kit and its impact;
Each one has about 90 Twitter accounts that help you follow what's happening in real time. If you were a new user and didn't know how to follow soccer on the service, this would instantly put you in the real-time networks that talk about the sport. I think it also speaks to how Twitter sees its mass market play. It has captured the hearts and minds of people who want to know about the news before it's on the blogs (and a variety of other dense, fast social networks).
The strategy behind these Starter Packs is to broaden the market share of Twitter for both the U.S. and International markets. Twitter stock price, $37/share, is trading off its all-time low of $29.51, which the company hit around a month ago. Twitter has four revenue-generating divisions that make of the companies share price. Around 90% of its revenue is from Global Advertising, which includes both the U.S. and International markets at 61.7% and 29.3% respectively for 2014. Dinesh Boaz, co-founder of Direct Agents, a digital marketing agency told MarketWatch about Twitters impact for marketing;
"[Twitter] will be the largest platform used for commentary and reaction during the 2014 FIFA World Cup, starting today. Twitter will also be the go-to platform to get a faster overall feel for reactions on a much larger scale than ever before, and also a great opportunity for real-time marketing,"
The FIFA World Cup Starter Pack is part of the Twitter strategy for international growth. Twitter is on pace of generating $351 million in its international markets, growing over 150% from $152.95 million in revenue for 2013. Further, International Ad Revenue Per 1,000 Timeline Views, ARP, the metric measured for ad dollars, increased from $0.02 in 2010 to $0.36 in 2013. Even though these numbers are way below U.S. ARP, $2.68 for 2013, investors should be excited that Twitter is penetrating international markets at an accelerated growth rate.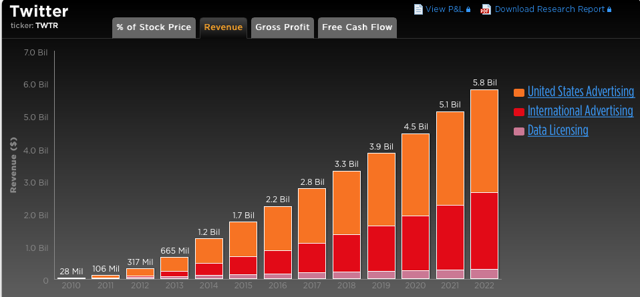 Source: Trefis: Twitter Revenue From 2010-2022.
But new services have not been the only thing the social giant has been worried about. Twitter has just been dealt a blow by the XXS virus. Its platform TweetDeck was hacked, leaving users of the service victims of spam, and the virus spread until Twitter had to take the service down several times to fix the issue;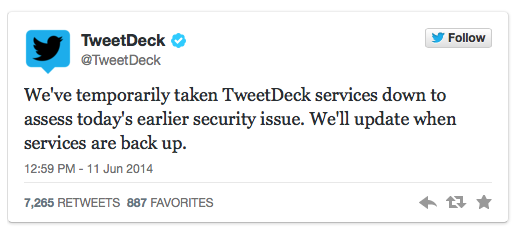 Source: Twitter.com
"We've verified our security fix and have turned TweetDeck services back on for all users. Sorry for any inconvenience," the platform said.
Fortunately for Twitter users of TweetDeck, the levels of security have improved the freedom that made Twitter the entertainment giant. The fact that Twitter was able to get the service back up and running so quickly is a testament to a strong team that provides strong levels of security to its hundreds of millions of tweeters. Twitter's ability to keep security under control is important, considering almost 10% of its gross profit comes from Data Licensing. Twitter sells two-year licensing deals in which these customers have access to analyze historical and real-time data on the Twitter Platform. These statistics gathered by Twitter's customers must not be skewed or jeopardized by spam, hacking, and other methods that compromise the hard data used to make decisions by its customers.
Finally, Facebook (NASDAQ:FB), the biggest competitor in social media, may be lending its hand to help Twitter indirectly. Though Facebook and Twitter publicly trade with $147 billion and $19 billion in market cap respectively, Twitter was recently hit with a blow that sent it down into the $30 range. Further, the Facebook's user base is at 1.2 billion and 802 million active daily users. Twitter has 645 million registered users, with only 255 million active monthly users.
So, why then do I think that Facebook will, in one way or another, determine the rate at which Twitter will be growing in the near future? Well, with Facebook implementing a strategy to systematically bring down the number of users, as it is expanding its reach beyond to what users do on other sites by use of plug-ins and data the company has kept tabs on for years. However, Facebook is allowing users the ability to review and edit the internal advertising. This revenue strategy for Facebook may hurt the social media platform. If more users find that Twitter is the more open and free network, then its active user base will grow, generating profits as advertisers leave Facebook and move to Twitter.
Small and medium-sized businesses are currently using Twitter as their favorite mode of communication. There are about 28 million of them, with more than 500,000 starting monthly in the United States. Compared to Facebook, and other social media platforms, Twitter has a higher rate of conversion when using it to advertise. This is the case even when using paid ads on Facebook. This one reason most business people especially startups are going to migrate to using free advertising allowed by Twitter. Twitter is able to monetize this user base by marketing these businesses to Fortune 500 companies with the ad dollars that would like to reach not only the individual user but also target small and medium-sized businesses alike. Leveraging this market helps increase the data accumulated by Twitter, further driving revenue and the company's valuation.
Getting organic traffic is critical to any business. On the ability to generate free traffic, Twitter surpasses Facebook by a great deal. Twitter works well these days with bloggers and other internet users in terms of free traffic. As the company continues to monetize itself by using application install ads, investors will see better earnings. Over the next month, Twitter should see a nice bounce in its stock, as the company targets the biggest stage with the FIFA World Cup, and further continues to supply a open market to users who want that real time experience and couple it with data licensing to allow for further monetization of Twitter's user base.
Disclosure: The author has no positions in any stocks mentioned, and no plans to initiate any positions within the next 72 hours. The author wrote this article themselves, and it expresses their own opinions. The author is not receiving compensation for it (other than from Seeking Alpha). The author has no business relationship with any company whose stock is mentioned in this article.