My History with MannKind
My case on MannKind (NASDAQ:MNKD) has been a curious one. While constantly reaffirming my bullishness on the company long-term, people have taken to Twitter and the comments in my articles to call me a "basher" penning "hit pieces."
So, I guess it's worth repeating yet again: I like the company and I like Afrezza, the company's inhaled insulin product. I'm wishing the company and its shareholders long-term success. However, I think there's going to be room for a short-term short play, as well.
As a reminder, I think MannKind could potentially be a short candidate after Afrezza's likely coming approval in July. In past articles, I argued that the stock was likely going to see an emotionally fueled run-up until such time as the FDA approval, where it could present a good shorting opportunity.
Even Adam Feuerstein over at The Street seems to agree with me, which may be a first.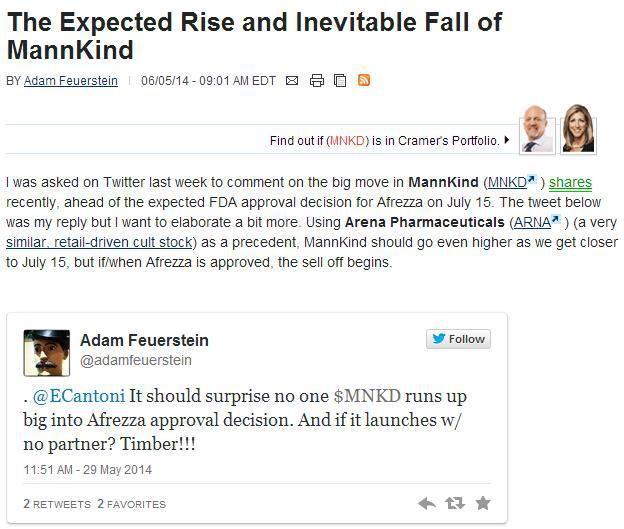 MannKind has had a great 2014, finding success when its inhaled insulin drug, Afrezza, received a positive vote at its FDA ADCOM meeting months ago. Afrezza is potentially the first drug of its kind to potentially hit the diabetes market, and works with Type 1 and Type 2 diabetes.
With PDUFA date just weeks away, I can't say that I'm surprised that the stock has run up since my first article in this series. Today, however, it's getting a bit of a reality check. Those that have been long have made a healthy profit off of MannKind. But, remember - there's risk in every situation. While I do believe the FDA will approve Afrezza, there is always the chance of them pushing the date back or the miniscule chance it won't get approved for some odd last minute reason. Yes, neither of these are likely, but they occur once in a while.
Today's Bearish Remarks
It was reported via several sources today on Twitter that MannKind is expecting partnerships to come to fruition 6 to 8 weeks out from FDA approval. These notes came to light at the Goldman Sachs (NYSE:GS) Healthcare Conference that is taking place today and can be streamed via MannKind's IR site. What does this mean? Basically, it would seem the company doesn't have anyone lined up yet, and there doesn't seem to be any type of buyout offer on the table. If there was, why make these comments?
Some have postulated that these comments mean that the company is trying to prevent the post-FDA selloff that I've predicted since writing about MannKind. It'd be an interesting strategy that could possibly throw a wrench into my short plans. We're going to have to see how MannKind responds over the next couple of days.
You can see the stock starting to slip on these remarks:

In addition to these remarks, SA contributor Markus Aarnio did a phenomenal job in picking out some interesting patterns in insider selling in MannKind over the last thirty days. You can read his full article here.
After market close today, Thursday, MannKind was initiated at RBC with an "outperform" rating and a $16 price target.
Investment Thesis
This adds a little fuel to the short argument, although it may prompt you to want to move your short up a bit, and not wait until FDA approval.
If you're short, risk remains if MannKind announces a partnership or buyout immediately post FDA approval. Those buying in this run up to approval are betting that the company is going to be able to make a $4 billion delivery as soon as approval takes place. While it's possible, I think it's more likely setting MNKD up for a short-term short before they get some traction under Afrezza. A buyout is a serious risk which would likely result in losses if you're holding short - today's remarks dampened the likelihood of that happening, in my opinion.
But, the trade that QTR is considering is to wait a specified amount of time for the stock to fall a bit before making a quick exit and then potentially considering a long position if the price is right and Afrezza traction picks back up.
Best of luck to all following MNKD.
Disclosure: The author has no positions in any stocks mentioned, and no plans to initiate any positions within the next 72 hours. The author wrote this article themselves, and it expresses their own opinions. The author is not receiving compensation for it (other than from Seeking Alpha). The author has no business relationship with any company whose stock is mentioned in this article.