There has been contention that new environmental regulations, the brunt of which should affect the coal industry, are anticipated to increase energy costs and in turn lessen consumer demand. It could be one reason that there have recently been considerable bets against the Utilities Select Sector SPDR ETF (NYSEARCA:XLU). The ETF's holdings include Dominion Resources, Inc. (NYSE:D), a dividend-paying utility company with a market cap just under $40 billion.
optionMONSTER reports 69,000 XLU options traded on June 11th, only 2,000 being calls; including 30,000 weekly puts that will be advantageous if shares of the fund are priced below $42 within two weeks. The XLU has closed at $42.15 on June 11th. The chance of fund closing 2% lower before the 20th seems high-though it is not guaranteed, and buying puts that expire in two weeks could easily be a prodigal waste of money.
Part of the backdrop involves U.S. treasury yields that have been moving higher. On June 2, the ten-year bond, sometimes used as a proxy for the Risk Free Rate, yielded 2.54%. As of June 11th, it yields 2.65%. Recalling that prices and yields move in opposite directions, the 20-year is also in lower demand so that it now pays 3.2%, up from 3.1% on June 2nd.
Anyone looking to acquire shares of an economically viable utility company such as Dominion--which is typically sought as a low-risk source of dividend income--probably needs returns that adequately compensate for risk. Graphics are available from YCharts showing how the difference between treasury rates and utility yields have changed. Notably, Dominion's yield has tended to be beneath the the lower risk ETF's. Also, in addition to having increased this month, the treasury rate is also higher in comparison to last year:
There is probably some distortion that needs to be taken into account due to the government's Quantitative Easing ("QE") programs. Some may also remember Operation Twist, implemented in September of 2011, which emphasized the longer end of the yield curve. QE3 took effect in September of 2012, coinciding with the onset of an uptrend in the ten year treasury rate; while the yields of utilities have done the opposite: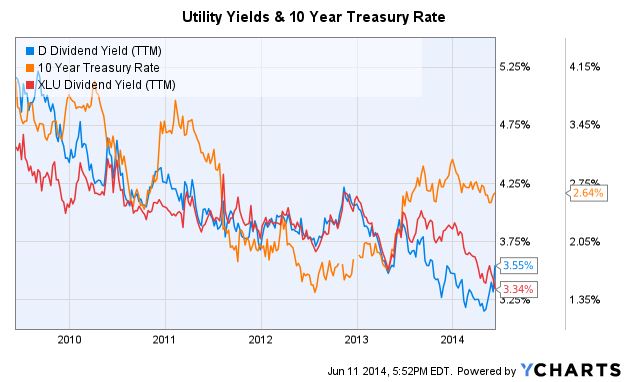 An assessment of the risk vs. reward of owning utilities might not be overwhelmingly favorable. The situation could be weighing on shares of XLU. While new monetary policies have been in effect through recent years, a summary look at the graphic shows that the 10-year treasury rate has been close to the utilities, but the difference has tended to be within 1%.
Specific to Dominion, the United States Environmental Protection Agency ("EPA") has requested that the Federal Energy Regulatory Commission ("FERC") grant a 30-day extension of its review of the Cove Point LNG project. Some green groups have also asked for another 60 days for public comment. Reuters is publishing the news, as it has not been found in any Dominion press release. Approval is not guaranteed; though recent insider buying may imply a favorable situation.
Dominion shareholders continue to own a strategically important firm that addresses the energy needs of significant portions of the country. The company should be around for decades. There is a saying that "You don't fight the Fed," meaning if the Federal Reserve is acting to cool the stock market it is probably advisable to invest elsewhere. The current situation might need a different aphorism. While the Obama administration has directed the EPA to crack down on carbon emissions that focus on the coal industry, Dominion has been making acquisitions into solar energy production and owns one of the nation's largest natural gas storage systems.
Its investors are rewarded with quarterly dividend payments. It has recently been observed that payments have grown four to eight percent annually over the past three years; however, the yield was in the 3-3.4% bracket, and is now higher at 3.5%.
Referencing the one-year chart above, the 10-year treasury rate is up approximately 18% over the past twelve months.
A bargain might eventually appear for those who would like to increase their ownership of Dominion stock and others who have patiently been watching. If XLU moves down 2%+ this month, so can Dominion. Some might consider acquiring stock at $66.35 with a yield of 3.62%. Perhaps better, at $65.93 the yield would be 3.64% and 1% above the current ten-year treasury. Even then, if the risk free rate once again moves up at a high double digit percentage, to roughly 3.1%, something else might be needed to make a case for utility stocks; particularly if they are bond-like.
Prospects need to be weighed against existing risks that include decreased demand for power and regulatory denial, as well as anything unforeseen.
Economical projects might lead to share appreciation, and future dividend increases can reasonably be sought from Dominion. The utility company might be fine over the long term. Meanwhile, prices and yields are moving in opposite directions and treasury rates may be a closer watched barometer than XLU. Some may not wish to try to stop shares from depreciating unless they are under $66, at least, and their non-guaranteed yield is sufficiently higher than a risk-free alternative.
Disclosure: The author has no positions in any stocks mentioned, but may initiate a long position in D over the next 72 hours. The author wrote this article themselves, and it expresses their own opinions. The author is not receiving compensation for it (other than from Seeking Alpha). The author has no business relationship with any company whose stock is mentioned in this article.