Company Description and Share Structure
Gran Colombia Gold (OTCPK:TPRFF) is a Canada-based gold and silver miner operating in Colombvia. The company is focused on increasing gold production and lowering operating costs at its Segovia mine, which will be Colombia's first modern underground gold mine.
Shares trade on the TSX under the symbol GCM.TO and on the U.S. other OTC under TPRFF. Volume on the TSX is stronger, with average 3-month volume of 57,456; on the OTC, average 3-month volume is just 7,186, so I recommend trading shares on the TSX.
Gran Colombia has a very tight share structure, with just 22.8 million shares outstanding. The company also has 11.5 million warrants outstanding, but 7.3 million of those warrants hold strike prices over $18.75, while 4.2 million warrants hold strike prices of $3.25. The company also has 1.2 million options outstanding, with strike prices north of $10 a share. This gives the company a fully diluted share count of 27 million, if you don't count the warrants and options that are significantly out of the money.
With a share price of $1.20, the company currently has a market cap of $28.38 million. The 52-week trading range is $.70 to $4.43.
Why Gran Colombia?
The market is placing very little value on Gran Colombia gold's assets - I believe the company has significant upside as it completes an expansion plan at its main operating mine, Segovia. The "Pampa Verde" expansion at Segovia is expected to both increase production and reduce all-in sustaining costs, leading to bigger margins and profitability for the company.
Sergovia has 1.9 million ounces of gold in all categories, at super-high grades of 11.8 g/t. The company owns a large land package of 9,000 hectares and has completed extensive exploration work since acquiring the asset in 2010. The company drilled on the Las Aves Vein system, which confirmed a strike length of 3,500 metres to 400 metres below surface. According to the company, there are several veins that have yet to be drilled on the property, which means the company believes there is a good chance of increasing the resource base to expand the mine life.
The expansion plan at Segovia-Pampa Verde carries a current estimated capital cost of $84 million, which is funded primarily by the company's gold-linked notes. The expansion includes a new 2,500 tons per day plant and a tailings treatment facility. The goal of the expansion is to increase annual production at the mine from 100,000 to 150,000 ounces a year, plus lower all-in sustaining costs to under $950 an ounce, which would be a 10%+ drop from 2014's estimated costs and a 30%+ drop from 2013's costs of $1,322 an ounce. The company has also said that the mine could eventually expand production to 200,000 ounces annually.
The company will test the plant in Q1 2015, with full production expected in mid-2015. Other cost savings efforts include workforce reductions at Segovia in early 2014, with the savings to be realized starting this year.
Cost Savings Update: Gran Colombia is on the Right Track
On May 13, 2014, the company announced a fourth consecutive quarterly reduction in all-in sustaining costs. Total production for Q1 2014 was 19,200, which was low due to an "expected short-term continuation of lower head grades" at the Segovia mine, but development is progressing to open access to higher grade mining areas for Q2 2014.
As you can see from the chart below, since Q1 2013, costs have dropped from a high of $1,558 to $1,197 in Q1 2014.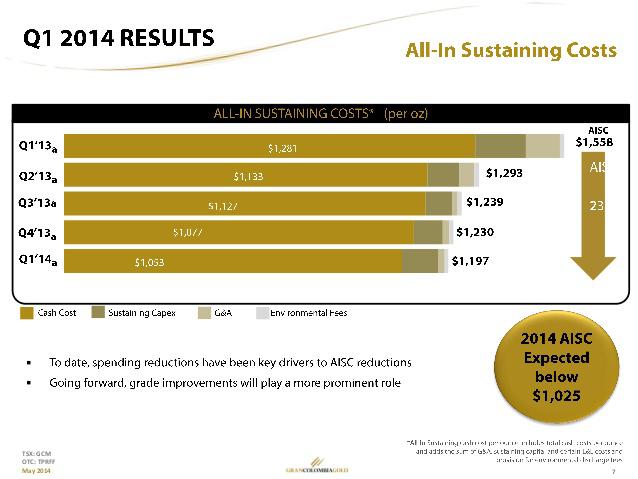 source: Gran Colombia presentation
With a current gold price of $1,250, this means the company is currently barely turning a profit: for Q1 2014, the company reported an adjusted net loss of $4.5 million.
*However, if you look at the cash flow statement, you'll see that operating activities provided net cash of $7.48 million, and the company incurred $1.25 million in costs to reduce its workforce, equivalent to approximately $64 per ounce of its company average total cash costs. This is a one-time cost.
*On the cash flow statement under investing activities, the company spent $10.9 million on capital expenditures, with $8.9 million of the $10.9 million spent on expenses relating to the Segovia expansion ($6.9 million on plant and equipment and $2 million on mine development).The expansion plan is proceeding on schedule, with mine development to be completed this year and the plant complete for testing in the first quarter of 2015 and fully operating by mid-2015. Capital expenditures will then drop off significantly once the mine is up and running.
*Under financing activities, the company repaid $7.26 million in short-term debt and $1.47 million in long-term debt.
*The company expects all-in sustaining costs to drop below $1,025 by the end of the year - the company is estimating costs to fall between $960 and $1,025. This will help with short-term liquidity concerns. According to the company, "operating cash flow from Segovia this year and early next year is expected to be sufficient to fund the balance of the $84 million capital budget in excess of the segregated account funds."
Gran Colombia Earnings Potential
An investment in Gran Colombia Gold ultimately depends on the success or failure of the Pampa Verde expansion at Segovia. If the company can successfully complete the expansion on time and on budget, I believe big gains could be in store for investors.
Let's say Gran Colombia achieves its targets and starts producing 150,000 ounces of gold at an annual rate beginning in 2015, at all-in sustaining costs of $950 an ounce. Here is how much the company might earn in EBITDA at various gold prices and production of 150,000 ounces - you will see that Gran Colombia is highly leveraged to the price of gold:
| | | |
| --- | --- | --- |
| Gold Price | Margin | EBITDA ($M) |
| $1,200 | $250 | $37.5 |
| $1,300 | $350 | $52.5 |
| $1,500 | $550 | $82.5 |
| $1,700 | $750 | $112.5 |
Gran Colombia Gold has total debt of $167.9 million, made up of $156.4 million in gold and silver notes and $7.9 million in term loans. The company has $9.5 million in cash plus $20.6 million in restricted cash, which is being used to finish the expansion at Segovia-Pampa Verde.
With cash and restricted cash of $30 million, debt of $167.9 million and a market cap of $28.38 million, I estimate that Gran Colombia Gold has an enterprise value of $166.38 million. If the gold price holds at $1,200 and the company can produce 150,000 ounces of gold in 2015 at costs of $950 an ounce, then I estimate that Gran Colombia would earn $37.5 million EBITDA for the year. This would give the company a 2015 EV/EBITDA of 4.43, which is quite low.
You will see above that the higher the gold price goes, the better Gran Colombia's margins. If we use a gold price of $1,300, the company could bring in at least $52.5 million, giving Gran Colombia a 2015 EV/EBITDA of just 3.2.
The Market is Placing No Value on Marmato
Gran Colombia has placed its larger project Marmato on hold as the company focuses all of its attention on Segovia. Marmato was acquired in 2011 and 216,000 metres of exploration work has been completed.
To call Marmato a huge project is an understatement: Marmato is currently the 20th biggest undeveloped gold deposit in the entire world, with a resource base of 14.3 million ounces of gold at .91 g/t. However, the project also boasts a huge silver resource base of 8 million ounces measured and 72.3 million ounces indicated. The deposit is fully permitted to expand operations to 2 million tonnes of ore annually.
Gran Colombia is far too small of a company to develop the Marmato project further, and is fully committed to expanding operations at Segovia. Therefore, I believe the best option for the company is to consider a complete sale of the project to a major mining company. If the company can fetch just $5 an ounce in a sale, it would result in a sale of $71.5 million; $1 per gold ounce would fetch $14.3 million, which is half the company's current market cap. The company might also be able to gain a royalty in a sale.
It's hard to say what will happen to Marmato, but the deposit looks like a sweetener/bonus for current investors.
What Are the Risks?
The biggest risk to an investment in Gran Colombia is the company's debt load - as mentioned, the company has total debt of $167.9 million. Total current liabilities are $78 million, compared to total current assets of just $58.5 million, which means the company has a working capital deficit.
However, there are a few reasons why I am optimistic that the company will work through its current debt situation:
- Out of the company's total debt, $87.19 million is the gold-linked notes, which matures in 2017 and bears annual interest of 10%, and $69.24 million is on the silver-notes, which matures in 2018 and bears annual interest of 5%. The company is currently paying a manageable $4 million a quarter in debt interest payments, and with $7+ million a quarter in net cash from operating activities, the company should have enough money coming in to service the debt. With the Pampa Verde expansion completed in 2015, production will increase and cash costs will decrease, which should greatly increase the company's ability to pay off its debt obligations.
- A significant portion of this debt is accounts payable and accrued liabilities, with the company owing $41.2 million. However, the company is currently trying to reduce its overdue payable to suppliers in Segovia and to consultants associated with its Marmato project - according to the most recent quarterly report, Gran Colombia has arranged payment plans with certain suppliers for periods of up to 12 months, "to relieve pressure in managing the supplier relationships."
- Of the $41.2 million accounts payable and accrued liabilities, $16.2 million is related to the Marmato project, but most of this is expected to be re-categorized as non-current debt:
"The Company is currently in the process of negotiating extensions to the current contractual terms of the various mining titles acquisition and compensation agreements given the expectation that the development of the open pit option at the Marmato Project has been delayed due to the current market conditions. Once complete, this will allow the Company to re-categorize a significant portion of this liability from current to non-current to reduce the working capital deficit." (Source: MDA March 31).
- The company just successfully raised $16.2 million in an equity offering on March 18 (at a price of $1.93 per share), to help maintain the financial flexibility of the company and to repay a previously announced bridge loan. This shows that the company has been successful in raising funds in past and in my view, makes it more likely the company can raise money if needed.
- As mentioned previously, the company should try to sell Marmato as soon as possible. This would lessen the company's debt risk, potentially by a large amount.
- The company can also consider selling a stream or a royalty on the mine to raise money. I don't think this is a bad idea at all, especially if Gran Colombia finds itself unable to meet its debt obligations. For example, a 10% gold stream with ongoing payments of $500 on Segovia could net the company around $40 million if my opinion, if not more.
Here's my logic: for a streamer or royalty company, a 10% stream would result in 10,000 ounces a year at $500 per ounce, or $750 margins. This would mean $7.5 million cash flow to the royalty company. By the time the expansion is complete next year, production at Segovia could be 150,000 ounces - 15,000 ounces to the royalty company or $11.25 million cash flow. At this pace, the royalty company would make back its money in less than five years.
Of course, Gran Colombia's profitability would suffer a bit since the company would be selling 10% of its production at $500 an ounce - if the company reported cash costs of $950 an ounce and sold 10% at $500 an ounce, it would report a $450 loss on those 10,000 ounces, but it would also reduce the company's income tax payable, because it would reduce the company's net realized gold price:
- 150,000 ounces produced
- 135,000 ounces sold at $1,300 (.90 x $1,300 = $1,170
- 15,000 ounces gold at $500 (.10 x $500 = $50)
- Weighted averaged: $1,220
So instead of having to pay future taxes on margins of $450 an ounce ($1,300 - $950), the company would pay it on $370 ($1,220 - $950). More importantly, the company's debt risk would be minimized by a huge amount, so I think it'd be worth it. $40 million would be enough money to pay off the company's entire accounts payable and accrued liabilities.
- Readers still need to understand that there is risk, regardless. The success of Gran Colombia will ultimately depend on the success of the Pampa Verde expansion at Segovia, but it also clearly depends on the price of gold - with a lower gold price, the company's profitability would suffer.
Despite these risks, I think Gran Colombia offers investors multi-bagger potential. If you are bullish on gold and want to take on a little more risk for the potential of higher reward, Gran Colombia deserves a hard look.
Disclosure: The author is long TPRFF. The author wrote this article themselves, and it expresses their own opinions. The author is not receiving compensation for it (other than from Seeking Alpha). The author has no business relationship with any company whose stock is mentioned in this article.