An interesting and rare set-up has developed in the Comex silver futures Commitment of Traders weekly position report (COT report). This is a report issued by the CFTC (Commodity Futures Trading Commission) which shows the long/short futures positions for various categories of traders. The position report issued last Friday for Comex silver futures traders shows extreme positioning for both the "commercial" and "managed money" segments. In addition, there are signs of possible supply/demand stress for physical silver in China. As I will detail below, both indicators are indicative of a possible short squeeze developing in silver.
First, I suggested in some previous articles on Seeking Alpha that the low-close last June was a defined bottom for silver. As you can see from this chart, silver has trended quietly higher off its June 26, 2013 low-close of $18.53: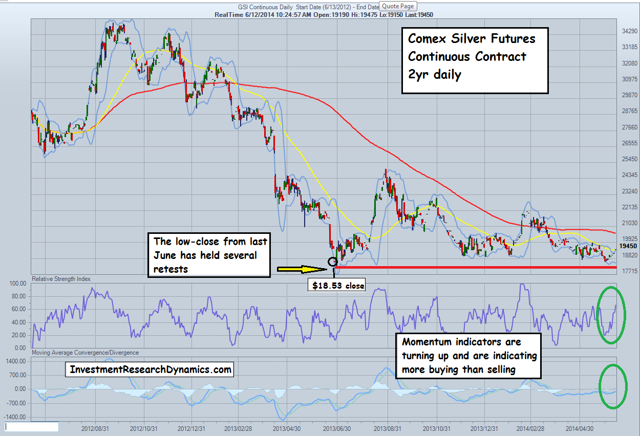 Silver is roughly 1% above the June 2013 low, with several successful retests of the low-close price a year ago.
While last June's low is not guaranteed to be a bottom, if you examine the latest COT report, it would appear as if the silver market is set up for a significant move higher, possibly fueled by the advent of a short squeeze. If you open that COT report link and scroll down to the silver futures section, you'll see categories labeled "Producer Merchant, Swap Dealers, Managed Money (hedge funds), etc." You'll also see the long and short positions in silver futures and, below that, the weekly position change in position for each trader segment.
Currently, the Producer/Merchant segment has its lowest net short position going back to at least the beginning of January 2008 (the following charts are from GotGoldReport.com, any edits in red are mine):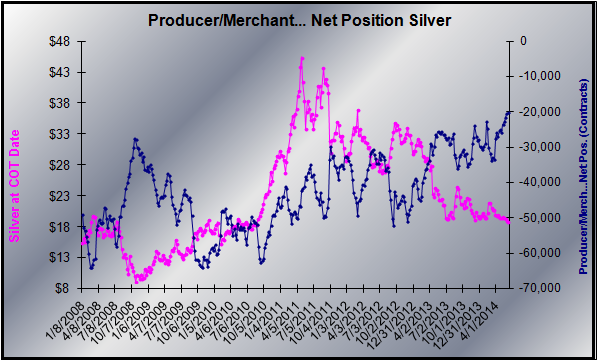 The trader segment consists primarily of mining companies, industrial users of silver and Comex market maker banks. If the net short position is low on a relative basis, it implies that mining companies and industrial companies have significantly reduced their hedging of production/inventory. It also suggests that market makers on the Comex have reduced their short positions. I would opine that this relatively extreme low short position has developed because these sophisticated futures traders believe that the probability of a move higher in silver far outweighs the probability that silver moves lower.
Conversely, the "Managed Money" hedge fund trader segment is now sitting with a record level of gross and net short futures positions: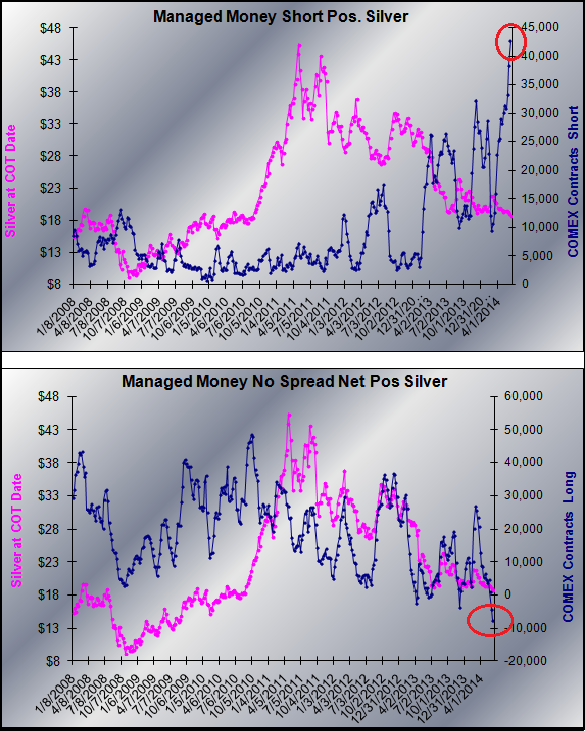 As you can see from these two charts, the hedge funds are sitting with extreme levels of gross and net short positions. This positioning is of historical proportions on the Comex. Currently, the hedge funds are net short 7,638 contracts, up from 4,226 contracts the week before. I pulled up the COT data going back to 2006, and found that the hedge funds have been net short only three other times: 3,775 as of 12/3/13; 425/657 for the two weeks in 6/2013; and 92 as of 9/4/07.
Prior to 2006 the CFTC did not provide detailed trader segment data, making it impossible to tell if the hedge funds were net short at all prior to 2006. However, open interest levels of silver futures were much lower back then, which suggests that even if the hedge funds were net short at some point prior to 2006, the short position was small.
Historically, the price of silver has made big moves higher when the commercial segment (producers, swap dealers, banks) have assumed a relatively low net short position and the hedge funds have assumed relatively low net long positions. That the commercial traders are close to a record low net short position and the hedge funds are sitting with a historically extreme net short position suggests to me that there's a high probability that silver will move a lot higher from here.
Furthermore, if the price of silver starts to move higher like I expect, we could see the process accelerate due to short-covering. Because the hedge funds are short silver futures, they would have to deliver physical silver to their long counterparty if they continue to hold their short positions into the July delivery period. 50% of the silver futures open interest is concentrated in the July "front month" contract. It is unlikely that the hedge funds will actually stand short and deliver physical silver and thus, if the price is moving higher into the commencement of the July delivery period at the end of June, we could see a short-covering frenzy of buying which would drive the price a lot higher.
Whether or not the higher price level from this is sustainable is another matter. However, recently there have been indications in Shanghai that the availability of physical silver is getting tight. I showed in this article that an enormous amount of physical silver has been removed from the Shanghai Futures Exchange since February. Spot premiums for silver have been running at 6% above the world spot price of silver in Shanghai over the past week. In addition, the condition of "backwardation" (the spot price is higher than the futures price) was observed last week when the current delivery month futures contract was trading at a higher price than the December futures contract. Backwardation in commodities futures is indicative of supply shortages in the underlying physical commodity.
If the supply of silver is starting to get tight in China, I believe that it is likely that price of silver globally will be forced higher from the forces of supply and demand. Please note that evidence shows that the Chinese are taking physical delivery of the silver they are buying via Shanghai silver futures. If spot price premiums are above the global spot price, and if backwardation is occurring in the futures price curve, it demonstrably indicates a supply shortage of physical silver in China. If China's silver demand drives the price higher, that higher price will likely transmit globally and possibly further trigger a short-cover squeeze on the Comex.
In the context of my analysis, I believe silver will move a lot higher in price from here. I also believe silver will experience significantly higher rates of return than gold over the next few years. The safest way to play silver is to buy 1 oz U.S. minted silver eagles and keep them under your own lock and key. If you want to "index" the price of silver for a shorter-term trading play, I recommend buying the iShares Silver ETF (NYSEARCA:SLV). If you want to leverage SLV you can always buy call options on it. More aggressive traders can get long ProShares Ultra Silver ETF (NYSEARCA:AGQ), or VelocityShares 3x Long Silver ETN (NASDAQ:USLV). I offer some individual stock research ideas on my website (you can access from Seeking Alpha profile).
Disclosure: The author has no positions in any stocks mentioned, and no plans to initiate any positions within the next 72 hours. The author wrote this article themselves, and it expresses their own opinions. The author is not receiving compensation for it (other than from Seeking Alpha). The author has no business relationship with any company whose stock is mentioned in this article.
Additional disclosure: The fund I manage is long physical silver and silver mining shares. I am invested in this fund.