Although Cheniere Energy (NYSEMKT:LNG) witnessed a net loss of around $97.8 million at the end of its first-quarter of 2014, the increasing demand of liquefied natural gas, or LNG, and partial lifting of the export ban on oil in the U.S. are bringing improved opportunities for U.S. energy producers this year. According to IHS consultant, the lifting would result in U.S. crude oil production to rise by an average of 1.2 million barrels a day.
Because of the production boom in the U.S. gas shale plays and the export ban on oil, the energy-producing companies faced a production glut, which resulted in lower natural gas prices of around $4.66 per million British thermal units, or mmbtu, as of June 11 in the U.S. However, natural gas in the European Union and Japan is traded at a higher price of around $10.88 and $15.70 per mmbtu, respectively. Seeing this opportunity, Cheniere is investing heavily in building LNG export infrastructure. With its approved LNG export project-Sabina Pass, and another pending approval in Corpus Christi, Texas, the company is in a comparatively better position in the higher demand market for LNG.
Brief on LNG
After removing certain components from natural gas, it is condensed into liquid form at an atmospheric pressure by cooling it to around −162 °C (−260 °F). Compared to compressed natural gas, LNG can be transported more easily and safely as it occupies up to 600 times less space.
Increasing demand of LNG will boost export activity
The demand of natural gas is increasing due to its adaptability as a fuel source. Natural gas is considered an environmentally cleaner fuel and has around 43% less carbon emission than coal and 30% less emission than oil. According to EIA, demand of natural gas would grow 40 billion cubic feet per day, or bcfpd, by 2015 and 50 bcfpd by 2025.
The rising demand for natural gas is directly proportional to rising demand for LNG, which is one component of natural gas that has shown an annual growth rate of around 7% over last decade. Due to the lifting of export ban on oil, the demand for LNG is expected to grow further. This will increase the volume of total LNG exports and reduce the volume of total LNG import in the U.S., as shown below.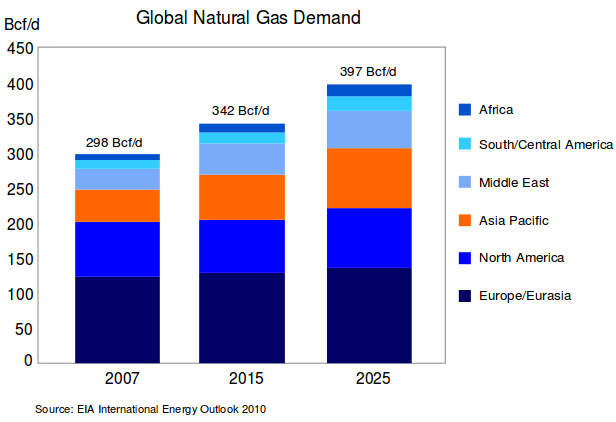 Source: EIA
Source: EIA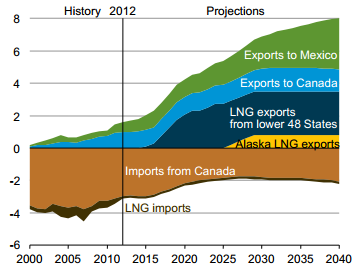 Why LNG is better than crude oil?
The U.S. is experiencing a rise in natural gas production, mainly driven by unconventional gas plays, and U.S. natural gas demand continuously lags behind market projections.
The cost of producing natural gas in the U.S. + the cost of transporting LNG to global markets is far less than crude prices on an energy equivalent basis and oil indexed gas market prices. This has created an opportunity for the U.S. energy producers like Cheniere to offer natural gas to global markets at lesser price.
Cheniere in the LNG market
While LNG export is booming, Cheniere's Sabine Pass is the only LNG export project to secure final approval from Federal Energy Regulatory Commission to begin construction and authorization from the U.S. Department of Energy to export gas to countries that do not have free trade agreements with the U.S. As these two approvals are mandatory in the U.S. for exporting or importing LNG, Cheniere has an advantage over its competitors. As these LNG export facilities are expensive to build and approvals are time consuming, Cheniere will benefit from this approved LNG project by being able to increase LNG demand overseas.
The Sabine Pass liquefaction project will add bi-directional facilities capable of liquefying and exporting natural gas in addition to importing and regasifying foreign sourced LNG to its Sabine Pass LNG receiving terminal in Cameron Parish, Louisiana. The company plans to develop four natural gas liquefaction units; construction of the first two are 45% completed as of November, 2013. The first two natural gas liquefaction units are expected to be completed and start exporting LNG by late 2015. The other two are scheduled for completion in 2016-17. The estimated cost of the project is $7.74 billion and capacity cost is just $430 per ton. Upon completion, this project can process around 3 billion cubic feet per day, or bcfpd, of natural gas, and each unit will be able to process 4.5 million tons per annum , or mmtpa, of LNG.
Moreover, Cheniere is waiting for approval by the DOE and FERC for its second LNG project in the Corpus Christi plant, Texas. This project site is on the northern site of Corpus Christi Bay on more than 1,000 acres. The company plans to design this liquefaction project with an export capacity of around 2.1 bcfpd. Cheniere will build three liquefaction units with a combined production capability of around 13.5 mmtpa. During 2014 and 2015 it will start construction for these liquefaction units in phases with completion expected in 2018-19.
Last month, the company made its sale and purchase agreement, or SPA with Iberdrola for around 0.4 mmtpa of LNG upon the commencement of operations of first unit of the LNG export plant at Corpus Christi. Iberdrola will increase the purchase to about 0.8 mmtpa of LNG upon the commencement of operations of second unit. Iberdrola is also a foundation customer of Corpus Christi plant.
Recently, to further increase its footprint in the global LNG market, Cheniere Energy has signed a new SPA with Gas Natural Fenosa for 1.5 mmtpa from the second unit of the proposed Corpus Christi plant. Gas Natural Fenosa is also a foundation customer of LNG from the Sabine Pass plant. In total, Cheniere has SPAs for around 5.3 mmtpa. That's about one-sixth of the combined capacity from both plants.
These projects will provide significant upside opportunities for Cheniere and enable it to strengthen its long-term performance.
Location advantage
Along with the approved project, the company's Sabine Pass liquefaction unit also has location advantage. The Sabine Pass site is near the organic-rich unconventional gas-producing shale plays such as Barnett, Haynesville, Fayetteville/Arkoma, and Eagle Ford. Moreover, the company's existing facilities of storage tanks and easy access to the increasing shale gas production through its 94-mile Creole trail pipeline will provide a tailwind to its export activity. Also, the nearby marine access is also beneficial for its LNG export activity.
In Eagle Ford total natural gas production was 7,023 mmcfpd as on June 11 and it is expected that it will increase to 7,125 mmcfpd by this July. Whereas, in Haynesville total natural gas production was 6,871 mmcfpd during the same period and expected to increase to 6,890 mmcfpd by next month.
Conclusion
The increasing overseas demand of liquefied natural gas and the partial ban lifting on U.S. oil and gas exports have provided a better opportunity for Cheniere Energy. The company has strong opportunity to capitalize its higher margin by increasing the production of natural gas and then exporting it to other countries in the liquefied form. Moreover, its expected completion of Sabine Pass's first liquefaction unit next year and the Corpus Christi liquefaction project will enable Cheniere to realize a strong financial performance. Buying this stock with a long-term perspective would be a wise decision.
Disclosure: The author has no positions in any stocks mentioned, and no plans to initiate any positions within the next 72 hours. The author wrote this article themselves, and it expresses their own opinions. The author is not receiving compensation for it (other than from Seeking Alpha). The author has no business relationship with any company whose stock is mentioned in this article.