In today's fast paced environment, where vast amounts of investment alternatives and information are readily available, it can be difficult to choose an investment strategy. In this article, I will discuss a solid investment strategy that is often overlooked by investors. This strategy is targeted mostly toward retirement but it can also serve as a diversification vehicle for those with different goals. I will also discuss why this strategy makes sense today given some macroeconomic factors, and how you can get started on it.
The strategy in a nutshell: start saving now (if you haven't already) and invest those savings often in diversified investment vehicles.
Don't let the Wall Street noise distract you from this. This seemingly simple and unpretentious strategy works consistently and there is solid math behind it. Those who understand the power of compounding rates of return over time know why it works. The table below shows different scenarios to highlight this concept.

As you can see, in scenario 1 you will have $239,562 at retirement by investing $100 per month (or $1,200 per year) during 40 years. On scenario 2, by just increasing your monthly contribution to $130 per month and keeping everything else the same you will have $311,431. That is nearly $72,000 more by just increasing your monthly contribution by $30! On scenario 3 your monthly contribution is again $100 but now the time frame is 45 years instead of 40, in this case you will end up with $342,899. That is $103,337 more by just continuing to invest 5 more years. The last scenario, scenario 4, assumes that you increase both your monthly contribution by $30 and your time frame by 5 years. In this case, you end up with $445,769. That is 206,207 more!
By now you can hopefully appreciate how much you can grow your money with this strategy, and how much of an impact you can make by starting sooner rather than later and by increasing your contributions over time.
Another reason I believe investors should consider this strategy today is the imminent threat of a significant market pullback to occur in the next few years. The S&P 500 is now up well over 180% since March 2009 and it has been almost 3 years since the market experienced a 10% correction.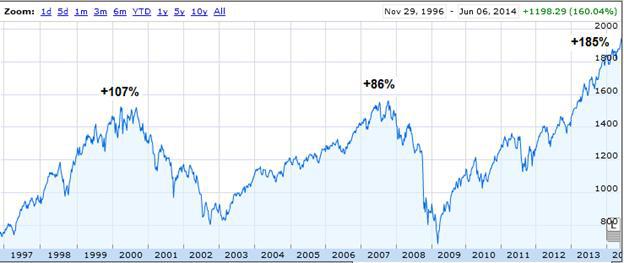 The graph above highlights the past major rallies and respective pullbacks of the S&P 500 since 1997. As it can be observed, the market has risen about twice as much in the current rally as it did during the previous two rallies. Yet, the most alarming part is not the recent performance of the stock market itself, but rather the lack of fundamentals behind it. Sure, the economy has recovered since 2009 but at a much slower pace than the stock market has. For example, during 2013, S&P 500 earnings grew approximately 7%, while the S&P 500 index rose 31.8% over the same period.
Now that we have seen why this strategy is relevant, let's look at how you can get started on it. Notice that this strategy is a long-term retirement-oriented strategy and as such, the best way to implement it is probably through a Roth IRA. In summary, a Roth IRA is an individual retirement account that offers a valuable future tax break. If you place your money in a Roth IRA, which is easy to open up with nearly any financial services provider, your withdrawals would be tax free after age 59.5 (if the money is held in the account at least five years). That is a very powerful tax advantage of a Roth IRA over regular retirement accounts if you expect your tax rate at retirement to be greater than or equal to your tax rate today.
Another benefit of a Roth IRA is that Roth distributions are tax-free when you follow the rules. And because every dollar you contribute to a Roth IRA is after-tax money, you can tap your contributions (but not your earnings) any time tax-free and penalty-free. Generally speaking, most people are eligible to contribute to a Roth IRA and benefit from it. However, there are eligibility requirements and conditions that may not fit your specific case. I encourage readers to learn more about Roth IRA accounts from this comprehensive Roth IRA guide.
Once you are ready to invest, you have three goals: get a solid-steady return, keep it simple, and manage risk. One effective and efficient way to achieve these objectives simultaneously is to employ a similarly weighted (approx. 33% each) mix of the following three funds. Vanguard Total Stock Market ETF (VTI), Vanguard Total Intl. Stock Index ETF (NASDAQ:VXUS) and the Vanguard Total Bond Market ETF (NYSEARCA:BND). The following table summarizes each of the funds.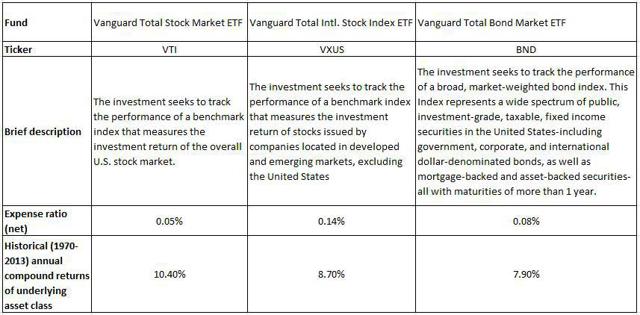 First, note that all three funds are relatively low cost. Recent industry data suggests that the average ETF expense ratio is 0.61%. Furthermore, Each of these three funds will track a major sector of the world's financial markets (U.S stocks, international stocks, and bonds). This combination of investments should achieve the three goals mentioned within the scope of this article: a solid long-term annualized return between 6% and 10%, straightforwardness, and diversification.
This investment mix should serve well in terms of diversification by providing exposure to different asset classes both domestically and internationally. While we all want a perfect risk-free investment that guarantees high returns with no risk of loss, such investment simply does not exist. No financial advisor can fully protect you from a downward swing in the market nor can they predict when it will happen. Only holding the proper asset allocation (breakdown between stocks and bonds, national and international) affords any level of protection.
By employing an equally weighted mix (33.3% each) of these three funds, you could expect an average annual return of approximately 9% based on historical returns (shown in previous table). Finally, after adjusting for an annualized inflation rate of 1.95% and ETF expenses, the adjusted rate of return comes close to 7% (rate used for the scenarios shown in the first table).
On the other hand, investors should be aware of downside risks that are present on any strategy. Probably the most relevant weakness of the strategy presented on this article has to do with a short-term opportunity cost. The forgone opportunity in this case is allocating more than 33% of your portfolio on the stock market. The U.S. stock market is likely to continue to rise as long as the economy continues to recover and the Fed continues to keep interest rates low. As discussed previously, I believe technical and fundamental indicators suggest that the stock market will experience a significant correction within the next few years. However, it is nearly impossible to predict when exactly such a pullback will occur, it could happen in a few months or it could happen in 3 years. The further away the pullback is from now, the greater the opportunity cost.
To conclude let's summarize the key points of the strategy analyzed throughout this article:
Start saving now (if you haven't already) and invest those savings often in diversified investment vehicles.
Compound interest (rate of return) will yield significant returns over time.
The tax advantages and flexibility of a Roth IRA make it a great investment channel for most people.
As the U.S. stock market continues to rise ahead of the fundamentals, look for diversification in bonds and international stocks.
One last remarkable thing about this strategy is how simple it can be to execute. Fill out a fund application and set it up for automatic deposits, start it and forget about it.
Disclosure: The author has no positions in any stocks mentioned, and no plans to initiate any positions within the next 72 hours. The author wrote this article themselves, and it expresses their own opinions. The author is not receiving compensation for it (other than from Seeking Alpha). The author has no business relationship with any company whose stock is mentioned in this article.