Introduction
Whether you feel the United States acts as the police force for the world or as the big bully on the block, one thing that has been consistent is the amount of money the United States spends on defense. The United States currently accounts for 40% of global defense spending. That is huge.
This United States has, without doubt, been the largest single influential force, both militarily and economically, on a global scale since the collapse of the Soviet Union. A key component of this influence is military supremacy. As the Prussian general Carl von Clausewitz once said, "War is the continuation of policy (politics) by other means." The United States has exerted its will militarily over adversaries to enforce its political objectives.
Warfare has been carried out throughout the course of human history and there is little to suggest this will cease moving forward. Nations, certain nations anyway, spend billions developing new weapon systems and maintaining armed forces for a struggle that may or may not ever take place. It is in this area that war profiteers, such as the likes of Albert Speer make their mark. Except in the 21st century, it is corporations that profit.
As evidenced by recent conflict, the United States has shown military superiority over enemy combatants in lopsided fashion on the open battlefield. Much of this is due to the inherent technological advantages of several US based corporations. This article covers a few of these defense driven companies and their dividend growth investing attributes as I am a dividend growth investor at heart.
Many military systems these days are developed as a collaborative effort between companies. For example, the F-35 Lighting II advanced multirole fighter may carry the Lockheed Martin name, but it also had major contributions from Northrop Grumman, Pratt & Whitney, and BAE Systems in its development. In this way, many defense based companies are intertwined. This article covers some of the biggest defense suppliers to the United States government which also happen to be excellent dividend growth investments.
Northrop Grumman (NYSE:NOC)
Currently yielding 2.34%, Northrop Grumman has a 10 year compound dividend growth rate approaching 13%. It is the world's 3rd largest producer of military equipment. The company has maintained a payout ratio under 30% for several years with compound earnings growth around 12% over the last decade.
Northrop Grumman has been featured as a leader in next generation laser weapons systems, and may prove to be a quality investment in this regard on its own. Laser based systems, think Star Wars, may not be in the distant future of reality.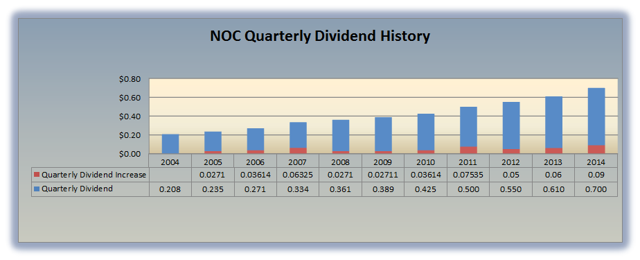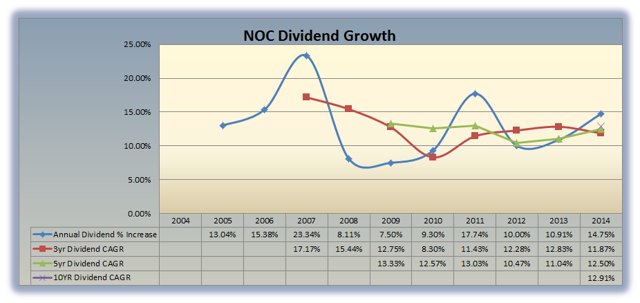 Raytheon (NYSE:RTN)
Currently yielding 2.53%, Raytheon is the 6th largest defense contractor in the world. Specializing in missiles and radar systems, the company has demonstrated strong dividend growth, achieving almost 12% growth over the last decade.
Yes, Unites States defense budgets are projected to decline. However, how much of that is a political smoke screen and even if it is followed through with, it won't be long before another threat emerges that forces continued defense spending.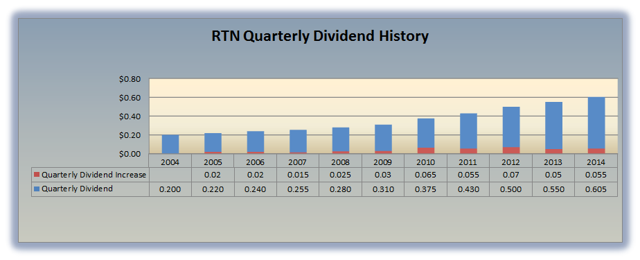 General Dynamics (NYSE:GD)
Currently yielding 2.09%, General Dynamics has rewarded dividend growth investors with 13% growth rate over the last decade. The maker of the iconic F-16 maintains a payout ratio around 30%. It is currently ranked as the world's 4th largest military contractor.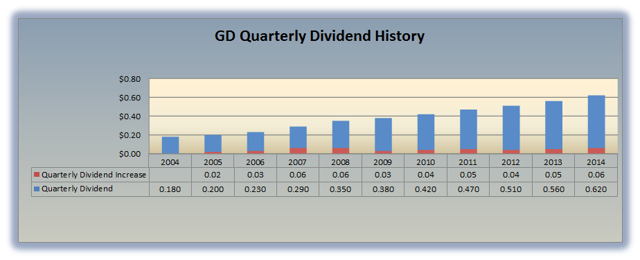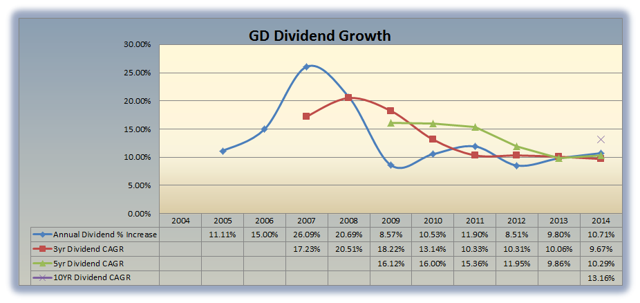 Lockheed Martin (NYSE:LMT)
Currently yielding 3.27%, Lockheed Martin is the highest yielding stock that is covered within this article. It also has the highest compound divided growth rate at around 20%. This is the world's largest military weapons supplier.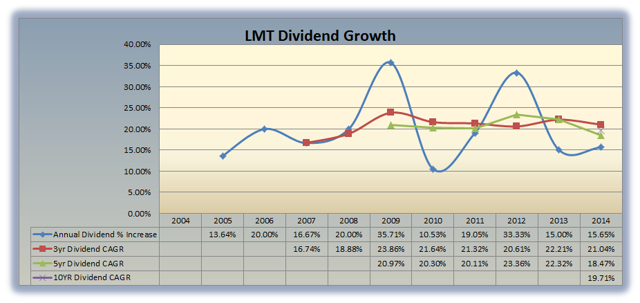 Conclusion
Investments made in any of these companies are not so much investments in military technology as they are in the belief of continued United States defense spending. It is the opinion of the author that US defense spending, while used as a political tool in budget discussions, will not see any substantial cuts in the years to come. Events that have yet come to pass will ensure the continued inflow of US funding into the companies covered in this article.
Disclosure: The author is long RTN, LMT, NOC. The author wrote this article themselves, and it expresses their own opinions. The author is not receiving compensation for it (other than from Seeking Alpha). The author has no business relationship with any company whose stock is mentioned in this article.