Despite the threats posed by cheaper Google (NASDAQ:GOOG) (NASDAQ:GOOGL) Nexus 5, Xiaomi Mi3, and OnePlus One, Apple's (NASDAQ:AAPL) high-margin phones are still addictive to many people. Morgan Stanley's AlphaWise Smartphone Tracker is predicting that iPhone sales for Q2 2014 will be at around 39 million units. This prediction is 4 million higher than the consensus estimate of 35 million.
Investors should appreciate that AlphaWise has a better track record in predicting iPhone sales than Wall Street. The 39 million prediction should indicate strong sales for the iPhone. The Q1 beat on iPhone sales started a big bull run on the stock.
I am going to repeat it again - Apple's stock performance is very much sensitive on how good the iPhone sales are. EPS and revenue beats are just secondary to how many iPhones are sold each quarter. Now is therefore a good time to buy AAPL while it is still below $95. A 10% beat on consensus estimates for Q2 will most likely propel Apple to $100.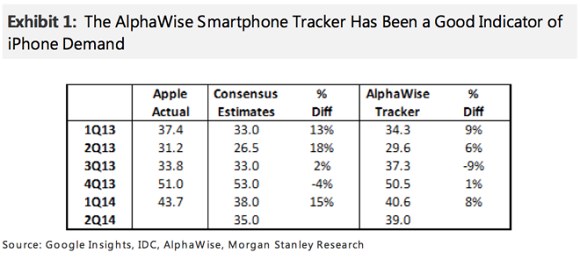 Source: Apple Insider
$100 This Month is Possible
Quoth The Raven is bullish on Apple and he is expecting Apple to breach $100 soon. Quoth gave three compelling reasons for Apple to hit $100. However, I feel that AlphaWise's optimistic iPhone sales assessment should be enough reason already to make Apple iLoyalists buy more AAPL. The Apple Bulls-on-Parade is still not over.
Detractors of Apple should look at the chart below. AAPL is greatly outperforming its Android OS rivals this year. Apple is not stagnating, it is adapting well against the competition.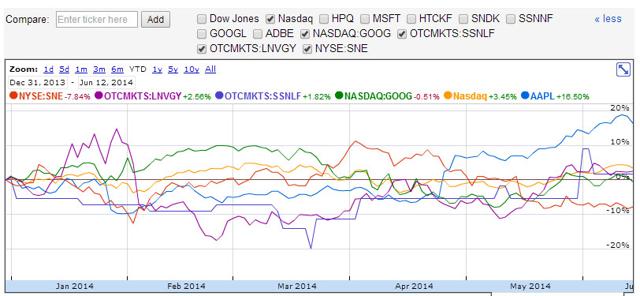 Source: Google Finance
I'm optimistic that Apple will hit $100 this June or early July. Apple is smartly sidestepping the threats of cheaper Android premium phones by selling refurbished and new iPhone 4S phones in America and other countries. The company was estimated to have sold 10 million iPhone 4S units in Q1, or almost a quarter of Q1 iPhone sales.
No Need For Entry-Level iPhones
I discussed how 2nd hand iPhone 4/4S are much in demand in emerging markets. The iconic or status-quo symbol quality of the iPhone makes old Apple smartphones still highly desirable among price-sensitive customers around the world. Apple has no urgent need to make new $300 iPhone models.
Stealing iPhones is now more profitable than selling crack in San Francisco. There are syndicates specializing in trading and smuggling of iPhones for sale to emerging markets. The iPhone will remain king of the premium phones for many years to come. Apple can just dump old iPhones in emerging markets to keep on beating consensus estimates of iPhone quarterly sales.
Apple has a phone trade-in program that has double benefits. It forces people to swap their old iPhones for new ones and Apple gets to own many used iPhones for export to emerging markets. The resale value of a 2nd hand iPhone 4S is higher than Samsung's Galaxy S4 in many countries. Facebook and eBay are hosts to professional buy-n-sell traders of iPhones. Asian traders make more money trading 2nd Apple phones than used high-end Android handsets.
Conclusion
I believe that Apple will continue to rise this month. The stock will most likely hit $100 before the next quarterly earnings report in July. AAPL retreated yesterday but the The strong sales of older iPhone models support the 39 million estimate of AlphaWise.
Apple is likely to rally back up when this latest news gets disseminated. In my opinion, as long as no other phone vendor can match the cult-like appeal of the iPhone, Apple will remain dominant in high-end phones.
The Android handset vendors are fighting over lower margins. The iPhone's social status symbol allows Apple to prosper comfortably over its high-margin policy. Apple is a Strong Buy. This company is a royal blood blue chip company. Thirty analysts at BarChart support my Buy position for Apple. Our number is three times more than the nine analysts who only perceives as a Hold.
The long-term technical indicators are also 100% in agreement that AAPL is a Buy. Short-term and medium-term technical are 60% and 50% Buy respectively.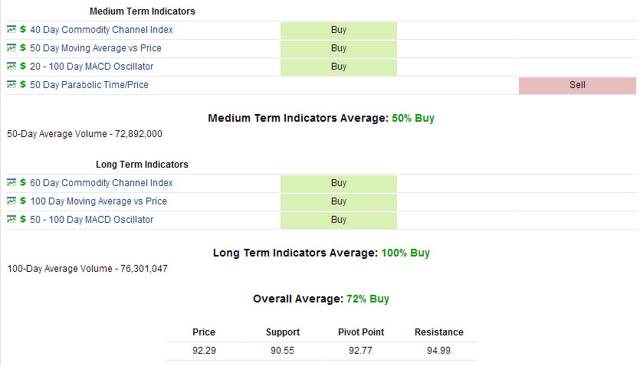 Source: BarChart
Disclosure: The author is long AAPL, GOOG. The author wrote this article themselves, and it expresses their own opinions. The author is not receiving compensation for it (other than from Seeking Alpha). The author has no business relationship with any company whose stock is mentioned in this article.