Two key pieces of economic data were released this morning: Weekly Initial Jobless Claims and Existing Home Sales. Neither was good news for the economy, but both may be great news for gold.
Initial Claims came in at 465,000. That was up 12,000 from the previous week's revised reading of 453,000. It was slightly worse than the expected 450,000. While 465,000 is down significantly from the recession peak level of 651,000 in March 2009, it continues an essentially flat trend for 2010 year-to-date. This is a problem because at these levels overall employment is unlikely to improve meaningfully and the unemployment rate will remain at recession-type levels. The economy needs jobs to sustain this recovery.
images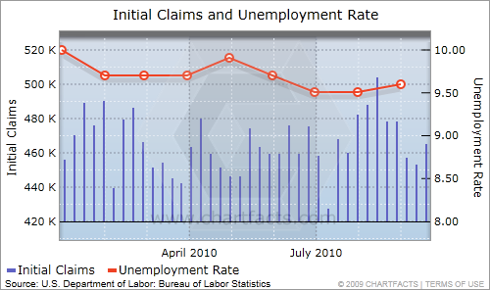 Existing Home Sales was reported at a 4.13 million seasonally adjusted annual rate for August. On a positive note, that was up 7.6% from July. Unfortunately, July's reading was a multi-decade low. Further, there is still almost a full 12 months of inventory in the system - and that likely does not take into account a lot of the REO currently being carried on bank balance sheets. Like employment, a positive trend in housing is needed to continue the economic recovery. An illiquid residential real estate market with depressed prevailing prices has significant impact on consumer psychology and spending.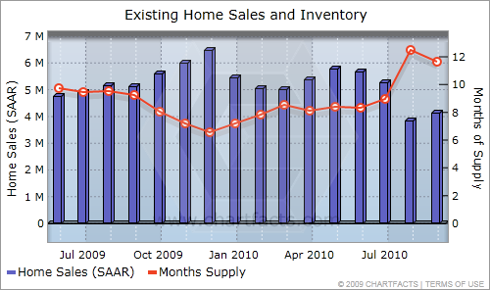 University of Michigan Consumer Sentiment did edge up in August, but it currently stands at the lowest levels of the year and significantly below its 10-year average.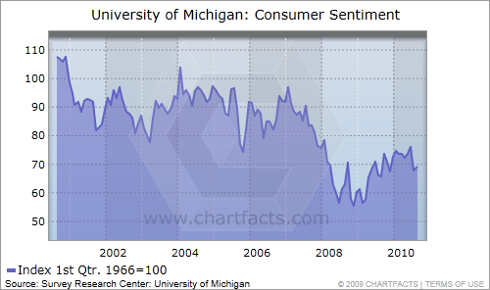 As much as we dislike gold, all of these trends play right to its strengths. In particular, the Fed all but stated it will embark on further quantitative easing earlier this week in response to the slowing recovery. With continued weakness in employment and housing this morning, their resolve will be strengthened. This is great news for gold. Gold is in the midst of a staggering 10-year bull run and is already up another 18% in 2010.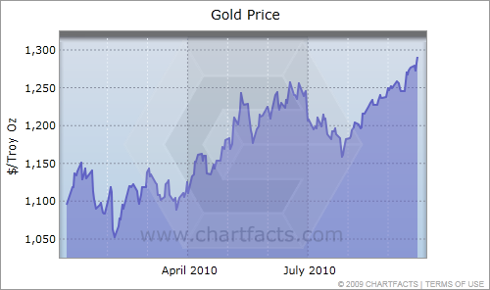 At some point the party will end, but it may not be for quite a while.
Disclosure: No positions