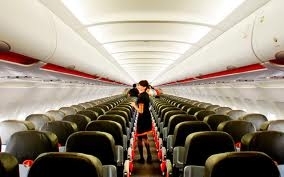 Asia has definitely taken the lead in the road to recovery as far as the Aviation industry is concerned with Asian airlines leading the way to a stronger recovery than their global peers amid rising passenger and cargo volumes helped by the economic slowdowns in Europe and the United States. Global aviation industry's umbrella body IATA in its latest industry outlook has projected a global profit of $8.9 billion in 2010 for the Airline industry as a whole with airlines in the Asia-Pacific region leading the race with maximum profits to the tune of a $5.2 billion this year compared with $3.5 billion in North America, $one billion in Latin America, $400 million in the Middle East and $100 million in Africa.
In March, the Montreal-based organization, which represents 230 airlines and 93 per cent of passenger air traffic, predicted a 2010 loss of $2.8 billion US for its members but in June, it revised that upwards to a modest profit of $2.5 billion US.
"Asia-Pacific carriers continue to benefit from strong regional growth," the IATA said, adding that the Asian economy, excluding Japan, is expected to grow by 7% this year, with China outpacing that with a forecasted 9.9% expansion.
One of the major factors contributing to the rise of the Asian airline industry is the fact that consumer spending in the North America and Europe has been falling in the recent past and is not expected to pick-up any time soon, joblessness was high and consumer confidence has also been on a regular decline.
The strong improvement in Asian airline profits has been based on strong market growth and yield gains. The 23.5 per cent improvement in high volume intra-Asia premium traffic, due to a surge in business travel, was another of the driving factors, the IATA said while renewed buoyancy in air freight markets was also important for airlines in this region, where cargo can represent up to 40 per cent of revenues.
Rising Cargo:
Asia-Pacific airlines have been one of the biggest beneficiaries of a sharp rebound in cargo revenues and revised up the profit forecast to $5.2 billion from $2.2 billion. Cargo major, Airbus in its recent analysis expects the Asia-Pacific region to continue its domination in the global airfreight market with airlines expected to grow their all-cargo fleets five times to 1,500 aircraft by 2030.
John Leahy, Airbus COO Customers, has added that by the year 2030 the Asian region will be the world's largest air transport market with airlines carrying around 40 per cent of all airfreight with airlines in Asia-Pacific acquiring nearly 8,000 aircrafts by 2030 worth $1.2 trillion.
IATA commented that the recovery in freight demand after the late-2008 collapse has been "remarkable", adding: "Not long ago we were expecting to have lost two to three years growth in this market." By the middle of this year, airfreight was back above pre-recession levels and almost back to the pre-recession trend.
International airfreight and passenger volumes (seasonally adjusted): 2005 to 2010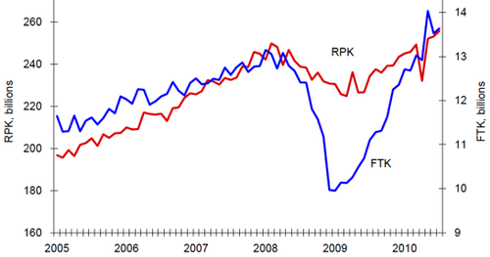 (Click to enlarge)

Airline Stocks Witness Positive Movement:

Most airline stocks ended in green Tuesday on lower oil prices and a report from an international trade association that said demand has recovered faster than expected from the recession.
AMR Corporation (NASDAQ:AMR) added 0.24 or 2.4 percent to close at $6.88

In afternoon trading, shares of United Airlines parent UAL Corp. (UAUA) rose 90 cents, to $23.50. UAL Corporation is a holding company engaged in airline-related activities. The Company's principal operating subsidiary is United Air Lines, Inc. (United). The Company operates through two segments: Mainline and Regional Affiliates (United Express operations).

Continental Airlines, Inc. (NYSE:CAL) finished higher at $24.66. Continental Airlines, Inc. is a United States air carrier engaged in the business of transporting passengers, cargo and mail. The Company has two segments: mainline and regional.

Delta Air Lines, Inc. (NYSE:DAL) advanced to $11.95 at the close yesterday while touching an intra day high of $11.99. Delta Air Lines, Inc. provides scheduled air transportation for passengers and cargo throughout the United States, and around the world. The hub operations include flights, which gather and distribute traffic from markets in the geographic region surrounding the hub to domestic and international cities and to other hubs.
On The Asian Front, Air New Zealand reported that group-wide yields for the financial year to date have increased 4.5% year-on-year. Short-haul yields in Aug-2010 were 1.1% weaker on a year-on-year basis, as the airline continued to lower fares which stimulated demand, while respective long-haul yields increased 11.5%. Removing the impact of foreign exchange, group-wide yields were up 8.9%.

Asia Pacific selected airlines daily share price movements (% change): 21-Sep-2010
Chinese Aviation Sector: Domestic passenger revenues make up the largest top-line contribution for each of the Chinese airlines as they benefit from large domestic insulation. With a historically expanding Domestic demand over the past 10 years in the Chinese market, Chinese Airlines have managed to take an increasing amount of market share on both passenger and freight front.
Meanwhile shares of Chinese Airline companies gained yesterday, as the yuan strengthened to a 17-year high on speculation the Chinese Government would yield to increased political pressure from the US regarding the nations' currency policy.

In Hong Kong trading, shares in Air China, China Eastern and China Southern gained 0.2%, 1.4% and 1.5%, respectively, while in Shanghai trading, shares in Air China rallied 2.9% to reach their highest close since 09-Aug-2010, with China Eastern and China Southern gaining 2.8% and 5.6%, respectively. The strengthening of the yuan eases US dollar-denominated fuel costs and overseas debts gathered from the acquisition of Boeing and Airbus aircraft.
Airlines in China have less overlap among the different segments, with China Southern Airlines Co. focused on domestic operations.Air China Ltd. concentrating on international operations and China Eastern Airlines Corp. chiefly concerned with regional operations.
Global Outlook 2011:
The recent IATA reports revelas that yield improvements are the most important factor driving the stronger forecast for this year. But it warned that increasing capacity due to new aircraft deliveries in 2011 will lead to slower growth for the industry and put pressure on yields and load factors, resulting in a lower net profit of $5.3 billion globally next year.
Though 2010 augured well for the industry, governments were running out of cash for pump priming, while unemployment remained high and business confidence was weakening, he said, adding that as a result, "2011 is looking more austere. We see profitability falling to $5.3 billion with a margin of 0.9 per cent."
Disclosure: No positions