As one of the key ecosystem players out there, Amazon (NASDAQ:AMZN) is in a position to launch products that can successfully compete against others out there mostly thanks to its existing infrastructure. One of the key features that all ecosystems have or will end up battling for is payments. I don't think I need to explain why. Payments are most likely the most lucrative business in a world where everything is going digital. It's not clear if there will be one winner but in any case, even if it ends up being a world with several dominant players, it is an area that all ecosystem players will end up fighting for.
Yes, that means Amazon has a better shot at competing against established players such as eBay's (NASDAQ:EBAY) PayPal but also newer players such as Stripe. Up to this point, Google (NASDAQ:GOOG) (NASDAQ:GOOGL) has already worked on a solution (Google Wallets) and Apple (NASDAQ:AAPL) is rumored to be working on a solution. Facebook (NASDAQ:FB), like Google has been trying but has not succeeded to this point. They each have their own unique advantages and for Amazon, one of the key aspects of course is its number of active customers that each have a current credit card on the system.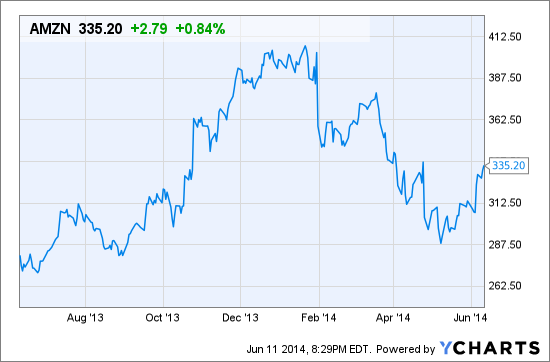 One Big Issue That Amazon Payments Needs To Address
Amazon is of course targeting two main types of payment customers: personal and businesses. Everything does look promising but one key missing feature is the lack of international support. I certainly understand that it will be a big challenge to quickly scale up in a world where each country has its own regulations and banks but it's the only way that Amazon Payments can succeed. One of PayPal's most important features is the fact that virtually everyone in the world can use it. In our interconnected world, the majority of business and transactions are done internationally and it will be very difficult for businesses to justify moving to Amazon when they can only do a portion of their transactions.
Impact On The Stock
In the short term, there is no impact. We all knew that Amazon, like other ecosystem players, would be launching a payments solution. I will however be closely following the progress of this platform and think that it could end up having a very significant impact on Amazon in the coming months/years. It is certainly positive for Amazon to come out with this launch so early and it gives.
Disclosure: No position on Amazon.