Investors continue to send shares of American Realty Capital Properties (ARCP) lower, presumably over nervousness with its recent spate of deals and lack of confidence in CEO Nick Schorsch. Despite REIT indexes trading up around 15% this year, ARCP is down about 9 percent year-to-date and about 23% from earlier year highs. If we go back to the middle of 2013 when the stock touched $18, ARCP is down 34 percent.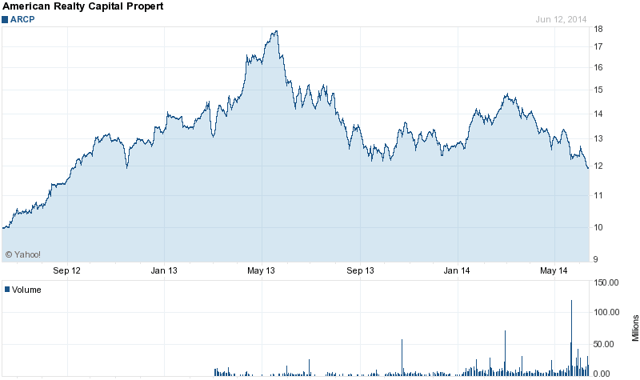 Stock price action is becoming reminiscent of last year's death spiral at Digital Realty (NYSE:DLR), which saw its stock sink 40% following fund manager Johnathan Jacobsen's high profile short presentation at the Ira Sohn investment conference. Jacobsen sparked questions about Digital Realty's accounting and forward prospects as a provider of equipment housing and services for primarily telecommunications companies.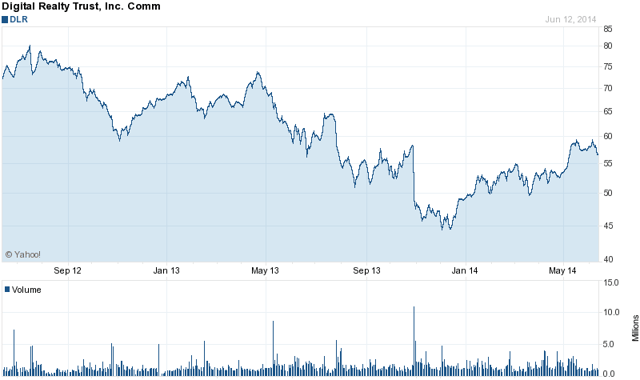 A "crisis of confidence," which I wrote about two times last year (I,II) ensued at Digital Realty, as investors and analysts raised questions about the quality of management at the company. By the end of the year, as tax loss selling further impacted the stock, shares became far too cheap to ignore and have been on an upward trend ever since. Even with a mild recovery in the stock by mid-March, CEO Michael Foust and the company "mutually agreed" to part ways. The stock is up even more since his departure.
Though the crisis at Digital Realty certainly seems to have eased, short interest still sits at about 20%, much less than where it topped out at, but still significant nonetheless.
Meanwhile back at ARCP, it appears a mini-crisis of a similar nature has developed. Investor consternation and distrust with Schorsch's near-term "big deal" strategy has even caused one institutional investor, Marcato Capital, to send an open letter imploring the company to ease off the gas with the activity.
Despite the deal barrage, on a fundamental level, the ARCP story doesn't seem broken. The company has not guided that current year AFFO will be materially impacted by the pending Red Lobster asset purchase, although it has recently remained suspiciously quiet, in my opinion, on funds flow guidance.
Keep in mind that ARCP's AFFO during the first quarter of 26 cents a share was barely in excess of dividends per share (25 cents). The midrange of full year guidance is $1.16, so presumably as the Cole digestion continues, there will continue to be cost and funds flow benefit that will lead to robust sequential AFFO increases. To hit that midrange, the company will need to average 30 cents of AFFO for the next three quarters.
Debt levels
One of the main negative differentiators in ARCP relative to oft-compared-to Realty Income is the right side of the balance sheet. The slide below from a recent presentation summarizes how debt/enterprise value will slide lower as a result of its recent asset churn. Of course as the stock has moved lower since the Red Lobster announcement, the debt percentage on an enterprise level will now be inversely higher than illustrated. Comparatively speaking, Realty Income's debt to enterprise value is currently in the low 30s.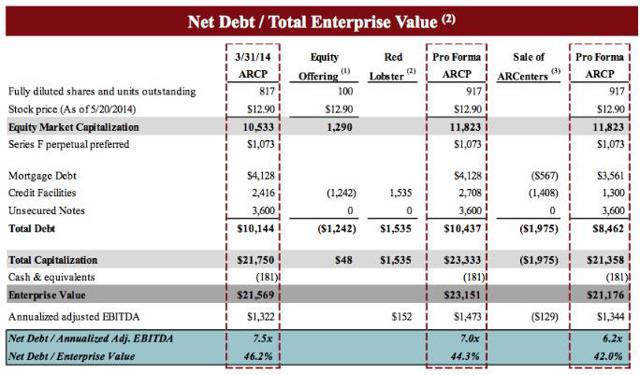 Cracking Red Lobster
General market irritation with the "cheap" equity offering aside, I find the most troubling aspect of the Red Lobster deal the fact that, pro forma, it will represent such a large portion of ARCP's rent. While I get the desire to do cap-rate-rich deals, this is certainly a colossal one with a chain in need of a turnaround now headed by private equity (Golden Gate). Is this really a wanted business profile for the company's largest tenant?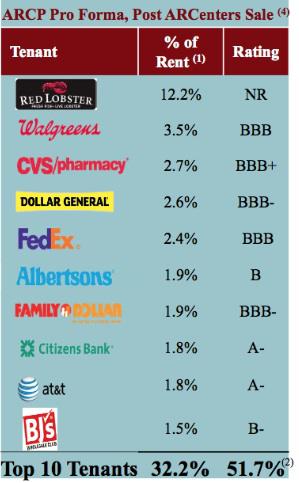 Still, ARCP's concentration amongst its top ten tenants is actually lower than both Realty Income (NYSE:O) and National Retail Properties (NYSE:NNN). Taken from that perspective, one could view Red Lobster with a little less angst. The market currently, however, has no such optimistic view.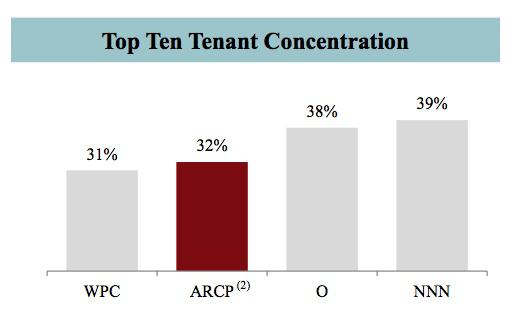 Looking Ahead
As an ARCP shareholder, it's obviously been frustrating to watch the price drop and simultaneously see equity issuance when management opines the stock as undervalued. All this when REITs as a whole are being bid up by the market. As we saw last year with Digital Realty, once the investment community loses confidence in management and questions arise, it becomes a stubborn headwind to overcome.
While there are certainly some similarities to the DLR situation, we see some stark contrasts. Short interest, while increasing, remains below 5% at present (compared to DLR's 20%). And the sell-side analyst community, which seemed to gang up on DLR to an extent, seems by and large supportive of ARCP, and presumably Schorsch, even after the equity issuance. And the business line, well, single tenant triple net retail seems to be a lower risk enterprise than server farms catering to telecom companies.
I continue to see value in ARCP, but execution risk and a higher-levered balance sheet continues to restrain and plague permanent multiple expansion. My suspicion is that the company will continue to cover the dividend but near-term AFFO might be compromised in favor of long-term growth with recent activity. Still, a reasonable total return opportunity could be had from present levels, but with the considerable sentiment overhang and "show me" attitude of the market, it could take some time and a strong stomach to see it through.
Disclosure: The author is long ARCP. The author wrote this article themselves, and it expresses their own opinions. The author is not receiving compensation for it (other than from Seeking Alpha). The author has no business relationship with any company whose stock is mentioned in this article.
Disclaimer: The above should not be considered or construed as individualized or specific investment advice. Do your own research and consult a professional, if necessary, before making investment decisions.