The FDA just released the details of its meeting with Apple (NASDAQ:AAPL) held in December 2013. In the meeting, Apple officials said that they see their mobile technology platforms with added sensors as an "opportunity to do more with devices, and that there may be a moral obligation to do more."
Apple announced in its Worldwide Developers Conference that it plans to enter into the mobile healthcare market with the launch of HealthKit, a part of its iOS 8 SDK. HealthKit is a software suite that helps developers accessing health-related data from a variety of apps.
Apple's Entry into mHealth Market: The Implications
Health monitoring services via different health-related apps have huge growth potential, which could be an excellent opportunity for tech companies like Apple. Mayo Clinic President and CEO John Noseworthy, M.D. said:
We believe Apple's HealthKit will revolutionize how the health industry interacts with people. We are proud to be at the forefront of this innovative technology with the Mayo Clinic app.
Apple itself has introduced a standalone app called "Health" as part of its iOS 8 platform. Furthermore, the company has plans to launch a blood-glucose monitoring sensor that is expected to be integrated with its forthcoming iWatch device. We believe that going forward Apple will introduce many other medical devices that will work in conjunction with appropriate iOS-based apps.
Apps developed through HealthKit will be able to exchange data with medical devices and share data with other apps for more in-depth health management. According to Adam Powell, Ph.D., the President of Boston-based healthcare consulting group Payer+Provider Syndicate, Apple's entry into the mHealth (mobile health) market has two major implications:
One, he said, is that quantified self-device makers will be able to focus more on hardware-based product differentiation, as HealthKit will standardize the user experience. Another is that utility of all integrated mHealth apps and devices will increase, given the ability to securely share data with healthcare institutions.
Can Apple Become a Full-Fledged Medical Device Player?
While it is true that in the not so distant future medical device companies will predominantly depend on third-party apps running on iOS, the moot question is whether Apple can emerge as a full-fledged medical device player. We believe that the possibility is significant.
Medical device manufacturers, such as Medtronic (NYSE:MDT), St. Jude Medical (NYSE:STJ), Becton Dickinson (NYSE:BDX), Baxter International (NYSE:BAX) or C.R. Bard (NYSE:BCR) either develop software on their own or depend on third-party software developers like Tietronix that help develop medical device software that complies with FDA regulations. However, with the advent of Apple's HealthKit, medical device software applications will see standardization, which means similar devices made by different companies will run on same apps on a common platform like iOS.
Aside from Apple, Microsoft (NASDAQ:MSFT) is also developing a smartwatch with built-in sensors for monitoring heart rate. The device will not only run on Windows Phones but also on iOS and Android devices. Google (NASDAQ:GOOGL)(NASDAQ:GOOG) launched its mHealth initiative with its Glass and last but not the least, Samsung also recently introduced its digital health initiative.
Why are all these tech giants betting on healthcare? We believe that they will enjoy a huge competitive advantage with their more advanced technology in hardware as well as software over the traditional medical device makers. We also believe that the traditional medical device companies will increasingly depend on companies like Apple, Google or Microsoft going forward for greater adoption of their devices. Eventually, tech companies like Apple would become crucial players in healthcare, particularly in the medical device industry.
However, Apple's recent release of HealthKit, along with the iOS 8 SDK, the biggest developer release ever with more than 4000 new APIs, will solidify its position in the mobile healthcare market and place it miles ahead of competitors like Google or Microsoft.
Final Words
In terms of EV to FCF and EV to EBITDA, Apple is trading at a steep discount compared to its nearest rival Google.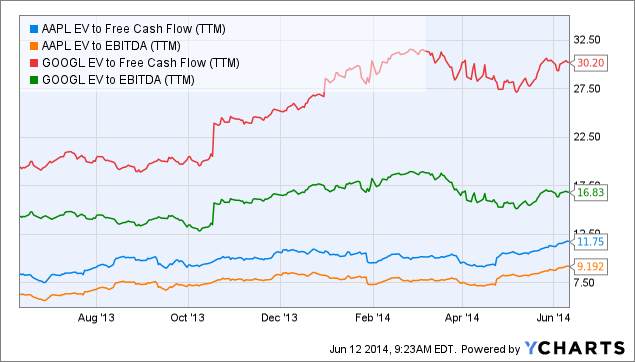 AAPL EV to Free Cash Flow ((NYSE:TTM)) data by YCharts
Apple's venture into mHealth is certainly a game changer for the company as well as for the overall healthcare industry and the stock is a "strong buy" at the current price.
Business relationship disclosure: The article has been written by a BB Research stock analyst. BB Research is not receiving compensation for it (other than from Seeking Alpha). BB Research has no business relationship with any company whose stock is mentioned in this article.
Disclosure: The author has no positions in any stocks mentioned, and no plans to initiate any positions within the next 72 hours. The author wrote this article themselves, and it expresses their own opinions. The author is not receiving compensation for it (other than from Seeking Alpha). The author has no business relationship with any company whose stock is mentioned in this article.