Intel (NASDAQ:INTC) bulls ignored the European Commission General Court's decision affirming the $1.4 billion fine that was imposed on Intel. The after-hours trade pushed INTC to a new 52-week high of $29.52. Intel already paid the penalty five years ago. This legal setback is negligible.
What matters most is that Intel is hinting of better sales of its x86 desktop processors. The company's latest revision of Q2 earnings guidance cites stronger-than-expected business PC sales. Intel is now guiding for a Q2 revenue of $13.40 billion-$14 billion. This expectation is higher than the company's previous guidance of $12.5 billion-$13.5 billion.
Furthermore, the new upswing in corporate purchases of PC units has inspired Intel's management to revise their previous flat sales growth guidance for 2014. The new consensus is that Intel will deliver around 0.7% annual growth. Microsoft's (NASDAQ:MSFT) ending of support for Windows XP is a major reason why companies are buying new PCs.
Stronger PC Sales = Strong Buy for INTC
The PC Client Group is still Intel's biggest revenue generator. The bulls will always charge when Intel hints of better PC sales. Estimize has a Q2 EPS estimate of 0.48 and sales of $13.14 billion. I expect Estimize users and Wall Street analysts to hike up their guesstimates this week due to Intel's new improved guidance.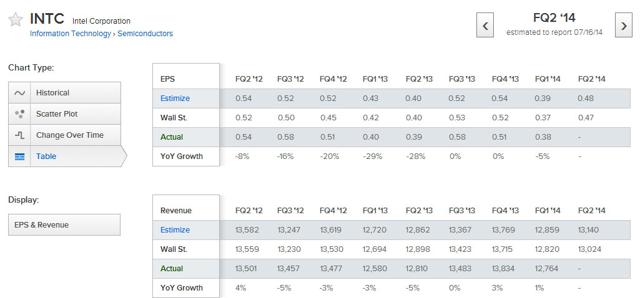 Source: Estimize.com
Intel is now inching up towards $30 as I'm writing this. As of 8:00AM, NASDAQ's real-time tracker has INTC trading as high as $29.98. Intel breaching $30 this June will be a major psychological win. This underappreciated semiconductor giant deserves more loving from the market.
Four investment houses, Stifel, Topeka Capital Markets, RBC Capital Markets, and FBR Capital, reiterated their bullish call for Intel and increased their price targets today. Topeka raised its INTC price target to $34 from $30. RBC raised its PT from $28 to $31. Ashraf's old $33 PT might just come true this year if PC sales keeps getting better.

Source: Finviz.com
The overall technical charts are screaming a 96% Buy call for INTC. Eleven analysts at BarChart also see Intel as a Strong Buy.
Intel Inside, Intel Outside, Intel Everywhere
The recent hike in PC sales is just a small tailwind for INTC. My bullish sentiment over Intel is largely due to its ruthless ambition to put its x86 processors inside everything. The company's future is not tied to smartphones and tablets. Intel's tablet and smartphone meddling is just a defensive move to annoy the ARMy. Intel is really gunning for a bigger market.
Intel will continue to be the biggest semiconductor company because of Internet of Things (IoT). Ten years from now, intelligent devices will likely have Intel inside. The ARMy can protest all they want, Intel has the money to entice OEMs to again support its x86 chips for their Internet of Things products.
The company doesn't mind losing $3 billion/year on mobile chips, it won't begrudge another antitrust penalty. Wind River is also fuel to accelerate Intel's crusade to dominate the IoT industry. VxWorks is making more money than BlackBerry's (BBRY) QNX.
Intel processors are inside smartwatches, smart appliances, smart cars, and smart t-shirts. Yes, Intel's Edison chip is already inside a smart shirt. I'm more bullish on smart clothing than smart watches. I believe that a T-shirt, which covers the upper body, is the better smart device when it comes to monitoring health stats.
The 2014 $19 billion R&D/MG&A budget of Intel will help the company formulate new uses for its crown jewel, x86 microarchitecture. Judging by Intel's unexpected new guidance for Q2, corporations still trust the power of the Intel-inside x86 desktop PC. There will come a time when 80% of all office attires and daily clothes will also be made with embedded Intel chips.
Conclusion
Intel is worth buying and holding on to for keeps. The intelligent investor already knows that Intel will remain the biggest semiconductor company for the next decade. The desktop computer will also remain relevant for the next decade. Ten years from now, the majority of corporate slaves will still have to grind their daily workload with an Intel-powered desktop.
Ten years from now most gamers will still be buying Intel processors to complement their beastly good GPU. Ten years from now graphic artists and video editors will still be using Intel-powered workstations to earn their pay.
Some Seeking Alpha contributors like me will still be typing out our musings with a laptop five years from now. I'm writing this on an Acer V3-471G notebook. It has a sticker that says Intel Inside Core i5. The very expensive Apple Mac Pro for editing wedding and funeral videography jobs has Intel Xeon inside.
I look forward to owning a pair of Intel-powered running shoes.
Disclosure: The author is long INTC, BBRY. The author wrote this article themselves, and it expresses their own opinions. The author is not receiving compensation for it (other than from Seeking Alpha). The author has no business relationship with any company whose stock is mentioned in this article.