Memorial Resource Development (NASDAQ:MRD)
The Basic Story: Northeast Louisiana natural gas and high value liquids focused player. Primary play is re-development of overpressured liquids rich Cotton Valley sands in the Terryville Complex (a stacked Cotton Valley sand play you might recall from the pre-Haynesville days of Petrohawk) in Lincoln Parish, Louisiana via horizontal drilling. Production from Memorial's horizontal program has overtaken legacy volumes and the firm has been drilling increasingly bigger wells as it hones the process in each of four stacked pays. This is another Natural Gas Partners (NGP) backed firm and there is a related MLP (NASDAQ:MEMP) that they will likely be able to drop mature assets down into over time as a potential source of additional funds. On the surface, valuation looks a little full relative to current flowing Mcfe's and on a 1P Bcfe in the ground basis as well but they are looking to grow rapidly while remaining essentially cash flow neutral and their reserves appear to be overly conservative. Both the buy and sellside like rapid stair-step growth (oily or gassy) and exceedingly high IRR's, which combined with a low cash cost structure, a solid balance sheet, and a large location inventory should be able to support a premium multiple. The only game in town status as the only pure player in the field, with bigger fish drilling in the same area won't hurt either.
Favorite quote from the road show: "This is not a statistical play"
The Assets:
Terryville Complex - This is basically all of the MRD story.
Memorial purchased the core of their current position from the past incarnation of Halcon (NYSE:HK) in 2010 (after Petrohawk had moved on to the Haynesville) and then added to it through a series of acquisitions and leasing. They operate 99% of the current 96,700 total acres with 51,500 net contiguous "Core" acres where they map over 1,500 horizontal gross locations. Meomorial is not alone in the play as there are now at least 22 rigs running (five of those are are Memorial rigs) but the company is the only pure play name in Terryville and it's well are top tier. Other names who are currently active here are Anadarko (NYSE:APC), Devon (NYSE:DVN), Exxon (NYSE:XOM), and BHP Billiton (NYSE:BHP).
The targets are over pressured Cotton Valley sands, quite thick, in four stacked sections as noted in the graphic below with the Terryville part of the entire play being the thickest with aggregate pay of 3,000'. Pressure tests, gas analysis, and hydrocarbon mix variance indicate all four zones are not in communication but are in fact separate plays​.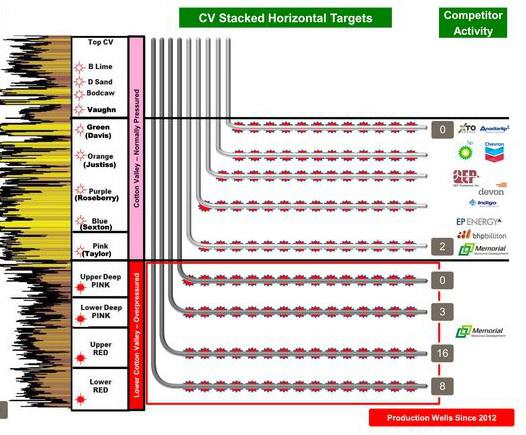 Memorial is putting Haynesville Shale style fracs (big ones) on the wells (something not done extensively in the past) and achieving strong economics with IRRs exceeding 200% as modeled by Netherland Sewell from three of the four deeper, overpressured zones here (Upper Red, Lower Red, Lower Deep Pink). Using real production data, their average Upper Red well has an IRR over 600% (not a typo) with the average rate in the lower Red (to date) in excess of 300%. That is what we call monster economics.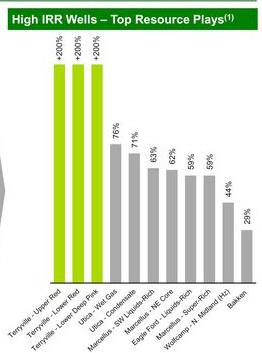 History and Plan at Terryville:
The area was previously derisked by verticals and is now being exploited in the deeper zones by modern tech horizontals (kind of like the Permian). Memorial is now running five rigs in full development mode with almost everything being drilled as part of a pad. Memorial points out that only 28 wells out of 12,000 natural gas wells drilled in
the U.S. since 2012 have had 30 day average rates of over 21 MM/d and that 11 of those wells are theirs (that's out of 31 wells they've drilled so far),
Like everyone else they are focused on honing completions and are currently using their 5th generation frac recipe and you might guess their latest wells have been their best wells. The 2014 plan is to drill 30 net wells (10 of those are online now with 19 more to be completed by our count through year-end). Looking ahead they see 28 wells per spacing unit with 7 wells in each of the 4 zones drilled from one super pad per section with laterals aligned north-south.
​​Well Characteristics - getting better and likely getting bigger yet again.
Average horizontal lateral to date has been 5,100' with an average IP 30 of 16.1 MMcfepd. The four most recent wells had longer laterals average 6,500' and had an average IP 30 of 25.1 MMcfepd (this will be one of the salesman's most quoted stats in selling the IPO). One of those four wells,​an upper Red zone well, is the best well to date in the Terryville Field. Another of those four is ​the best well in its zone to date. The profile going forward will be to drill 7,500' laterals with completed well costs averaging only $1.4 mm per 1,000' of lateral (a figure that's fallen sharply over the last two years).
Other Stuff
Mix and Pricing
Terryville's revenue mix is 51% natural gas, 25% NGLs, 24% oil for Terryville vs. a total company production mix of 70% natural gas, 21% NGLs and 9% oil for the company as a whole, meaning they are a little less gassy than they appear just on a volumes basis. The gas is high BTU and the NGLs are "heavy" and they've been getting 45% of WTI of late for them. We see this same thing with Bonanxa Creek (NYSE:BCEI) to the north in their Arkansas Cotton Valley production where the NGLs contain high levels of natural gasolines. As such, natural gas prices could go to $0 and their wells would still be economic. Given where the field is located, there is more than adequate takeaway capacity the Haynesville rolled over adding 2 Bcfgpd of additionalspare capacity in just the last two years) leading to good pricing
Near-Term Catalysts
1) Memorial has drilled a horizontal well to the west on their acreage, the Woodard 13H-1, in what they see as an oil bearing zone that will IP in July (should have good well control there but that will be closely watched as, well, it's oil).
2) Memorial is in process on the 2 well Temple 8 pad, to the southeast of their main target area, and outside of the NSAI 3P area. One well drilled so far with strong shows and both will be on line in August; managment said the first one looked great during drilling and they expect this to help with 3P reserve adds at year end,
3) And then, in general, longer lateral wells yielding bigger volumes as the year progresses.
Infrastructure:
No infrastructure constraints, no problems getting frac water, have on own disposal wells, and obviously it's a very friendly state to drill in from a regulatory standpoint.
A few thoughts on reserves - this is kind of interesting
Netherland Sewell (NSAI), their 3rd party reserve engineer firm, (and one of the top 3 reserve firms out there in my view and definitely a conservative shop) and the company basically agree on the reserves of the producing wells (the PDP of their reserves).
However, for the proven undeveloped reserves, the PUDs, NSAI uses a whopping 29% terminal decline rate. MRD notes that just about everywhere else in the cotton valley across the region, the terminal decline rate averages about 10%. But, as management puts the case, having only a small sample size to go by at year-end 2013, NSAI ran with a really conservative view for the PUDs.
Once a PUD is converted to a PDP however, Netherland flips a switch in their model, taking that well's reserve profile to a 10% terminal decline rate and wallah, a 7.8 Bcfe PUD turns into a 12.7 Bcfe PDP well. This takes the PV-10 of that PUD from $15 mm up to $21 mm in one of the four zones as an example. By flipping a switch in a model. If you then model for the new 7,500' lateral design the reserves for that same zone move to 21.7 Bcfe per well with a per well PV10 over $40 mm. Nice.
Using NSAI ​current methodology and a $3.67 gas and mid $90s oil deck they come up with a 3P value of = $4.9 B which would be significantly light in light of the previous comments on that methodology. With a little more time and a basic doubling of the well count by YE14 it's reasonable to assume a significant boost in 3rd party thinking here.
Management: NGP (Natural Gas Partners) guys with a combination of engineering and energy private equity backgrounds. Plenty of industry expertise here. They've done a good job and they present the story well.
Balance Sheet vs Budget:
Pro forma the deal MDR will have 2.3x debt to annualized 1Q14 EBITDA (that will be a conservative measure as they are growing rapidly).
And they'll have liquidity of about $150 mm post deal, but again their plan is to largely keep spending within cash flow.
They have a relationship with MEMP, an MLP that could provide drop down opportunities down the road as it has in the past for them.
​​Other Assets: See cheat sheet below.
East Texas - Getting a little over 10% of the total budget, not really sure about the forward plan here, could grow, could be monetized against a higher natural gas price environment.
Rockies - Guessing this gets sold down the road.
The Comps: ​ A little dilemma about who to use.
Kind of difficult to tell who is really appropriate for this one as the name is somewhat unique and there are no public names focused only on Terryville. The other names that are there and active are too large and diversified to be good comps.
We asked what the underwriters might be using as comps and got back a list of names that are Marcellus/Utica focused. I'd do that too if I wanted to make this gassy name look cheap but in a number of ways I agree with the choice. It's gassy, it's high growth, it's got a massive location inventory, and it's got low, low operating and F&D costs. I like the cotton valley and BCEI has a nice position to the north that is a vertical post hole play that sends positive cash flow from that area for them up to their higher return DJ Basin assets. In MRD's case, if we go with the comps of the Marcellus (for lack of a better set of name) then Antero (NYSE:AR), Range Resources (NYSE:RRC), Rex Energy (NASDAQ:REXX), Cabot (NYSE:COG) and Rice (NYSE:RICE) all come to mind. On that basis, Memorial comes out pretty much where you'd expect and could sport higher multiples than those it will at the time of the offering. So here goes on those comps.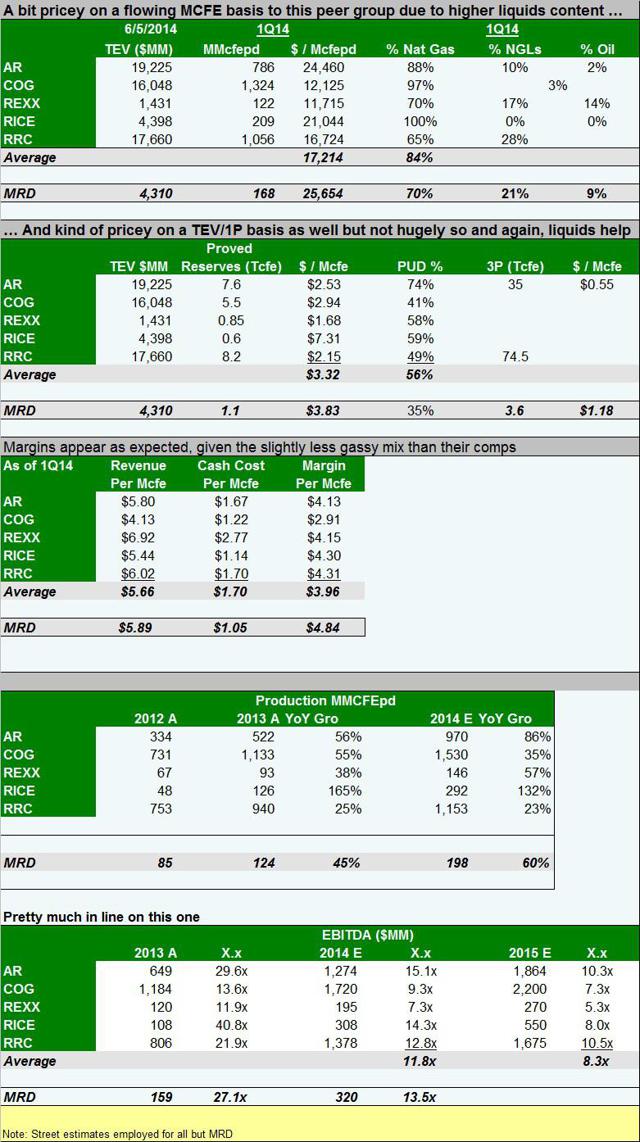 Sidebar: Goodrich Petroleum (NYSEMKT:GDP) has acreage in the area and could gain a little further non TMS support should this offering do well as they noted recently they are eagerly watching Memorial's wells.
Nutshell: Interesting. Different. Almost took a pass on it at first blush. Likely quite a bit of upside to the reserve estimates but it's early to really know by how much. We'd like to see what they look like a year from now and how lumpy the production adds are as they batch drill these wells (something the sellside seems to still have issues with as it makes modeling quarterly numbers sometimes tricky). Given that now is now and not 2015 our sense is they will likely be well received by the market but that it may take a little longer for the good news of their big wells to sink in given the lack of easy comps here and the lack of Permian style big-play-name credentials.

Disclosure: The author is long AR, REXX, RICE, BCEI, RRC. The author wrote this article themselves, and it expresses their own opinions. The author is not receiving compensation for it (other than from Seeking Alpha). The author has no business relationship with any company whose stock is mentioned in this article.