Alibaba (ABABA), the biggest e-commerce site in China, is debuting in the U.S. through its new division, 11Main.com. This invitation-only Internet marketplace will feature small business retailers.
Alibaba's Growing Strength
Market analysts will be watching 11Main.com's debut closely, given its increasingly powerful parent company.
Currently, Alibaba, which filed an IPO last month in the U.S., holds the number one position for e-commerce sites in China. Larger than eBay (NASDAQ:EBAY) and Amazon.com (NASDAQ:AMZN) combined, Alibaba will be making its first foray into the U.S. marketplace through 11Main.
Will It Be Tough For Alibaba To Establish A US Position?
Some analysts predict that Alibaba will find it difficult to establish a position in the saturated U.S. online retail market. Sucharita Mulpuru, a Forrester analyst said, "U.S. e-commerce is crowded and relies on high marketing expenses to rise above the clutter. The hope is high. We'll see if they live up to expectations."
Currently, Alibaba is testing the waters with 11Main, which is located in San Mateo, California. The website will debut soon in its beta phase and will promote hundreds of thousands of items from several thousand specialty retailers and boutiques from around the U.S. that were invited by 11Main.
Well Timed to Alibaba's IPO
The launch of 11Main coincides with Alibaba's IPO. While few Americans have heard of Alibaba, the Internet giant drove the success of e-commerce in China and helped to transform average households by giving them better access to books, clothes and consumer electronics in an age when ration tickets paid for some groceries.
In its 15-year history, Alibaba has overcome financial and technical obstacles and competition from eBay to emerge as the largest online marketplace worldwide. The planned IPO may garner almost $20 billion in capital.
Trying To Distinguish From E-Commerce Competitors
The 11Main.com site features a clean layout that it advertising free, such as the social media site, Pinterest. Consumers can search and browse by vendor or category. Moreover, the website allows vendors to post video profiles that feature its products and brick-and-mortar stores to promote confidence in the business.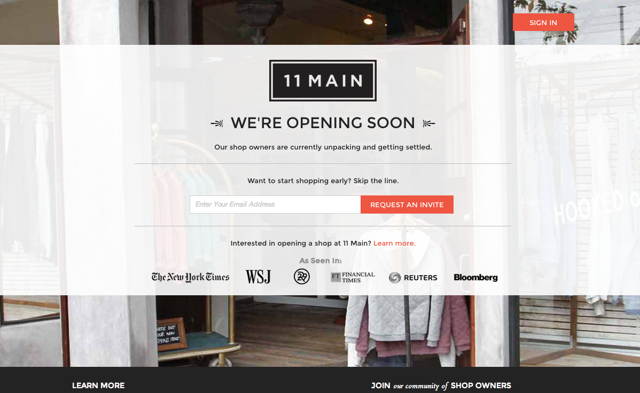 Kelland Willis, a Forrester analyst, suggested that this strategy to offer a distinctly different shopping experience, when compared with eBay or Amazon, and will give each seller its own identity. "That's what Alibaba's hugely successful sites offer in China," Willis said. "They're trying to come in to the U.S. market and compete using that."
With no retailer fees and no advertising, 11Mail earns revenue by taking a 3.5 percent commission on every transaction. This gives the vendors access to 11Main's powerful marketing efforts.
Mike Effle, president and general manager of 11Main said, "We want the shops to represent the diversity of Main Street. Some shops are high-end boutiques and some are more vintage. The company's name is intended to evoke bringing Main Street online. And the "11" in its name is meant to represent the "1-to-1" relationship that customers and merchants have on the site," he said.
Risks For Larger Alibaba IPO
Some risks do exist for the huge IPO. While reports have surfaced that Alibaba plans to float the IPO on August 8 for good luck, since the number eight portends good luck in China, August in the United States is an atypical month for a new offering. Many investors and underwriters use the month for vacations, and the sheer size of the IPO may surpass the largest IPO in history, that of Agricultural Bank of China.
In addition, some have concerns regarding an accurate valuation of Alibaba. Some pointed out a lack of certain financial data in the F-1 filing for foreign issuers. That lack of data may continue as Alibaba only needs to file financial data annually rather than quarterly (the case for U.S. companies). Moreover, the current F-1 filing does not disclose who its 28 owners are, and some experts are calling for a complete listing prior to the IPO.
Finally it is important to note Alibaba's exposure to breaches of security. As stated in its prospectus: "We may not be able to maintain and improve the network effects of our ecosystem, which could negatively affect our business and prospects." This is arguably a greater risk for Alibaba, given its increasing global spread. Analysts who follow the new offering marketplace expect the deal to go forward sometime in September after Labor Day.
Decreased Competition From EBAY?
One of Alibaba's largest competitors eBay has recently been mired in several internal issues recently-in particular, the quitting of PayPal head David Marcus.
Some argue that in the fast-growing market for mobile payments, competitors could quickly move into PayPal's once-dominant position, including Alibaba's new AliPay system.
Outlook For YAHOO! and Alibaba Investors
The move onto "11Main" is certainly a promising first step into the United States' market. Although Alibaba currently occupies more than 90 percent of China's online market for consumer-to-consumer transactions, it is one of many figures in the crowded US online retail market. 11Main enters a stage, which includes many boutique successes, as well as big, well-known competitors, like EBAY, AMZN, and Overstock.com (NASDAQ:OSTK) -not to mention online portals for existing, popular brands, such as J. Crew.
While the lack of advertising and retail fees could be a distinguishing factor for 11Main.com, the company will likely have to rely on other branches of its growing business for some time.
Alibaba has been pursuing a series of acquisitions in the run up to its August IPO, including recently the Singapore Post, which could allow Alibaba additional reach and flexibility in its deliveries. Another recent purchase was the remaining third of UCWeb, through which Alibaba hopes to win back mobile users, which have begun using other platforms. UCWeb has a stated half a billion active quarterly users. Breaking news is that Alibaba will also open an entertainment platform, in collaboration with the state-funded Shanghai Media Group.
Some have certainly voiced concerns that Alibaba is growing too large and unwieldy to compete with the highly nimble American companies, like Amazon , the growing number of active buyers, as core to its business, is hard to rival.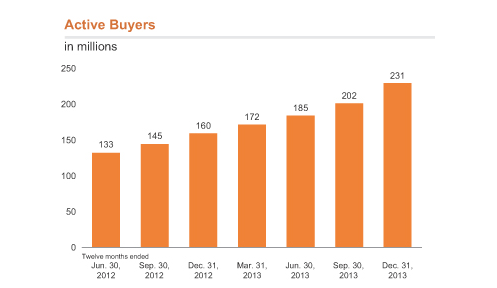 (Source)
In conclusion, we reiterate Alibaba as strong investment, come August, along with one of its largest shareholders Yahoo! (YHOO), whose shares have risen significantly as Alibaba grows ever more prominent.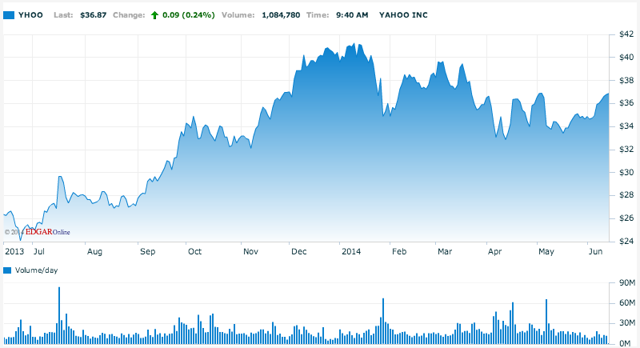 Disclosure: The author is long YHOO. The author wrote this article themselves, and it expresses their own opinions. The author is not receiving compensation for it (other than from Seeking Alpha). The author has no business relationship with any company whose stock is mentioned in this article.