There has been a reason why we have been looking at momentum stocks as the next area in the market to deploy capital earmarked for speculation purposes. We have been very upfront in explaining that we think that there is some sideways action and consolidation needed in the general market before a strong rally can occur, but out overall idea should hold.
Why are we so confident in this? Look no further than today's M&A activity, specifically the deal announced whereby The Priceline Group (NASDAQ:PCLN) will buy OpenTable (NASDAQ:OPEN) for $2.6 billion, or $103/share. OpenTable shares closed the previous session at $70.43, so the deal represents a more than 43% premium. With some of the froth having been taken out of the market, especially in the momentum names, it does make some of these companies more attractive targets to cash rich companies.
Chart of the Day:
Even with the news coming out of the Middle East, specifically Iraq and Syria, the US Treasury market has remained relatively calm. It appears from recent comments that the US is prepared to do something, but if action is not taken quick enough (possibly over this weekend) then watch the treasuries next week, especially if the insurgents get closer to Baghdad.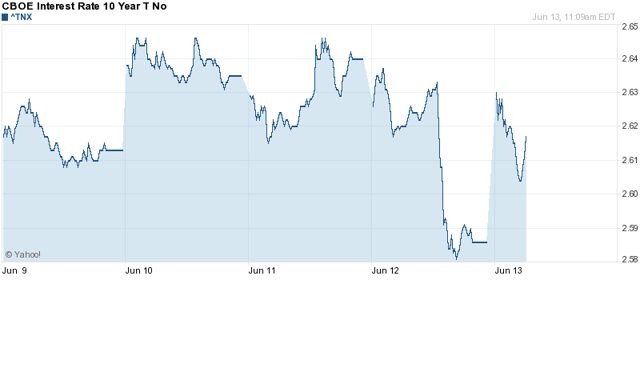 Source: Yahoo Finance
We have economic news today, and it is as follows:
PPI (8:30 a.m. EST): Est: 0.2% Act: -0.2%
Core PPI (8:30 a.m. EST): Est: 0.1% Act: -0.1%
Mich Sentiment (9:55 a.m. EST): Est: 82.9 Act: 81.2
The Asian markets are mixed today:
All Ordinaries -- down 0.44%
Shanghai Composite -- up 0.93%
Nikkei 225 -- up 0.83%
NZSE 50 -- down 0.47%
Seoul Composite -- down 1.03%
In Europe, the markets are lower this morning:
CAC 40 -- down 0.39%
DAX -- down 0.56%
FTSE 100 -- down 0.99%
OSE -- down 0.70%
Already Moving Higher
Some names already appear to have bottomed and have made some decent moves higher, namely Twitter (NYSE:TWTR) and Amazon.com (NASDAQ:AMZN). Now obviously Amazon is not a candidate to be bought out due to their size, but we would make the same argument for Twitter due to the industry they are in and some of the key assets they have in place for future growth. Before readers get worked up about the valuations here, let us be clear that our intention is not to be buying momentum names with speculative capital that have traditional value as measured by traditional metrics.
Both of these stocks are expensive right now, but we think Twitter will see growth in mobile ads as they continue to build out their ad platform and offer advertisers access to a growing network of apps outside of their own. Looking at Amazon we think that investors could benefit from new products and offerings for their Amazon Prime members; all of which could lead to future increased revenues from their Prime memberships. If the company does in fact offer a smart phone at their big unveil conference next Wednesday we could see a scenario where the shares rise another 10-20% in the short-term and possibly test $400/share again before year end if the product is successfully received by consumers.
It certainly appears that Twitter found strong support around the $30/share level, and although the shares have rebounded strongly we think that the $40/share area will be the next roadblock.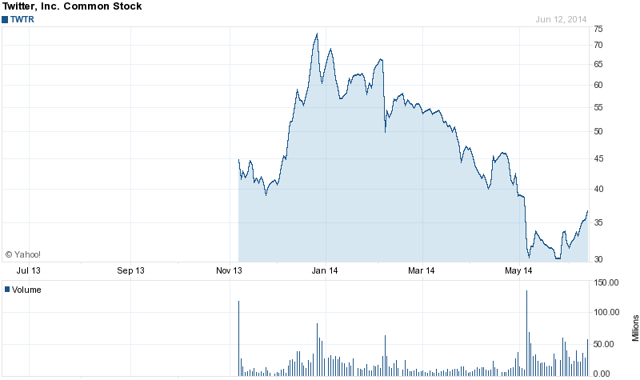 Source: Yahoo Finance
Biotechs Rising
Our long-time readers know that when it comes to the biotech sector that we prefer to stick with the bigger names as there is a ton of risk with the smaller names. 'Big Biotech' has long been among our favorite areas to invest due to those companies' willingness to acquire smaller names with great drugs and help develop those drugs and/or bring them to market. We still think the bigger names in the sector are good buys right now but think that any purchase of the bigger names should be paired with a position in the iShares Nasdaq Biotechnology ETF (NASDAQ:IBB) which provides exposure to some of the smaller names in the sector which have done well in recent sessions.
Disclosure: The author has no positions in any stocks mentioned, and no plans to initiate any positions within the next 72 hours. The author wrote this article themselves, and it expresses their own opinions. The author is not receiving compensation for it (other than from Seeking Alpha). The author has no business relationship with any company whose stock is mentioned in this article.