JD.com, Inc (NASDAQ:JD)'s May 21 IPO will expire on July 1, providing the firm's IPO underwriters with their first opportunity to publish research reports on China's largest online direct retailer.
The release of the underwriters' reports will likely lead to a temporary rise in the price of JD shares.
JD's Early Market Performance - Solid
JD's IPO priced at $19 per share, above the expected range of $16-$18 per share, and saw a solid 10% first-day return. After small losses through the 23rd, the stock began to gain momentum, arcing upwards to close at $27.17 per share on June 12.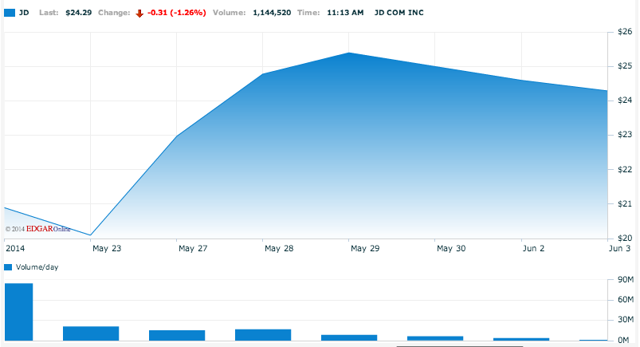 (Nasdaq.com)
Varied Underwriters
JD's IPO underwriters, including BofA Merrill Lynch; UBS Investment Bank; Barclays Capital Inc; Allen & Company LLC; China Renaissance Securities (Hong Kong) Limited; Jefferies LLC; Cowen and Company, LLC; Oppenheimer and Co., Inc; SunTrust Robinson Humphrey, Inc; and Piper Jaffray & Co., will attempt to push the stock to even greater heights by publishing positive reports on the firm with the expiration of the quiet period.
Evidence That Quiet Period Expirations Can Open Buying Opportunities
A correlation has been established between the visibility and quantity of IPO underwriters and an increase in the price of shares at the conclusion of the quiet period. This derives from the results of academic studies and by the data generated through our past three years of research.
The Journal of Finance (VOL. LVIII, NO. 1; 2003) describes how an increase in share price typically emerges several days ahead of the quiet period expiration. This is likely caused by experienced investors anticipating underwriters' positive reports. (Firms rarely publish negative information about a company they recently underwrote.)The early purchases generate the perception of rising demand, and cause share prices to rise before the expiration of the quiet period.
Lead author Dan Bradley, PhD, CFA, affiliated with the University of South Florida, and colleagues note that analyst coverage is immediately initiated for 76% of firms at the quiet period expiration, nearly always with positive analysis. Abnormal (positive) returns increase significantly when initiated by more than one analyst.
JD.com - 46.5% Market Share In China In 2013
JD is by far the largest online direct sales company in China by transaction volume; the firm captured an impressive 46.5% market share in China in 2013.
JD has traditionally focused on electronics and home appliances sales, but it has made a concentrated effort in recent years to expand its product offerings, and general merchandise has represented an increasing percentage of the firm's gross merchandise volume.

(Source)

(Source)
Two sites - Jd.com and en.jd.com offer versions for Chinese language and English-speaking shoppers (first and second images above, respectively).
JD maintains a large user community not unlike that of Amazon (NASDAQ:AMZN) to review and discuss the products that it offers. The community boasted more than 47 million active customer accounts in 2013.
JD operates its own fulfillment structure in order to guarantee the timely delivery of its products, as Chinese fulfillment services are insufficient to handle the massive volumes of merchandise that JD moves.
See additional information here.
Big Competitors
JD competes with other popular online retailers as well as large traditional retailers that have developed online presence. Major competitors include Amazon , Alibaba Group (ABABA), Suning Appliance Company, Wal-Mart (NYSE:WMT), and Gome Electrical appliances (OTCPK:GMELY).
JD Founder A "Bloomberg Billionaire" And Rising Entrepreneurial Star
The Bloomberg Billionaires Index estimated that JD founder Richard Qiangdong Liu was worth $6.1 billion with the completion of the JD IPO, in which he sold 13.9 million shares; he still holds some 556 million shares in the firm.
Mr. Liu has served as chairman and CEO since JD's inception, and has more than 15 years of experience in the e-commerce and retail industries. He launched his first online retail website in 2004, and founded JD later in that year.
Mr. Liu received a bachelor's degree in sociology from People's University of China in Beijing and an EMBA degree from the China Europe International Business School.
Conclusion - Quiet Period Expiration A Strong Buying Opportunity
JD's successful IPO and subsequent gains should come as little surprise. American investors seem to have overcome their apprehensiveness about buying into Chinese firms, and JD is a truly dominant force in the Chinese online retail market, as its incredible market share should make clear.
The firm's founder and CEO is a rising entrepreneurial star. The IPO couldn't have come at a better time: Chinese internet access and interest in online shopping are decidedly on the rise, and JD is as well-positioned as any firm to take advantage.
The upcoming quiet period expiration represents an excellent opportunity to buy into this online retail superpower.
Disclosure: The author is long JD. The author wrote this article themselves, and it expresses their own opinions. The author is not receiving compensation for it (other than from Seeking Alpha). The author has no business relationship with any company whose stock is mentioned in this article.
Editor's Note: This article discusses one or more securities that do not trade on a major U.S. exchange. Please be aware of the risks associated with these stocks.