OpenTable (NASDAQ:OPEN) is like the original gangster of table reservation and restaurant services. Formed in 1998 with over 600 employees at the end of 2013, the company has generated over $33 million in net income over the past full year through its real time reservation services. It currently works with about 30,000 restaurants in the United States.
The niche for OpenTable's growth is a niche that is definitely continuing to move forward aggressively. As the entire world begins to move to digital, one of the items that's eventually going to be 100% digital is your restaurant and dining reservations. Much like the way most people buy their movie tickets now, reservations are much quicker made online than bothering to call up the business and speak to a host/hostess who may or may not be interested in helping you, depending on his/her age, how much he/she earns, and how hungover he/she might be from the previous nights' debauchery. If you've ever worked in the restaurant industry, you know exactly what I'm talking about.
Priceline (NASDAQ:PCLN) seemed to realize this, and quickly chomped up OpenTable in an all-cash deal, at a monster premium that shareholders are going to have no choice but love.
Seeking Alpha was one of the first places to drop the news, early this morning:
The all-cash deal valuing OPEN at $2.6B is expected to close in Q3. The price is a 46% premium to last night's close.
"The kind of work that we do day-to-day is very similar," says Priceline (PCLN) CEO Darren Huston. "It's just a different marketplace."
A conference call to discuss is set for 8:30 ET.
While the buyout was certainly at a pretty lofty valuation (sixty times forward earnings), Priceline obviously felt there was tons of intrinsic value for growth internally for OpenTable.
On this news, investors have piled into Yelp (NYSE:YELP), which has recently tried to make its own foray into restaurant reservations and online services.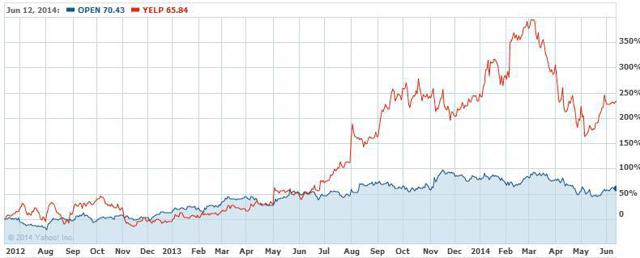 Over the last two years, if you don't count today, Yelp has grown exponentially while OpenTable sort of waited in the wings for its heydey. The institutionally-backed Yelp started to scream after its IPO, despite not turning a profit, lack of redundancy and diversification, and competition from entities like Google reviews and TripAdvisor.
Which brings us back to Yelp trying to move in the same direction as OpenTable. Remember Yelp's move into this area with their 2013 acquisition of SeatMe? This seems to be what is getting people excited about buying into Yelp on the OpenTable news today.
Seeking Alpha reported on this during mid-May:
Leveraging technology acquired from 2013 acquisition SeatMe, YELP has launched a restaurant reservation service that's integrated with its business pages.
Whereas market leader OpenTable typically charges restaurants a hardware fee, a monthly subscription fee, and a per-diner bookings fee, Yelp's service will be free to any restaurants that have "claimed" its Yelp page.
Yelp suggests the service's feature set won't be quit as robust as that of SeatMe's paid service, which will continue to be offered. The company's main goal: To boost user and restaurant engagement, with the hope that the latter group will be more interested in buying ads to promote their Yelp pages.
Yelp's move comes shortly after TripAdvisor (NASDAQ:TRIP) entered the restaurant reservation market by acquiring leading European player LaFourchette; TechCrunch reports the purchase price was $140M. LaFourchette claims 12K+ restaurant partners; OpenTable has an international installed base of 7,721 restaurants at the end of Q1.
OPEN -0.9% premarket. Shares fell last year after Yelp announced the SeatMe deal. Though OpenTable's U.S. dominance is unlikely to be challenged in the near-term, Yelp's offering could gain a following with businesses looking to cut customer acquisition costs and/or are disgruntled with OpenTable's pricing.
I commended Yelp for this move in a previous article, citing the fact that it's likely everything goes digital. I advised not to buy Yelp, but that it was a step in the right direction to diversify a little and focus on something else aside from its money losing review business that's been made into a public company that transfers money from retail investors to the institutions that backed Yelp's IPO - along with Yelp insiders. I still think Yelp is due for it's first real post-IPO crash; and by that, I mean more than the 50% haircut it took earlier this year.
It seems like it was just weeks ago that I was showing the following chart: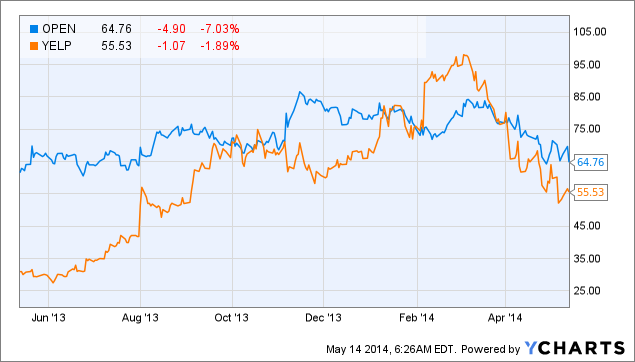 ...to make the point that Yelp may be doing something right in moving in the direction of OpenTable. OpenTable shareholders clearly felt so as well, as the stock had dipped 7% on the day of Yelp's announcement.
People continue to be impressed with Yelp, despite the fact that it trades at a ridiculous multiple and continues to post losses, as I denoted in my May article that came out after Yelp's earnings:
Meanwhile, back at the ranch, Yelp continues to post losses and even offered full-year guidance that results in a loss. Like Pandora's (NYSE:P) audience metrics, Yelp has mastered the art of YOY comps to hide what metrics have been doing in the quarterly-to-quarter perspective.

Q1 revenue growth was 66% Y/Y vs. 72% in Q4. Cumulative reviews +46% (to 57M) vs. +47%. Average monthly unique visitors +30% (to 132M), down from Q4's +39%, with mobile uniques growing 52% to 61M. Active local business accounts +65% (to 74K) vs. +69%.
Costs/expenses rose 60% Y/Y to $81M, with sales/marketing spend rising 60% to $45.1M.
While M&A activity is definitely picking up nowadays (a sign of a good marketplace, according to Jim Cramer), the valuation that Priceline paid for OpenTable should not send people speculatively buying into Yelp stock in the hopes that the same thing will happen to Yelp.
People seem to be agreeing with me, as well. As Yelp's price depressed, the shorts piled in. I'll be interested to see how the short interest looks in the coming weeks now that the stock has popped up yet again.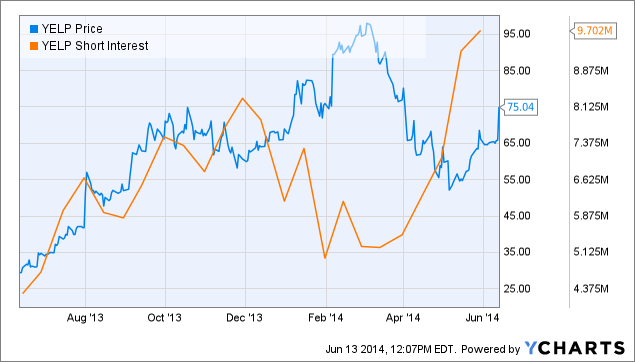 As the short interest continues to rise, concurrent with how the price acts, Yelp's outstanding share count continues to grow; slowly diluting those that hold the company's shares.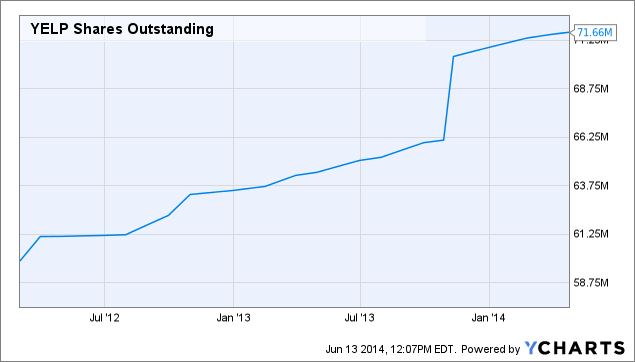 YELP Shares Outstanding data by YCharts
Yelp is a company that currently has only $5.57 in cash per share and a book value of only $6.99 per share. That puts the company's price to book ratio at a massive 9.42. Additionally, carrying a market cap of over $5 billion means that the company has a forward P/E of 235 - one of the highest of all of the speculative momentum stocks.
Iraq fueled macro market uncertainty over the last couple of days would be one of the last reasons that I would be piling into a company like Yelp. When the market pulls back and sensibility and a conservative mindset start to take hold, companies like Yelp are always the first ones to get roped in on that news.
While the OpenTable deal is a great success for OPEN's shareholders, don't try and "chase" and pile into a bloated and overvalued Yelp on the speculation of getting a piece of a deal that's already passed you by.
Best of luck to all investors.
Disclosure: The author has no positions in any stocks mentioned, and no plans to initiate any positions within the next 72 hours. The author wrote this article themselves, and it expresses their own opinions. The author is not receiving compensation for it (other than from Seeking Alpha). The author has no business relationship with any company whose stock is mentioned in this article.