Shares of Bank of America (NYSE:BAC) were down slightly in yesterday's trading session as the market continued to digest bad news for one of the largest banks in the country. Bank of America has lost 3% since it was reported that the U.S. Department of Justice is seeking a much higher penalty for Bank of America/Countrywide's past mortgage misdeeds than what investors originally expected: $12 billion, which were originally anticipated, might now actually increase to $17 billion. A tough pill to swallow.
History of unnerving lawsuits and settlements
After a long fight against uncertainty and negative news headlines, Bank of America finally shook off extreme investor pessimism in 2012 as it reached a landmark settlement with a coalition of state attorneys generals over wide-ranging foreclosure fraud. The deal, including the country's largest mortgage servicers JPMorgan (NYSE:JPM), Wells Fargo (NYSE:WFC), Citigroup (NYSE:C), Bank of America and Ally Financial, had a volume of $25 billion and was the largest settlement ever announced in U.S. history.
Soon after announcement of the $25 billion settlement in early 2012, Bank of America's shares meaningfully recovered as investors started to see an end to persistent litigation that dragged down the bank for so long. After countless investigations, fines and settlements, it then appeared as if Bank of America has dealt with most of its legacy issues. And Bank of America's stock surged throughout 2012 and 2013, rising more than 165% in as little as two years.
Brian Moynihan the right man for the job?
Part of the reason why Bank of America has made progress on the legal front and has had a fantastic stock performance over the last two years is because of Brian Moynihan's approach to dealing with regulators and prosecutors.
Brian Moynihan was named chief executive officer of Bank of America after former CEO Ken Lewis threw in the towel in 2010.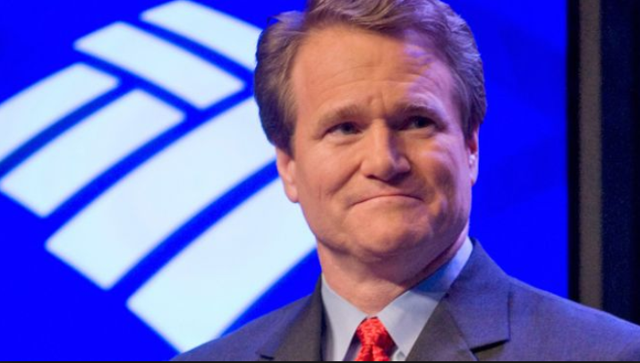 Brian Moynihan has pushed aggressively for resolving the bank's mortgage mess. 2011 and 2012 have been quite successful for the bank in terms of dealing with the bank's legal issues -- the $8.5 billion settlement over soured mortgage bonds with investors such as BlackRock and PIMCO in 2011 comes to mind, as well as the settlement with states over mortgage handling practices in 2012, as referenced above.
While 2013 was relatively quiet year for the bank in terms of settlements, the issue is now exploding in Bank of America's face once again. Recent news about the breakdown of settlement negotiations between Bank of America and the Department of Justice over soured mortgage-backed securities (Bank of America's $12 billion settlement offer dissatisfied the DOJ) opened up old wounds which investors know only too well: A large settlement is looming, and it is going to eat into Bank of America's short-term profits -- and may have an impact on Bank of America's capital return initiatives.
Moynihan, first and foremost, can be credited with resolving most of Bank of America's legal issues that seemed to be insurmountable not too long ago. One has to give credit where credit is due: Moynihan did a great job in pushing his people to address legal issues quickly and comprehensively in order to clear the way for Bank of America and put it on a new path of growth. A path that has long been questioned by investors, due to an ever-increasing flood of headline-grabbing lawsuits and trench fights with regulators.
With a potentially extremely expensive settlement looming, Brian Moynihan will have to show once again that he can find the balance between resolving pressing legal issues and fighting for the bank's shareholders (which basically means to give the DOJ as little as possible).
If Bank of America indeed pays up and increases its settlement offer, the bank's intended capital management plans could come under fire. Another suspension of Bank of America's dividend increase and another postponement of its stock buyback program after the accounting fiasco in April 2014 could certainly be a possible outcome of the bank's escalating fight with the Department of Justice.
In fact, I believe Moynihan only needs to do what he has successfully done in the past: Negotiate hard in good faith, determined to come to a quick solution.
Chart picture
Bank of America's Relative Strength Index has fallen back from around 66 on June 10, 2014 to 52 on June 12, 2014, and the decline is an immediate reflection of short-term selling pressure.
With increasing short-term uncertainty, I wouldn't be too surprised if Bank of America's stock price retreated to the $14-15 region, which then would be an excellent buying opportunity for long-term investors.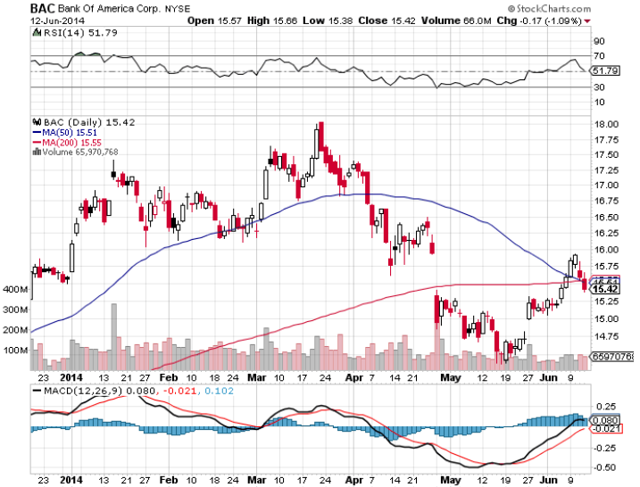 (Source: StockCharts.com)
Conclusion
Moynihan has done an excellent job so far by steering the company through the aftermath of the financial crisis. Moynihan can also largely be credited for the increase in Bank of America's share price, which rose strongly as the bank worked through its legacy issues.
The looming settlement over rotten mortgage-backed securities will be a short-term setback. Moynihan, like he did in the past, will push straightforwardly for resolving the issue, and should display little desire to create a lot of headline risk.
Even if Bank of America pays up and puts a couple of billion more on the table (I know it sounds cynical), which is going to hurt shareholders in the short term, a DOJ settlement does not affect Bank of America's long-term earnings prospects in the slightest. BofA trades at just ten times earnings and at a 25% discount from book value, while the bank's earnings are still a couple of years away from peaking, in my opinion. Should Bank of America settle at a higher amount than $12 billion, which I expect, the correction in its stock price would be an excellent buying opportunity. Long-term Buy, based on low valuation, excellent long-term earnings prospects and Moynihan's outstanding leadership.
Disclosure: The author is long BAC. The author wrote this article themselves, and it expresses their own opinions. The author is not receiving compensation for it (other than from Seeking Alpha). The author has no business relationship with any company whose stock is mentioned in this article.